What Can Jim Schwartz, Detroit Lions Do to Regain Control of Team?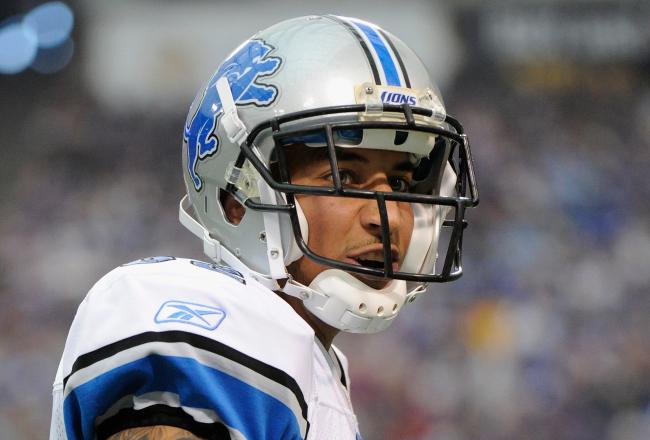 Hannah Foslien/Getty Images
In case you haven't heard, it happened again.
The Detroit Lions simply cannot stay out of handcuffs this offseason, or so it would seem, with cornerback Aaron Berry being the latest arrest for (what else?) a DUI.
That's six, ladies and gentlemen—six arrests since January, all of them involving either drunk driving or pot possession (usually also while driving), and all of them charged to a Lions player under age 25 (via MLive.com).
I'm not going to get into numbers or percentages here, but suffice it to say, that's too much. Way, way too much.
There are NFL teams that have not had to deal with any of their players getting arrested for anything this offseason. For the Lions, it's been a monthly occurrence.
Sure, the Lions' offseason problems are technically limited to only four players, and they are not indicative of the Lions as a whole. It's not like the whole team is going to be in jail by training camp. But at this point, it certainly looks that way.
While young, these guys are adults, and they need to be responsible for their own actions. It's not the responsibility of the coaching staff or front office in Allen Park, Mich., to make sure their guys in Alabama and Pennsylvania hire designated drivers when they go out drinking.
Let's not pass the personal responsibility off just like that.
That being said, it is the responsibility of the coaching staff and front office to make sure players know that such behavior is not acceptable, and that such behavior will be reprimanded and punished.
What should Schwartz do here?
Where is that stuff exactly? I have no doubt that head coach Jim Schwartz has dealt with these discipline issues internally, but I also have no doubt that he has not done it well enough.
So what's next, then? Schwartz definitely needs to send some sort of message, though there is disagreement about what that message should be.
Some believe the message should be more symbolic, which is to say the Lions should cut Berry off the team (via the Detroit Lions team website). The hope with that kind of move is that making an example of Berry will make the remaining players weigh their irresponsibility against their livelihoods on the team.
But is that really the message Detroit would send with that move, just because Berry happens to be the latest troublemaker? Granted, this comes after minicamps, in which the team was likely addressed with a message to "knock this [stuff] off."
Even under normal circumstances, Berry should have known better, but especially in a year when the team is already under scrutiny for this exact same thing.
But at the same time, how does it look when a former undrafted free agent gets booted off the team for a single arrest, after the first- and second-round draft picks, who each got arrested twice in the span of a couple of months, hang around pretty much unscathed?
That looks an awful lot like making an example of the most expendable player, and that's not the way to win the respect of a locker room.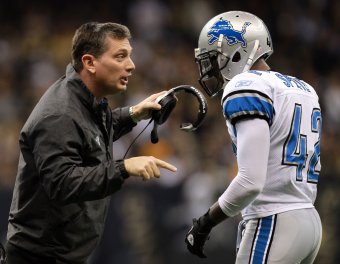 Schwartz can discipline his players from the sideline. Now he has to do it from his office.
Ronald Martinez/Getty Images
That's a way to look like you're upholding a double-standard.
That said, it would be even worse if Schwartz and company did nothing at all. Things have gotten too far out of control to assume they'll just self-correct. Granted, these types of off-field incidents are more often punished by the league office, less so by individual teams, but most individual teams don't have the type of continuous and widespread legal issues the Lions are facing now.
That's why this is a difficult situation. The temptation may be to over correct by cutting Berry, but that's too much and could easily backfire. It's equally bad to do nothing at all. So what's the middle ground?
Perhaps it's time for Schwartz to send an ultimatum.
You may be thinking, "What? Just more empty talk? How is that going to solve this?" That's a valid concern. It seems like this is a time for action, not words.
But that's also assuming that Schwartz has lost the team and the players won't listen to him, and that's just not true.
Schwartz was in a similar position last year when the Lions were busy giving games away via post-play personal fouls (via NFL.com). He called the team together and let everyone know that things had gotten out of hand and enough was enough.
In doing so, he set forth a "zero tolerance" policy and outlined some very specific, serious repercussions for any further indiscretions.
Has Jim Schwartz completely lost his team?
Before that team meeting, the Lions had committed three post-play personal fouls in a single game and garnered a two-game suspension the game before (via ESPN). After that meeting, the Lions did not commit another post-play personal foul call the rest of the year, and they started a three-game winning streak that ended with them earning a playoff berth.
The point is that Schwartz's players will still listen to him. But it's time for him to sit everybody down and explain exactly what his expectations are, and more importantly, exactly what the consequences are if those expectations are not met.
That could mean sitting a guy down for a game or two during the season, and it may indeed mean releasing the next player to wind up behind bars.
But there's a big difference between talking to everyone in the locker room and letting them know about consequences before carrying them out, and just giving the ax to whoever happens to get in trouble when the coach decides five arrests is okay, but six is too many.
I admittedly don't know what it means when a coach says a discipline issue is being "handled internally." I've never been in an NFL locker room, so I can't say what those consequences are.
What I can see based on this offseason is that they're not scary enough to be a deterrent, and now it's time to raise those stakes.
Schwartz needs to let everyone know what's going to happen to the next poor soul who steps out of line, and it needs to be something that makes the guys think, "oh man, I can't have that happen to me."
And if something happens again, he needs to follow through on it.
That's how Schwartz can send a message, by punishing a player severely, and afterwards telling the rest of the team, "See? I told you what would happen. Who's going to be next?"
You could argue that this should have happened three or four arrests ago, and that may be true. But clearly it hasn't happened, because here we are, and the roster is still intact. That was then, this is now. And what the Lions need now is to stop the bleeding.
Or at least the drinking, drugging and driving.
This article is
What is the duplicate article?
Why is this article offensive?
Where is this article plagiarized from?
Why is this article poorly edited?

Detroit Lions: Like this team?