NBA Rumors: What Rockets Must Do to Land Dwight Howard and Deron Williams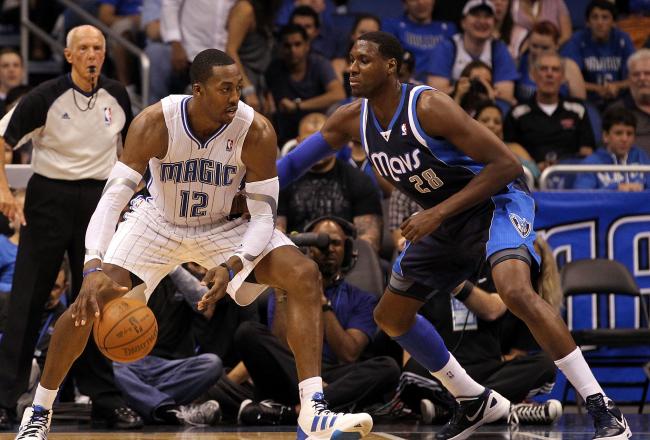 Sam Greenwood/Getty Images
Believe it or not, the Houston Rockets are attempting to land both Dwight Howard and Deron Williams this offseason. It will be nothing short of a miracle, but it is possible.
This is how it can happen. Bear with me, because this is about to get crazy.
The Rockets have already completed one of the many steps towards landing the two All-Stars by trading away Chase Budinger to the Minnesota Timberwolves for the No. 18 pick in the 2012 NBA draft. Now the Rockets have a stockpile of mid-first-round picks: No. 14, No. 16 and No. 18.
Obviously, Houston doesn't want to keep all of those picks.
Next, Darryl Morey and the Rockets brass have to manage to move up in the draft a little bit. That way, the team gains a more valuable asset that could be used to trade to the Orlando Magic. This could happen in a number of ways.
The Sacramento Kings' No. 5 pick seems to be in play and there are two possible deals rumored to be in discussion. First, Houston could trade the No. 16 pick and Samuel Dalembert straight up to the Kings for the No. 5 pick. Dalembert has been reported to be on the trading block by Alex Kennedy.
A second option—although this appears less likely—would have the Rockets sending Kyle Lowry, the No.14 pick and the No. 16 pick to the Kings for Tyreke Evans and the No. 5 pick, as reported by DraftExpress' Jonathan Givony.
Sports Illustrated's Sam Amick has completely shut down this rumor, though:
Source involved in Houston-Kings talks says the Rockets have not offered the No. 14, No. 16 pick and Kyle Lowry for Tyreke Evans and No. 5.

— Sam Amick (@sam_amick) June 26, 2012
Because of Amick's denial, let's roll with the Dalembert trade and assume that the Rockets are now left with the No. 5, No. 14 and No. 18 pick with Dalembert no longer on the roster.
The next part of the process involves getting the No. 8 pick from the Toronto Raptors, something that could be achieved by trading away Kyle Lowry to Canda and getting rid of the point guard that reportedly wants out. Hoopsworlds' Bill Ingram confirms that this is a possibility.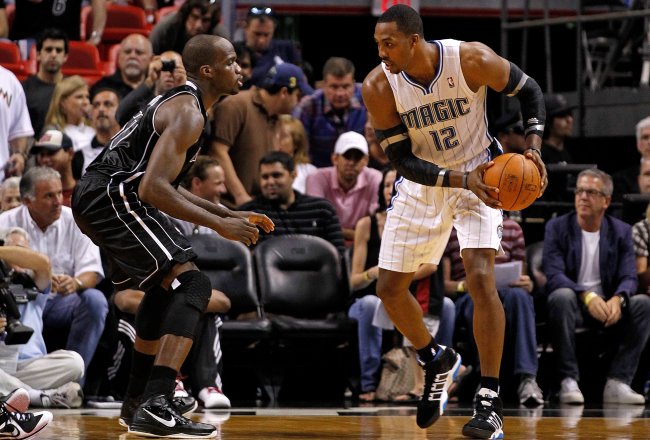 Mike Ehrmann/Getty Images
Now, assuming that both of those trades happen and the Rockets own the No. 5 and No. 8 picks, acquiring Dwight becomes a serious possibility, as Chad Ford and Marc Stein report.
Houston could send Kevin Martin and those two top-10 picks to the Magic and ask for Howard in return. There's no way that the Magic could turn that package down.
Without Martin, Lowry or Dalembert, the Rockets would have the money to re-sign Goran Dragic and sign Deron Williams to a max contract, forming an insanely good one-two punch at point guard. Just like that, Howard and D-Will are on the same squad, which coincidentally enough is in Texas and not named the Dallas Mavericks. How's that for irony?
Williams would be very likely to sign because of his commonly known desire to play both for a max contract and alongside D12.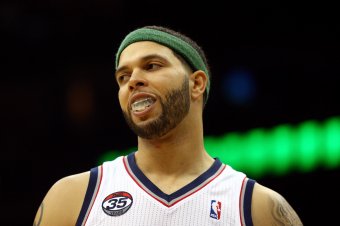 Chris Chambers/Getty Images
NBA.com's David Aldridge reports that there is no chance Howard would sign an extension with the Rockets, but he neglects to include the part about Williams. This is an incredibly obvious omission that completely changes the equation.
Whereas Howard would have no reason to sign an extension at first, the addition of D-Will would sway him quite a bit. Add that to the presence of Courtney Lee—a restricted free agent and one of his best friends, a player who would have to re-signed—and it appears likely that Howard could be with the Rockets long-term.
After all of this potential wheeling and dealing, the Rockets would be left with the No. 14 and No. 18 pick to add two more young players to the roster. Without Martin, Lowry or Dalembert, they'd have Dragic and Williams at point guard, Lee at shooting guard, Chandler Parsons and Marcus Morris at small forward, Luis Scola and Patrick Patterson at power forward and Howard at center.
That's a roster that can truly compete for a championship.
A lot has to happen, but the Rockets have a hand that could play out quite well.
This article is
What is the duplicate article?
Why is this article offensive?
Where is this article plagiarized from?
Why is this article poorly edited?