NFL 2012: Why Andrew Luck's Rookie Season Will Beat Peyton Manning's
June 26, 2012

Joe Robbins/Getty Images
When Andrew Luck entered the 2012 NFL draft, all you heard about was how he was either the best quarterback prospect ever, or at the very least since Peyton Manning left Tennessee in 1998. As fate would have it, the two best quarterback prospects of our generation were drafted by the same team, the Indianapolis Colts. 
Luck will undoubtedly be compared to Manning over the course of his career, and that comparison and scrutiny will start in Year 1 as Luck hopes to revitalize a Colts' team that won just two games last season. Looking at the first-year roster of Manning's 1998 Colts and Luck's 2012 Colts, besting Manning's three wins from his first season shouldn't be hard to do.
For reference, Manning's 1998 stats were 3,739 yards with 26 touchdowns and 28 interceptions. Can Luck beat this?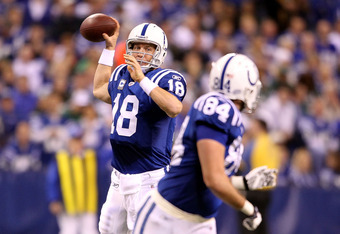 Andy Lyons/Getty Images
Offense
| | | |
| --- | --- | --- |
| Position | 1998 | 2012 |
| QB | Manning (r) | Luck (r) |
| RB | Marshall Faulk | Donald Brown |
| RB | Zack Crockett | Delone Carter |
| WR | Marvin Harrison | Reggie Wayne |
| WR | Jerome Pathon (r)  | Austin Collie |
| WR | Torrance Small | T.Y. Hilton (r) |
| WR | E.G. Green | Quan Cosby |
| TE | Ken Dilger | Coby Fleener (r) |
| TE | Marcus Pollard | Dwayne Allen (r) |
| OT | Tarik Glenn | Anthony Castonzo |
| OG | Steve McKinney (r)  | Joe Reitz |
| C | Jay Leeuwenberg | Samson Satele |
| OG | Tony Mandarich | Mike McGlynn |
| OT | Adam Meadows | Winston Justice |

Peyton Manning's rookie offense was anchored by two above-average offensive tackles who did a great job protecting him; he was sacked just 22 times that year. The offense was also loaded with Marshall Faulk in his prime and a young Marvin Harrison, but the rest of the unit is just average. The interior offensive line was bad, and the depth at wide receiver horrible.
By comparison, Luck is in a better situation when evaluating the playmakers at his disposal. Luck doesn't have Hall of Famer Marshall Faulk at running back, but Reggie Wayne is a solid pro who even in his latter years will provide a go-to target and veteran knowledge for the first-year quarterback. The depth at wide receiver is much better, and when looking at the tight ends you see athletic players who can open up the field for Luck in a two tight end system like he ran at Stanford.
The offensive line comparisons may be a push, and if Luck is sacked 22 times this year, the Colts should be pretty happy with his protection. Last year the Colts allowed 35 sacks.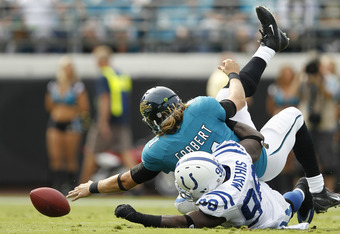 Joe Robbins/Getty Images

Defense
| | | |
| --- | --- | --- |
| Position | 1998 | 2012 |
| DE | Bernard Whittington | Cory Redding |
| DT | Tony McCoy | Antonio Johnson |
| DT/DE | Ellis Johnson | Drake Nevis |
| DE/OLB | Bertrand Berry | Dwight Freeney |
| ILB | Mike Barber | Pat Angerer |
| ILB | ------------------ | Kavell Conner |
| OLB | Elijah Alexander | Robert Mathis |
| CB | Jeff Burris | Jerraud Powers |
| FS | Jason Belser | Antoine Bethea |
| SS | Robert Blackmon | Tom Zbikowski |
| CB | Tyrone Poole | Kevin Thomas |

The 1998 Colts allowed 444 points, good for No. 29 overall in the NFL. While the 2012 Colts won't resemble the '85 Bears, they are a better defense than the one Peyton Manning had backing him up during his rookie campaign.
This year's team will feature an attacking, hard-hitting 3-4 defense brought down by new head coach Chuck Pagano. There are proven pass rushers in Mathis and Freeney. Pat Angerer racked up 148 tackles last year in the middle of the defense. Jerraud Powers, when healthy, has great room to develop into a true No. 1 cornerback. The safety play is also solid, with both players able to lay the wood in coverage. Man-to-man, the 2012 Colts defense would dominate the 1998 version.
Strength of Schedule
The 2012 Colts have, on paper, one of the easier schedules in the NFL this year. The division play in the AFC South, if based on 2011 records, will be weak and could allow the team wins over Jacksonville and maybe Tennessee. When the '98 Colts played they were in the tougher AFC East with the New York Jets, Miami Dolphins, Buffalo Bills and New England Patriots—all of whom won nine games or more.
The 2012 Colts won't have a cake walk through the year, but it's a much easier path to success than their '98 counterparts faced. Given the competition, the talent around him and his own readiness coming out of Stanford, look for Andrew Luck to best Manning's win total from his first season.