Kansas City Chiefs: A Report Card for Every Position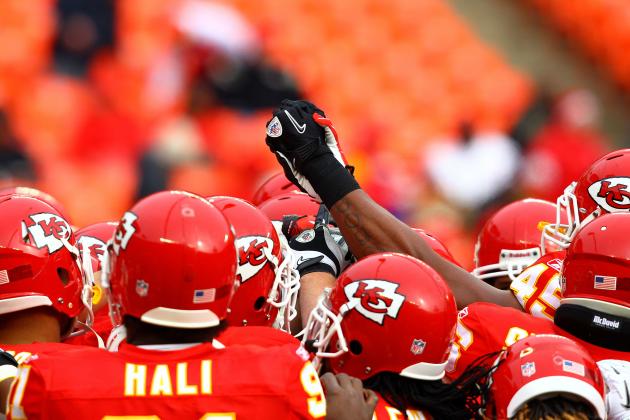 Dilip Vishwanat/Getty Images

As the NFL prepares another class for its school of hard knocks, the Kansas City Chiefs entrance exam has been graded.
While football is a team sport, a roster's individual parts are what puts a team in contention for the postseason.
There's no "I" in team, but there is an "I" in "winning."
The Kansas City Chiefs offseason workouts are in session and progress reports are being filed.
In the land of barbecue, it's time to distinguish between grade-A beef and the weak links.
Begin Slideshow

»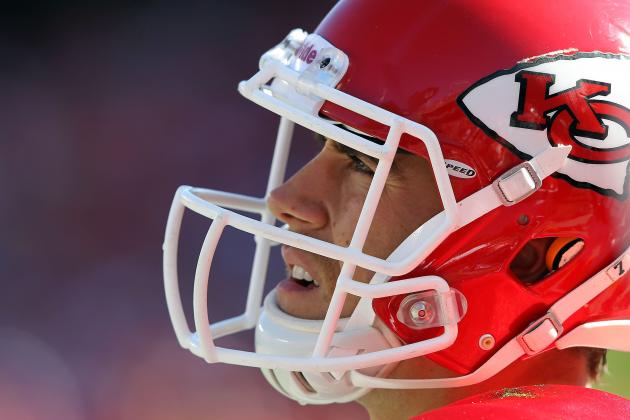 Jamie Squire/Getty Images

Meet Matt Cassel, the elder dependent of 25-year-old Jamaal Charles.
That's harsh, but fair.
The word "manage" has become synonymous with middle-of-the-road, pedestrian quarterbacks. Cassel exemplifies that premise.
Play-action passing is only as effective as its rushing counterpart. In 2010, Charles sliced and diced defensive fronts while averaging 6.4 yards per carry. No. 7 was the beneficiary, throwing for 27 touchdowns, seven interceptions and concluding the season with a quarterback rating (QBR) of 93. An intimidating ground assault clears the skies for a secondary aerial attack.
But when Charles suffered a season-ending ACL injury in Week 2, an inefficient ground game exploited Cassel's flaws.
He eventually threw two more interceptions in six fewer games (injuries prematurely ended his season as well), and his QBR drastically dipped to 76.6.
If Cassel fails his 2012 audition, it could be his last in the City of Fountains.
In all likelihood, newly signed Brady Quinn won't fill any long-term voids. But he's a capable backup who has starting experience.
Ricky Stanzi has also reportedly caught the eye of coaches in offseason drills.
While Cassel personifies mediocrity without a lethal rushing game, Kansas City's alternatives are favorable compared to the majority of its competition.
Kevin C. Cox/Getty Images

Lightning doesn't strike in the same place twice, unless you're on an NFL field with Jamaal Charles.
Beginning in 2012, Peyton Hillis will lower the boom and serve as the complementary thunder.
In his rookie campaign, Charles averaged a career-low 5.3 yards per carry. Career low.
Walter Payton only eclipsed five yards per carry in a single season once in his 13-year career.
In other words, a legend's best efforts have set the bar for tailback standards; Jamaal Charles is bench- pressing it.
Before 2011's year of off-field disputes, Hillis was also an All-Pro in 2010.
Speedster Dexter McCluster moonlights as the hare in greyhound races, while rookie Cyrus Gray adds another ray to the backfield's blindingly bright horizon.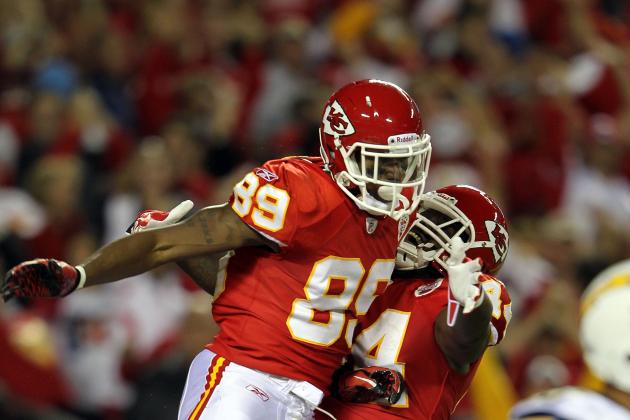 Jamie Squire/Getty Images

Dwayne Bowe and Steve Breaston are savvy veterans who will mentor an infusion of young talent, namely Jonathan Baldwin and Devon Wylie.
Alongside a fear-inducing rushing attack, Bowe had 15 receiving touchdowns in 2010.
Due to a ubiquitous injury bug, his numbers left cloud nine and returned to earth in 2011. Bowe remains one of the NFL's standout receivers, but no mortal could overcome the airborne plague that Tyler Palko unleashed last year.
Baldwin, Kansas City's first-round pick of 2011, will likely replace Breaston as the (off)season progresses. Like Bowe, he's a physically imposing figure whose hands are inconsistent at times, but he compensates by snatching highlight-reel receptions.
The Chiefs plucked Devon Wylie from the board in the fourth round of 2012's draft. The small but shifty receiver will line up in the slot and create nightmares for defenders in the open field.
Kansas City's primary tight end, Tony Moeaki, was sidelined by injury for the entire 2012 regular season. Statistically, Moeaki produced a better rookie campaign (14 more receptions for 188 additional yards) than longtime Chiefs legend Tony Gonzalez.
For insurance, Kansas City added reliable depth during the offseason by signing Kevin Boss.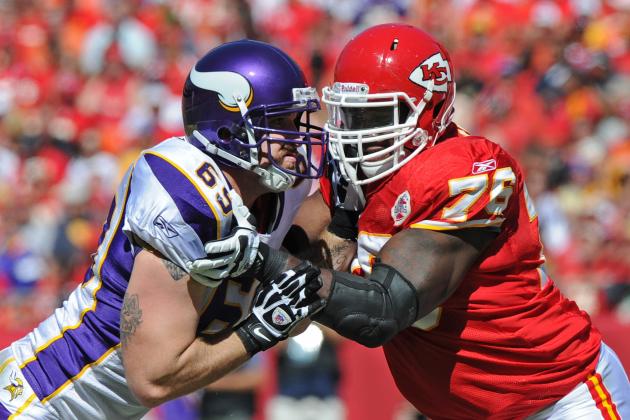 Peter Aiken/Getty Images

Despite a nonexistent backfield threat and constantly evolving quarterback rotation, Kansas City's offensive line finished a respectable 14th in sacks allowed (34) last season.
The tackle spots are locked down by Branden Albert and newcomer Eric Winston—arguably the Chiefs' most significant offseason pickup.
Albert rests on the cusp of realizing his potential, and Winston exhibited consistent dominance throughout his stay in Houston.
The middle of the line tells a different tale. Ryan Lilja is a serviceable seven-year veteran at left guard, but center and right guard will dictate the unit's success.
Jon Asamoah showed promising glimpses throughout 2011, but the biggest question marks surround center Rodney Hudson.
While Casey Wiegmann hasn't officially retired, it's inevitable. Hudson will replace his mentor and anchor Matt Cassel's ill-intentioned bullies.
If his offseason impressions are indicative, the future is bright.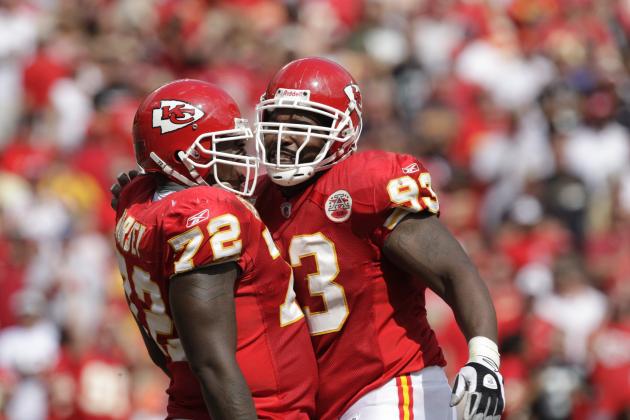 Jamie Squire/Getty Images

If war is won in the trenches, the Chiefs defensive ends should throw in their hand towels.
It would spare the humility and yield the same results.
Glenn Dorsey and Tyson Jackson—the once-highly touted duo of top-five draft picks—have six career sacks. Combined.
Within the confines of a 3-4 defensive scheme, the line's primary obligation is to stuff the run and/or free the second wave of linebackers. But Dorsey has been lining up since 2008, and Jackson began tagging along in 2009. Six sacks?
Collectively, the team accumulated 29 in 2011—only the Tennessee Titans and Tampa Bay Buccaneers accounted for fewer.
Selecting defensive tackle Dontari Poe in the first round was comparable to spending a year's worth of earnings on lottery tickets. With 2012's first pick, the organization will inevitably hit the jackpot or become the recipient of fool's gold.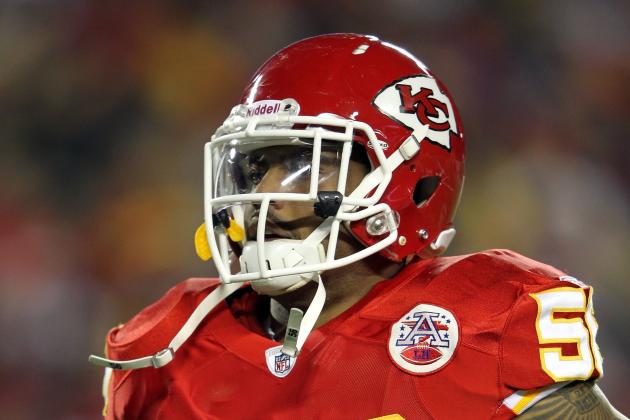 Jamie Squire/Getty Images

Inside linebacker Derrick Johnson and outside linebacker Tamba Hali each earned All-Pro honors in 2011.
Johnson was responsible for 104 tackles, while Hali had 12 sacks.
In short, No. 56 is a relentlessly greedy ball hawk, and No. 91 is predatory vulture with a selectively picky appetite.
Justin Houston gradually came into his own by the conclusion of his 2011 rookie season. The OLB ranked second on the team with 5.5 sacks.
Jovan Belcher will compete against Brandon Siler—who also succumbed to injury and missed the entirety of 2011—for the chance to start alongside Johnson at ILB.
If Belcher or Siler prove to be sufficient, the Chiefs linebacking corps will undoubtedly be revered league-wide.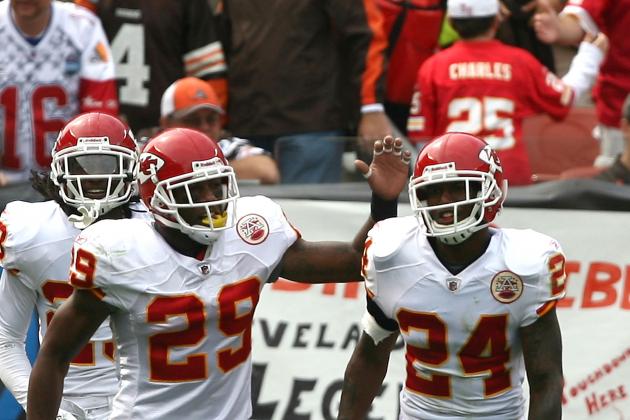 Matt Sullivan/Getty Images

Brandon Flowers will be accompanied by ex-Oakland cornerback Stanford Routt in covering the outside threats.
Eric Berry and Kendrick Lewis will protectively survey the middle of the field.
In nickelback scenarios, Javier Arenas' name will be called upon.
They all coalesce to form Kansas City's secondary, and take a backseat to no one.
Flowers is a member of an select fraternity of lockdown corners. The former Virginia Tech star is intelligent, talented and fearless.
Scott Pioli saved cap space by replacing now-Dallas CB Brandon Carr with Routt. If Carr owns a slight competitive edge in man coverage, it's marginal.
Rookies rarely book trips to play in Hawaii after the regular-season finale, but Berry was an exception in 2010. However, the 2011 theme of long-lasting injuries proved it didn't discriminate after plaguing Berry as well.
These defenders demand a Gotham City-sized spotlight, and Kendrick Lewis' efficient production is often overshadowed. However, in two seasons, Lewis has grabbed six interceptions, forced three fumbles and tiptoed the sidelines for one touchdown.
Even if Kansas City's first lines of defense collapse, Kelly Slater himself likely couldn't conquer the final wave.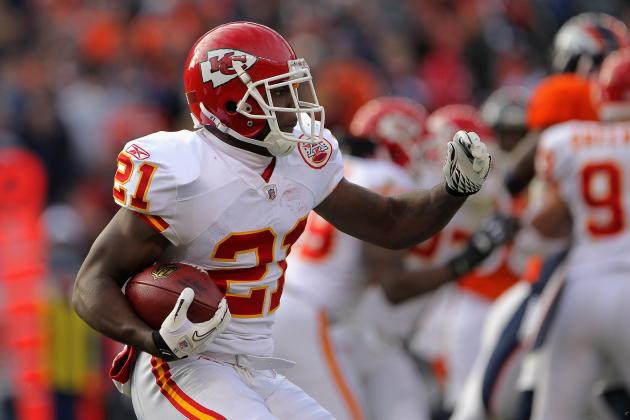 Doug Pensinger/Getty Images

There are three candidates for returning kicks and punts: Javier Arenas, Dexter McCluster and rookie Devon Wylie.
In recent seasons, Arenas has solidified his reputation as a trustworthy returner. His dime-stopping agility counters rapid coverages, and Arenas' sure-grip hands makes him ideal for punting scenarios.
McCluster lacks the ankle-breaking agility of his teammate, but compensates with blurring top-line speed.
However, Wylie could potentially own both jobs before Week 1's first whistle blows.
His returns at Fresno State looked as if Dante Hall ("The Human Joystick") grabbed a controller, maxed out Wylie's Madden attributes and played against an opponent that connected via dial-up, a slow, vein-embossing, 28.8K modem, staring-at-the-AOL-man-like-he-stole-your-puppy dial-up.
Overstatement? Perhaps, but his collegiate highlight-reel offers evidence that's difficult to refute.
The kicking game—albeit just as dull as its 31 competitors—suffices. Ryan Succop nailed 24 of his attempted 30 field-goal attempts last season. In a league of closely contested final scores, an 80-percent success rate is reassuringly efficient.
Dustin Colquitt averaged 45.9 yards per punt in 2011 (including a season-high 68-yard boomer). The act of punting rivals the excitement of Ben Stein lecturing about the history of cardboard. However, if Romeo Crennel is forced to resort to the backup plan, he can rest assured that it's reliable.
If the third facet mimics the expected success of its offensive and defensive counterparts, Arrowhead should play host to a special team, indeed.