NBA Draft 2012: The Top 8 First-Round Targets for the Philadelphia 76ers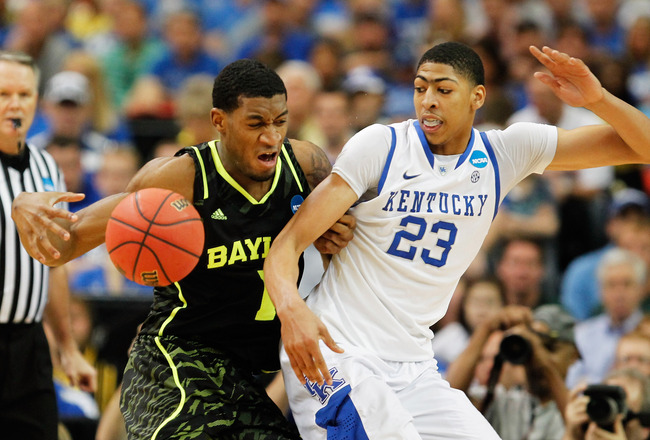 Streeter Lecka/Getty Images
With the 2012 NBA draft only days away, anyone who still says this isn't a deep draft needs a swift dose of reality.
Beyond Anthony Davis, it's true, the top of this draft isn't loaded with sure-fire All-Stars like in 2003.
That's inconsequential when the top 20 picks all have the potential to carve out long careers as NBA starters.
For the Philadelphia 76ers, having the No. 15 pick this year is much more a blessing than a curse. Strike out on a mid-first round pick, life goes on for your team. (See: Speights, Marreese.)
Strike gold with a Jrue Holiday-esque player (No. 17 in 2009), and you've added one more piece to the championship puzzle.
With that in mind, here are the top eight targets the Sixers should be focusing on during Thursday's draft.
Off the board: Anthony Davis, Michael Kidd-Gilchrist, Bradley Beal, Thomas Robinson, Harrison Barnes, Andre Drummond, Damian Lillard, Dion Waiters, Austin Rivers, Meyers Leonard, Jeremy Lamb.
These 11 players appear to be lottery locks, and thus, won't be available when the Sixers choose 15th.
8. Tyler Zeller, C, UNC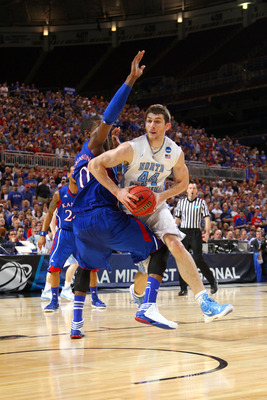 Dilip Vishwanat/Getty Images
You know what you're getting with Zeller, a four-year player for UNC, before you even draft him. He's the textbook definition of a safe mid-first round pick.
At 7' even, Zeller should be spending most of his time down low in the league, but he's got the ability to knock down the mid-range jumper, too. His shooting percentage and points-per-game averages only improved each year, which makes him one of the players in this year's draft most ready to step in and contribute immediately.
Had the Sixers not selected another seven-footer in last year's first round (Nikola Vucevic), Zeller may have worked his way up a few notches in these rankings.
On the other hand, there's a strong chance Tyler's younger brother, Cody, would have been drafted above him had Cody declared after his freshman year at Indiana.
Thanks, but no thanks. Pray a team in the 10-14 range ends up taking him.
7. Moe Harkless, SF/PF, St. John's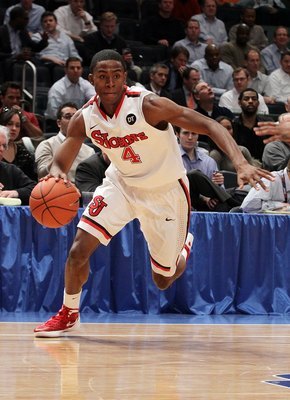 Jim McIsaac/Getty Images
Harkless, the springy swingman from St. John's, will almost certainly be on the board when the 15th pick rolls around on Thursday.
The Big East Rookie of the Year may have played on a somewhat mediocre Red Storm team, but he showed flashes of dominant potential throughout the year. A 21-point, 10-rebound performance against Georgetown was followed up two weeks later with a 30 and 13 against Duke.
Harkless likely won't face an easy transition to the NBA like Zeller does, however. He played mostly power forward for St. John's this past season, but needs to make the transition to a small forward for most of his NBA minutes in all likelihood.
Factor in the cringe-inducing 20.2 percent shooting averages from three-point range this past season, and suddenly, it's understandable why Harkless likely won't end up as a lottery pick on Thursday night.
With an improved jumper and some added bulk, Harkless could become a solid NBA starter, without question. The Sixers will have better talent available to choose from, however.
6. Arnett Moultrie, PF, Mississippi State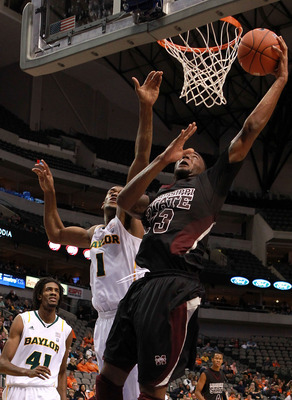 Ronald Martinez/Getty Images
At 6'11", Moultrie would provide the Sixers some much needed size in the paint, especially with the futures of Elton Brand and Spencer Hawes in flux.
After two average seasons at UTEP, the 21-year-old Moultrie broke out at Mississippi State this past season, averaging 16.4 points and 10.5 rebounds per game for the year.
Moultrie turned in one of the fastest 3/4 court sprint times at the NBA draft combine, putting his athleticism on display for scouts and executives. He's got the speed to run with the transition-loving Sixers.
The major dings on Moultrie have to be his free-throw percentage in college (53.5 percent his freshman year), and questions about his ability to dominate inside the paint. Until he adds more bulk, he projects more as a face-up 4 than a back-to-the-basket player.
Athletically, Moultrie would fit on the Sixers without question. Instead, the Sixers are left to wonder how much else Moultrie could provide for the team on both ends of the court.
5. Terrence Jones, PF, Kentucky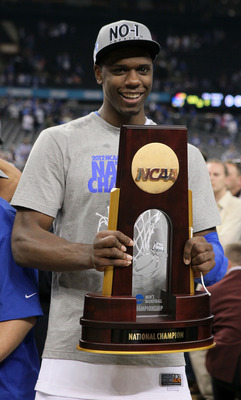 Jeff Gross/Getty Images
If the Sixers land any of these next five guys, they've had a great draft.
Jones, the sophomore from Kentucky, has an NCAA championship to explain away any questions about his shrinking stats in his second year. After averaging nearly 16 points and nine rebounds per game his freshman year, his per-game averages dropped to 12 and seven this past year (ever hear of Anthony Davis?).
Jones has the size (6'10", 250 pounds) to hold his own down low, but needs to show much more commitment to that aspect of his game in the league. Were the Sixers to draft him, they'd need him to patrol the paint, not drift out to the perimeter.
He never proved to be a great free throw shooter in college, shooting under 65 percent in each of his two seasons, but did demonstrate some range on his three-ball. Again, the Sixers shouldn't keep him camped out 20 feet from the basket, but the ability to knock down long jumpers always helps with big men.
Like another player later on in this list, Jones' biggest question may very well be his motor. How much drive does Jones have to add an NBA championship on his mantelpiece alongside his NCAA title?
4. Terrence Ross, SG, Washington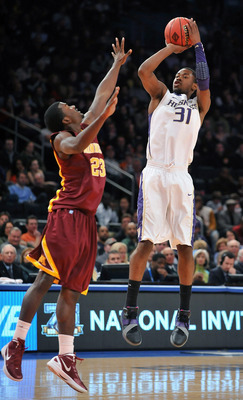 Jason Szenes/Getty Images
Ross is the only non-big man you'll find on this list, and for good reason. The Sixers need reliable, young bigs more than anything else, and the team should find plenty of them in the middle of this year's first round.
With Ross, on the other hand, the Sixers get an immediate upgrade at the 2 over Jodie Meeks, who's an unrestricted free agent this summer.
Ross possesses prototypical size for an NBA shooting guard at 6'7", and he managed to knock down 37 percent of the 5.5 three-pointers he averaged per game this past season at Washington. He also put his nose for rebounds on display this past season, racking up over six per game.
Currently standing somewhere near 200 pounds, Ross still needs to add a solid 10-15 pounds to stand up to the Kobe Bryants of the world. He could only bench the 185-pound bar at the combine twice, suggesting that he's far from finished developing his upper-body strength.
If the Sixers are ready to trade either Andre Iguodala or Evan Turner, putting whoever remains at the 3, Ross may be the dark horse pick for the Sixers here.
3. Jared Sullinger, PF, Ohio State
Jeff Gross/Getty Images
Now we're talking.
Sullinger had been a projected top-10 pick before Chad Ford reported last week that he's been red-flagged by multiple NBA teams due to back issues. Ever since, Sully's draft stock has been tumbling, evidenced by yesterday's news that the NBA didn't invite him to the draft Thursday night.
Sullinger's father dismissed the back concerns, blaming the trouble on muscle tension in his son's hamstrings and quadriceps. If true, the Sixers could be landing a monumental steal at No. 15.
He could have entered the draft after his freshman season, where he averaged 17 points and 10 rebounds a game, and been a guaranteed top-5 pick. Instead, he returned for his sophomore season and gave scouts another year to pick apart his weaknesses (sound familiar, Joakim Noah?).
Sullinger tested pathetically at the draft combine, easily ranking as one of the worst athletes in the class. Still, the Sixers know that Sullinger could step in and eventually succeed Elton Brand as the starting power forward, provided Brand isn't amnestied this summer.
2. Perry Jones, PF, Baylor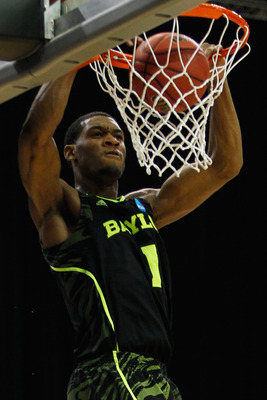 Streeter Lecka/Getty Images
Personally speaking, PJ3 is the most intriguing player in the mid-first round.
He's an absolute athletic freak, as his trainer told Hardwood Paroxym recently. Measuring over 6'11" and with a standing reach of nearly nine feet, Jones finished tied for the fourth fastest 3/4 court sprint at the combine.
Like his namesake Terrence Jones, the biggest questions surrounding the Jones from Baylor revolve around his drive and his motor. With such dominant athletic ability, why couldn't he average more than 13.5 points and 7.6 rebounds per game this past season?
According to his trainer, the problem resided in a "mechanical issue," involving Jones putting too much stress on his knees and not enough on his hips. The trainer told HP that Jones was one of the top 10 athletic prospects he ever tested, in any sport.
With the No. 15 pick, the Sixers have the right to gamble on a player who could break out to be an All-Star if he doesn't flame out of the league early. Perry Jones III is that player.
The thought of Jrue Holiday, Evan Turner and PJ3 in a few years just gives me goosebumps.
1. John Henson, PF, UNC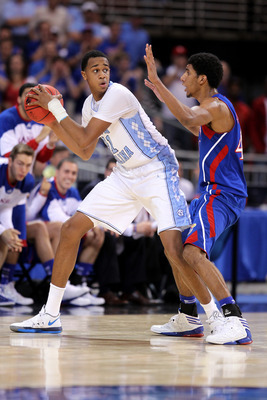 Andy Lyons/Getty Images
A number of mock drafts have Henson going off the board before here, starting at No. 9 with the Detroit Pistons. ESPN's Chad Ford reported Monday that Henson stood out in a big man workout in Detroit, which may seal his fate as a top-10 pick this Thursday (If so, all aboard the Perry Jones bandwagon).
If, somehow, Henson remains on the board at No. 15, the Sixers should the UNC product up without thinking twice.
He's got the requisite height for a starting power forward (6'10"), but at only 216 pounds, he's due for an all-protein diet for the next few years. Shaquille O'Neal may have retired, but Henson's lanky frame would get him eaten alive in the post until he puts on considerably more muscle.
On the bright side, he's a ferocious shot blocker, averaging around three blocks per game for the Tar Heels each of the past two years. Paired with Vucevic down low, the Sixers could have a budding tenacious frontcourt on their hands.
If Elton Brand has played his final game as a Philadelphia 76er, the team could do far worse than replacing him with Henson.
Keep Reading

Philadelphia 76ers: Like this team?