Does Yankees' Rafael Soriano Deserve to Be a 2012 AL All-Star?
June 26, 2012

Nick Laham/Getty Images
Twelve months ago, no one could have foreseen the present Yankee bullpen before us.
After recording his best year in the majors, Rafael Soriano swapped AL East uniforms and joined the Yankees in 2011.  His 45 saves in 2010 with Tampa had catapulted him into a setup role and a lucrative $35 million contract.
Much was expected from the 32-year-old, even if general manager Brian Cashman wasn't fully on board.  "I didn't recommend it," he curtly explained at Soriano's press conference.
As for the 2011 season, Cashman looked like a soothsayer of the highest power. 
In a rather short amount of time, Soriano managed to pitch ineffectively, call out his new teammates and set up shop on the disabled list.  To make matters worse, his excruciatingly bad body language did nothing to gain sympathy from an already frustrated fanbase.   
At season's end, he finished with a 4.12 ERA, an all-around disappointing freshman year with the Bombers. 
In an eerie twist of fate, Soriano has managed to put the first year disappointment behind him.  When Mariano Rivera tore his ACL in Kansas City with a freak pregame injury, the Yanks had to choose between David Robertson and Soriano.  However, the eventual answer became even clearer when Robertson hit the DL with a strained ribcage.
It was time to respond to the sea of naysayers.
So far, the right-handed closer is answering the call.
Since officially taking over Rivera's big shoes, Soriano has blown just one save in 15 opportunities.  His ERA of 1.65 is not the best in the American League, but it stands shoulder to shoulder in the Top Four.  Even more impressive, the right-hander has given up only five earned runs in 27.1 innings.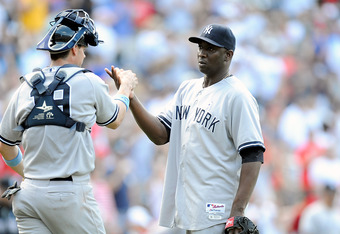 Greg Fiume/Getty Images
So will he be joining the game's elite in Kansas City on July 10?
He certainly has a favorable shot, but only Texas Rangers manager Ron Washington knows for sure.  Because pitchers aren't voted on by the fans, no one exactly knows the answer except for the manager of the defending American League champs.
In the 2011 All-Star Game, there were nine relief pitchers selected for the American League.  If the quirky Rangers manager is a creature of habit, Soriano will be wearing his Yankee grays at baseball's summer classic.
But regardless if he is one of the chosen few, his contribution to the club in the first half cannot be understated.  Suggesting he would be in this spot 12 months ago would be an aberrational statement met with a chorus laughter.
Now, Rafael Soriano is the one laughing, perhaps all the way to the All-Star Game.