Fantasy NASCAR Picks for the Quaker State 400 at Kentucky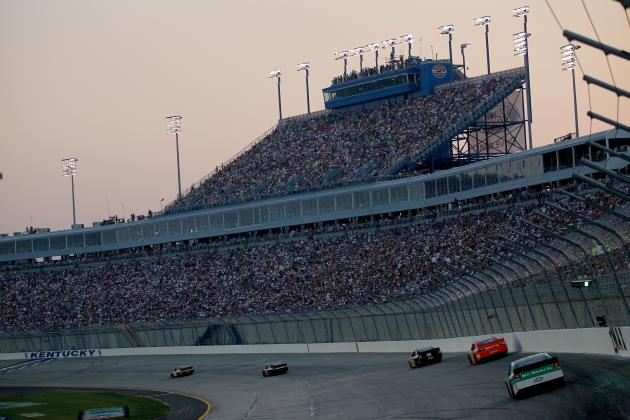 Chris Graythen/Getty Images

This week the NASCAR Sprint Cup Series will make their second trip to the Kentucky Speedway.
Last year the race was a disaster for fans, as many were stuck in traffic and could not make it to the racetrack. They did not miss much! The racetrack only had one groove, and resulted in some boring racing.
Hopefully the racing will be better this season.
The most important thing for fantasy NASCAR players to know is that the race will be run on Saturday night. This means your Yahoo! Fantasy Auto Racing lineups will be due earlier than usual this week.
Fantasy NASCAR players in the Yahoo! Fantasy Auto Racing game will not get a chance to see any practice sessions before their teams will be due early Friday morning. It would have been nice to see the practice sessions at Kentucky, since there has only been one NASCAR Sprint Cup Race at the racetrack.
Since there is limited data for this race, I used last season's race results, previous Nationwide Series race results and driver performances on similar racetracks this season to determine my selections for the Kentucky race.
Here are my picks for the Yahoo! Fantasy Auto Racing game…
Begin Slideshow

»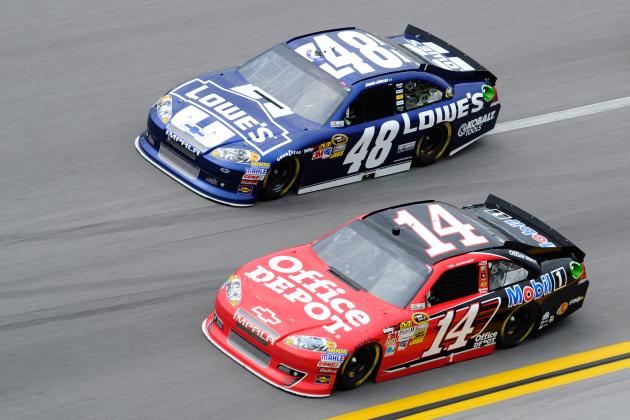 John Harrelson/Getty Images

Jimmie Johnson
By all rights, the name that should be listed here is Kyle Busch.
Bush has had a lot of success at Kentucky in the Nationwide Series and won the only Sprint Cup Series race. The engine department at Joe Gibbs Racing is unreliable right now, as Busch's cars have blown up in three of the last four races.
The next-best driver at Kentucky Speedway is Jimmie Johnson.
Johnson finished third last year in this race, and his average running position was 5.5. Kentucky Speedway is similar to Charlotte Motor Speedway—the track Johnson has the most success at.
Johnson will finish in the top five.
It is officially summer, and that means it is time for Tony Stewart to heat up.
Stewart has a streak of three top-three finishes going. After struggling for a month, Stewart is becoming the dominant driver he was in the Chase last year and the start of the season this year.
In his only start at Kentucky, Stewart performed well. He qualified in the top 10, ran 75 percent of the race in the top 15 and led a lap.
Stewart has four wins in the last 10 races on the cookie-cutter racetracks. That is the most by any driver in the field. Smoke will easily finish in the top-10.
Other good picks: Kyle Busch, Matt Kenseth and Brad Keselowski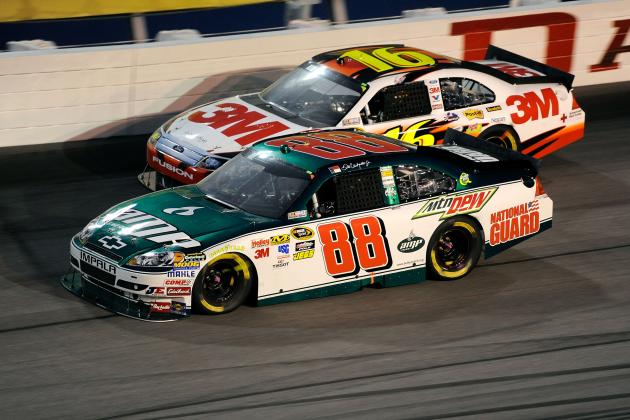 John Harrelson/Getty Images

Greg Biffle
Greg Biffle must be happy to have finished in the top 10 at Sonoma. Biffle usually struggles on the road courses, but this year Biffle seems to be firing on all cylinders.
Last year, Biffle struggled at Kentucky. He finished the race No. 21, but Biffle's 2012 season is much better than his 2011 season.
Biffle will keep his momentum going Saturday night with another top-10 finish.
Martin Truex Jr.
This pick is more of a gut feeling than anything else. Michael Waltrip Racing has been very good this year, and this week they will be racing in Waltrip's home state. I have the feeling their cars will be ready for this race.
Martin Truex Jr. has been good on the cookie-cutter racetracks. He finished No. 8 at Fontana, No. 6 at Fort Worth, No. 12 at Charlotte, No. 12 at Michigan and dominated the race at Kansas.
Truex will add another top-10 finish to his successful 2012 season.
Kasey Kahne
Kasey Kahne has been good this year on simple racetracks, but when I pick him he seems to have bad luck. I put him on this list, but I do not plan to use him. I will not put the jinx on him this week, so he will be safe to use for your team.
Kahne finished No. 13 in this race last year. Kahne usually performs well at Charlotte Motor Speedway, and since the racetracks are similar, I think Kahne will finish in the top 10 Saturday night.
I really wanted to use Joey Logano as my final selection, but I do not trust the engine department at Joe Gibbs Racing.
Will this be the week Dale Earnhardt Jr. breaks his 13-day winless streak?
Earnhardt has been the most consistent driver in the sport. He struggled in this race last season, but that was the old Junior. Earnhardt has finished every race on the cookie-cutter tracks in the top 10. He will do it again Saturday night.
Other good picks: Clint Bowyer, Joey Logano, Marcos Ambrose and Ryan Newman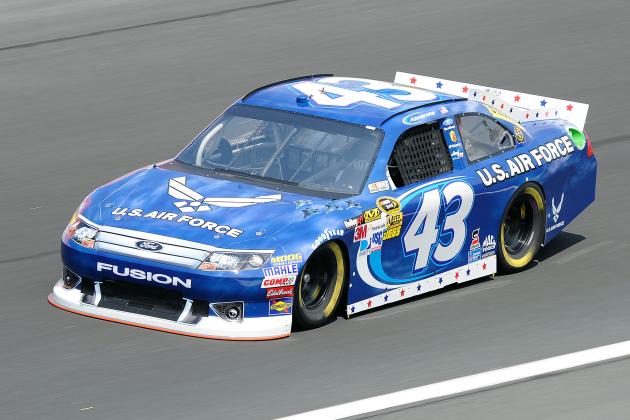 John Harrelson/Getty Images

Aric Almirola
Aric Almirola should be on every fantasy NASCAR team this week. He has the best equipment of any driver in Group C and his relationship with Crew Chief Mike Ford has made the No. 43 team competitive.
Almirola has raced at Kentucky two times in the Nationwide series. He finished No. 6 and No. 20 in the two races.
Almirola will finish the race on Sunday in the top 20.
Bobby Labonte
Bobby Labonte is an experienced driver, and I am banking on his experience paying off this week for my fantasy team.
Labonte has always performed well on the cookie-cutter tracks. Labonte finished No. 26 in this race last year. He is coming off a No. 16 finish in the last race at a cookie-cutter track at Michigan.
Other good picks: Casey Mears, David Ragan and David Reutimann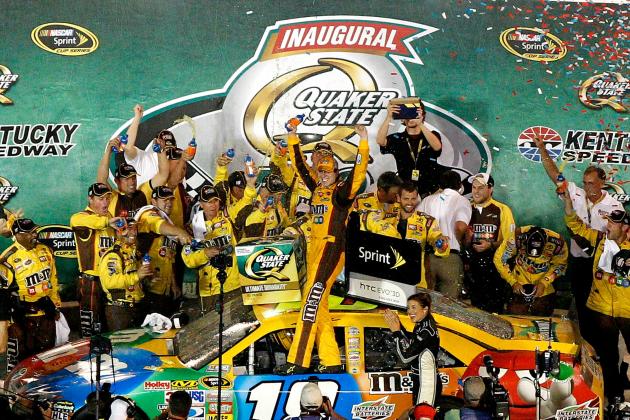 Sean Gardner/Getty Images

Since the NASCAR Sprint Cup Series has only raced at Kentucky Speedway once, there is not much history to go by to prepare your fantasy team. Here are the results from the race last year:
Driver Finish Position

Average Running

Position

Laps

Led

Percent

Top-15

Driver

Rating

1. Kyle Busch

2

125

100

145.6

2. David Reutimann

9

7

92.9

105.8

3. Jimmie Johnson

6

0

95.9

119.8

4. Ryan Newman

18

0

29.6

85.5

5. Carl Edwards

8

0

96.3

108.2

6. Matt Kenseth

9

0

98.1

103.1

7. Brad Keselowski

5

79

97.0

118.6

8. David Ragan

11

3

84.3

94.1

9. Kurt Busch

4

41

99.6

118.5

10. Jeff Gordon

19

0

30.7

75.2

11. Denny Hamlin

15

5

61.0

85.4

12. Tony Stewart

12

1

75.9

97.2

13. Kasey Kahne

12

1

57.3

94.6

14. Joey Logano

16

0

51.3

80.8

15. J.P. Montoya

17

0

59.3

100.7

16. Kevin Harvick

18

0

39.8

85.8

17. Regan Smith

17

0

13.2

79.4

18. Martin Truex Jr.

18

1

38.4

72.7

19. Jeff Burton

19

0

21.9

70.9

20. Marcos Ambrose

20

0

25.1

69.4
* Driver ratings include: Finish, average running position, average speed and number of fastest laps run in the race.
*Stats courtesy of NASCAR Media Department.
My predicted Top 10: 1. Tony Stewart, 2. Jimmie Johnson, 3. Matt Kenseth, 4. Dale Earnhardt Jr., 5. Kasey Kahne, 6. Greg Biffle, 7. Jeff Gordon, 8. Martin Truex Jr., 9. Clint Bowyer, 10. Carl Edwards.
Good luck this week!
If you need any further advice with your team, look for me on Twitter @HuskerMagic.
If you like Fantasy NASCAR, LIKE my Fantasy NASCAR Page on Facebook: