NBA Draft 2012: Portland Trail Blazers, to Trade or Not to Trade?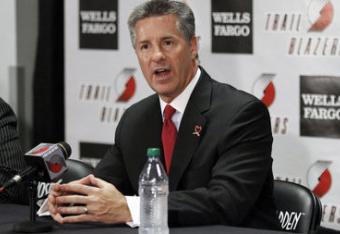 The Portland Trail Blazers are in an envious position heading into the 2012 NBA draft this Thursday. They currently possess two picks in the lottery—Nos. 6 and 11—as well as several million dollars in cap space.
Between the draft and free agency, there will be a lot of important decisions to be made over the next month. This offseason could likely determine how successful the Blazers are on the court for the next several years.
No one knows for sure what players the Trail Blazers will take in the draft, but with the biggest holes at point guard and center, most figure those are the two likeliest positions to be addressed.
In addition, Wesley Matthews isn't necessarily the starting shooting guard of the future, and even Nicolas Batum's future is in doubt with the team.
Most likely, the Trail Blazers will do what it takes to re-sign him to a fair deal, while still having money left over to either pursue free agents or to save cap room for longer-term deals that might be needed down the road if these two lottery picks pan out.
Blazers' GM Neil Olshey said today that he expects the team will use both of their lottery picks rather than try to move one or both for players from another team.
This could mean that either the team has not been getting any takers for the picks (which doesn't seem likely, given the depth of the draft), or that no one really has anything comparable to those assets that they are willing to offer at this point.
Anything could change over the next couple days, but I agree with Olshey and the Blazers' decision to hang on to the picks.
As I previously wrote, the Trail Blazers should use a rookie at that position, since there probably aren't any established centers out there that would be worth the signing price.
There are also reports that former Blazer draft pick Joel Freeland might be ready to sign with the team, which would prove to be a cheaper move than going out and getting an established NBA center.
For point guards, there aren't a ton of appealing possibilities.
With Deron Williams indicating that Portland is not on his short list of destinations, Steve Nash is the biggest remaining name on the market. However, he would probably prefer to play for a championship contender at this point in his career, even if it means taking less money than the Blazers could offer.
Plus, the team's recent injury issues might be enough to scare Nash away.
Goran Dragic could be a good option if he decides to leave Houston, but would he be better long-term than Damian Lillard or Kendall Marshall?
Hard to say, but at the price he might command, taking a backseat in the Goran Dragic sweepstakes might be the best course for the Blazers right now.
There's always an increased level of excitement for a team and its fans when they can bring in someone via free agency who is viewed as an immediate impact player.
It can be hard to generate that same level of excitement with unproven draft picks who have yet to accomplish anything on the world's biggest basketball stage.
Fortunately for the Blazers, they have some amazing fans whose loyalty isn't based on splashy free-agent acquisitions or making the NBA Finals every year. We can afford to be patient and watch our two new lottery picks develop into something special.
Having LaMarcus Aldridge and Batum on the roster will help accelerate the process. The Trail Blazers have a bright future, and by holding on to the two lottery picks they own, they'll show that they are ready to officially move forward the right way—with patience.
This article is
What is the duplicate article?
Why is this article offensive?
Where is this article plagiarized from?
Why is this article poorly edited?

Portland Trail Blazers: Like this team?