Colorado Avalanche: Still Plenty of Work to Be Done in Colorado This Offseason
June 25, 2012

Doug Pensinger/Getty Images
The Colorado Avalanche have made some moves this offseason—signing Matt Duchene, David Jones and Cody McLeod to new deals—but there is still work to be done.
There are still plenty of essential players from last season's roster that Colorado needs to negotiate with.
Peter Mueller, Steve Downie, Ryan O'Reilly, Mark Olver, Kevin Porter, Jamie McGinn, Erik Johnson and Ryan Wilson are all restricted free agents. Jay McClement and Shane O'Brien are both unrestricted free agents.
Some of these players are more important to bring back than others, but there are only 13 players under contract on the current roster. That's an issue.
The Denver Post's Adrian Dater writes that Colorado cannot ignore labor issues when going into free agency. As I've noted, Colorado has plenty of players to sign and that should leave a good amount of payroll available, but the salary cap could drastically decrease in a new CBA agreement.
Colorado should take care of the bigger names and then head into free agency with high hopes.
General Manager Greg Sherman's priorities should be focused on re-signing guys like McGinn, O'Reilly and Johnson.
Colorado acquired McGinn in late February from the San Jose Sharks. He tallied 13 points in 17 games playing on the Avs' top line. O'Reilly was Colorado's points leader last season and is arguably the best forward on the roster. Johnson led Colorado's defenders in points and is essential to the future of this young team.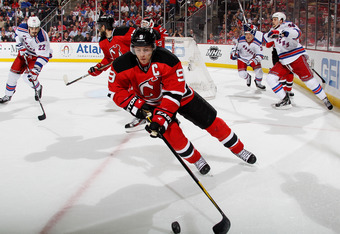 Bruce Bennett/Getty Images
It would be nice to bring back Wilson and Downie too, but they're in a different class.
Aside from those five players, every other Colorado free agent is replaceable. There's no reason why Colorado can't bring players up from Lake Erie, or find cheap replacements once free agency starts.
According to CapGeek.com, Colorado currently has over $36 million of cap space. Even if the Avs go out and re-sign those five players, there should still be a ton of money left to dive into the free agent market.
Dater notes that Zach Parise and Ryan Suter would be major upgrades to the roster, but since the salary cap could decrease Colorado might not be able to take a chance on them. However, with the extra money from not bringing back some of the less-popular players the Avs could take a risk on an impact player.
The Avalanche misreading what the salary cap will be and then having to find a way to get back under it would be the worst case scenario. Best case, they sign one of these players, stay under the salary cap and make the playoffs for the first time since 2008.
Sherman has done a decent job during this offseason, but a lot of work still needs to get done before the start of next season.