Sharks 2012 NHL Draft Picks: Grades, Results and Analysis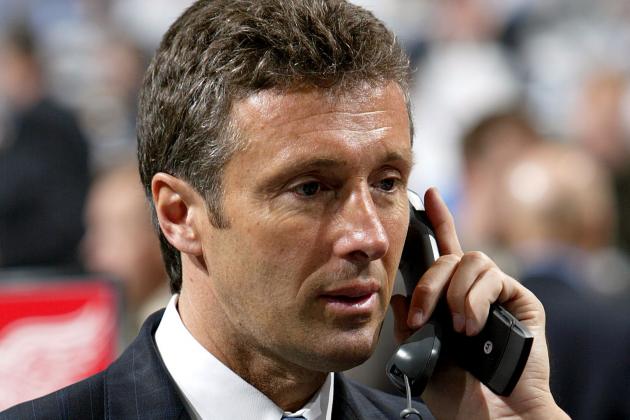 Dave Sandford/Getty Images

Doug Wilson's approach as a general manager is best described in one word: Active.
Wilson is always swinging trades, whether it be during the offseason, at the trade deadline or on draft day.
Last year, Wilson and the Sharks stole the headlines by trading their first-round pick, top prospect Charlie Coyle and Devin Setoguchi to draft host Minnesota for Brent Burns and a second rounder.
While Wilson is not afraid to move picks, he's also not afraid to trade up—a strategy that has netted him players such as Setoguchi and Logan Couture.
Of course, another word that accurately describes Wilson is unpredictable. So while one can expect the Sharks' GM to be busy on Friday, June 22, it's anybody's guess what Wilson will specifically do.
Having said that, there are some obvious issues for San Jose to address this weekend.
Updated with draft results and grades on June 23.
Begin Slideshow

»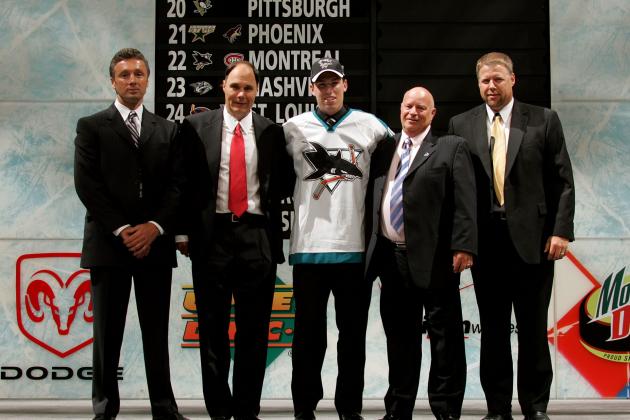 Bruce Bennett/Getty Images

Sharks Draft Picks
Rd. 1, pick 17
Rd. 2, pick 55
Rd. 5, pick 138
Rd. 6, pick 168
Rd. 7, pick 191
Rd. 7, pick 198
Well before the No. 17 pick roles around, Doug Wilson will be on the phone. And there's a very real chance that San Jose will end up picking sooner or later than that 17th spot.
After acquiring a top-four defenseman in the month of June for two years in a row (Brent Burns last year and Stuart this year), the Sharks are very unlikely to trade for another top-four defenseman this draft.
However, there is a good chance that San Jose tries to land an available top-six forward via trade. At the top of that list will be Rick Nash, but other big names will likely enter talks between now and then, and likely already have behind closed doors.
There's also a very real chance that San Jose moves a high-profile player in order to move up in the draft.
San Jose will likely hold onto its second round pick, as they will not have a chance to draft until the fifth round after that. With a track record of great late-round selections, Doug Wilson and the Sharks will certainly retain some of their day two picks, but one or two could easily be moved in a blockbuster deal.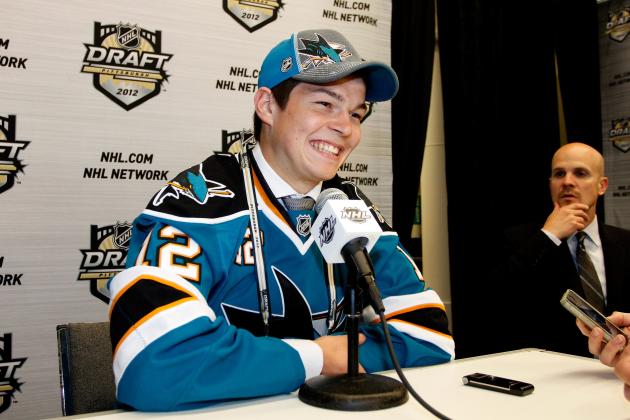 Justin K. Aller/Getty Images

UPDATE (6/22/12)

With the 17th pick in the 1st round of the NHL Draft the San Jose Sharks have selected Tomas Hertl.
Hertl is a 6'2" 198 pound C from the Czech Republic. His full scouting profile can be viewed here.
Pre-Draft

The Sharks have the No. 17 pick and the need to replenish their farm system with top-end talent.
Because the franchise is accustomed to finishing each season with one of the league's best records, they are also accustomed to drafting outside of the top 20. This makes trading away first round picks easier for Doug Wilson, who often receives more value than expected for selections late in the round.
Being in the top-20 for once, it's unlikely San Jose squanders this opportunity to add a big-time prospect. Although the pick could potentially move in a Rick Nash trade, the Sharks will almost certainly move up if they move the pick at all.
Prediction: The Sharks stay at No. 17. If Swedish right wing Sebastian Collberg falls to them, San Jose gobbles him up. He's a great skater and gifted goal scorer, and has top-line potential. With very few forward prospects and a terrible lack of right wings at the NHL level, this would be the Sharks best-case scenario.
If Collberg isn't still around, San Jose drafts Canadian defenseman Slater Koekkoek. He's big (6'2"), fast and is a great two-way prospect. In most drafts, Koekkoek would likely go in the top-15, but the depth of this class defensively will likely leave him on the board at No. 17.
If San Jose does move up, it could be to No. 12. The Buffalo Sabres have spoken openly about their willingness to move picks, and the Sharks may be willing to move Patrick Marleau for the No. 12 pick and another player.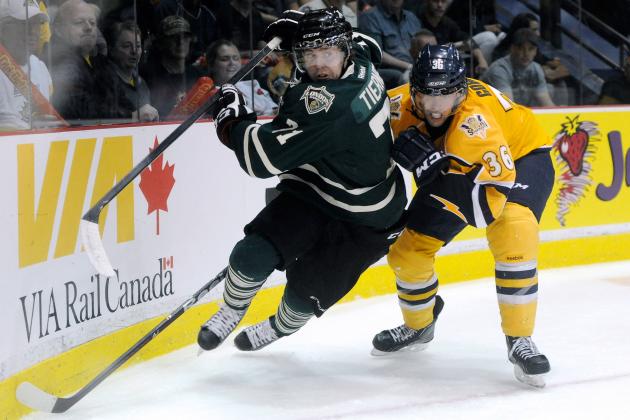 Richard Wolowicz/Getty Images

UPDATE (6/23/12)
With the 55th pick in the 2nd round of the NHL Draft the San Jose Sharks have selected Chris Tierney
Tierney is a 6'0" 181 pound C from Ontario.
Pre-Draft
Immediately, the picture becomes less clear.
We obviously can only speculate on anything San Jose may do on draft day, as it's all a mystery until it happens. But the potential variables of round two—less common knowledge of prospects available, more players off the board, more trades made, etc.—outweigh those of round 1.
Having said that, a couple things can be fairly speculated upon regarding what San Jose will do at No. 55.
First of all, they will likely keep their pick, as they won't pick again until No. 138. If they do keep their pick, they will likely draft the best skater available, as they don't need goaltending prospects with Thomas Greiss, Alex Stalock, Harri Sateri and Tyson Sexsmith already in the organization.
Prediction: The Sharks add a high-ceiling center in Mark Jankowski. The Canadian resembles a young Joe Thornton due to his size (6'3"), passing ability and vision, as well as his accurate shot.
If San Jose goes offense in round 1 and Jankowski's off the board at No. 55, they could draft physical Swedish defenseman Ludvig Byström. He's got an NHL-ready body (6'1", 208 lbs), but at age 17, he has time to develop while San Jose's currently strong defensive corps ages.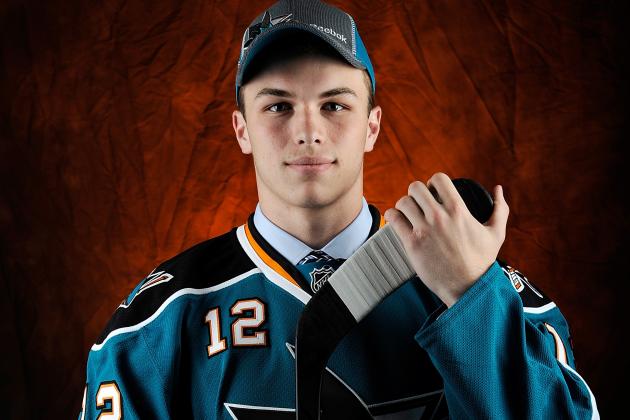 Jamie Sabau/Getty Images

UPDATE (6/23/12)

The San Jose Sharks have traded the 191st overall pick and their 2013 4th round pick to Chicago for the 109th overall pick. They have used that pick to select 6'0" 168 pound Canadian winger Christophe Lalancette.
The Sharks have used the 138th pick to select 5'9" 162 pound German center Daniel O'Reagan. They have also used the 168th pick to select 6'1" 188 pound U.S. defenseman Clifford Watson and the 198th pick to draft 5'10" 182 pound U.S. defenseman Joakim Ryan.

Pre-Draft
San Jose has zero picks in rounds 3 and 4. However, they have four picks in rounds 5-7.
It is impossible to even speculate on what players will be available here and which ones the Sharks will target, but that doesn't mean the players picked here will not matter.
That's because of the players the Sharks have selected in later rounds in recent years. Ryane Clowe was picked at No. 175 in 2001. Joe Pavelski was chosen at No. 205 in 2003. Justin Braun was the 201st pick in 2007. Tommy Wingels and Jason Demers were picked at No. 177 and 186 in 2008.
The Sharks have a clear history of mining the late rounds for NHL talent. Because of this, along with the Sharks' lack of third and fourth round picks, what they do at picks 138, 168,191 and 198 this year will potentially be as important to the team's future as what they do at No. 17 and No. 55.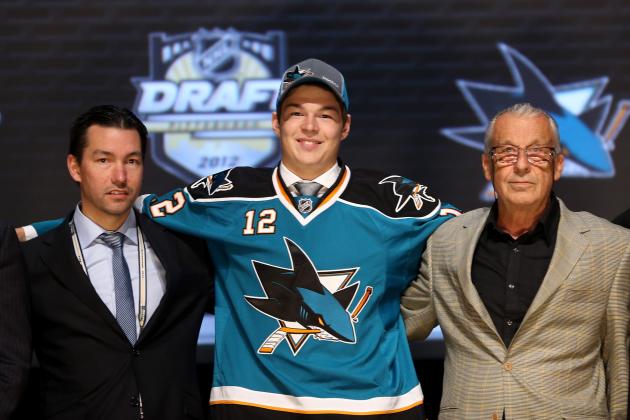 Bruce Bennett/Getty Images

Pre-draft analysis is generally un-revealing. That is to say, no one can predict how a team's draft is going to play out, because that team's general manager and scouts are likely thinking something completely different than what sportswriter's think they're thinking.
Post-draft analysis is similarly pointless. Every team feels as if they drafted the best players available and made the best possible trades—at least at this point. We can determine who actually won and lost this draft in a few years, but for now, nobody knows.
That being said, we can still look at if the Sharks fulfilled some basic objectives, and how they handled any curveballs thrown their way.

Round 1
San Jose drafted Tomas Hertl at No. 17. While Sebastian Collberg—my projected Sharks pick and an assumed top-20 talent—was still available, he fell all the way into the 2nd round. This means that every team passed on him, so San Jose can hardly be faulted.
Slater Koekkoek—my other projected Sharks pick—went No. 10. This means that San Jose didn't make any obvious blunders, and Hertl certainly has top-six, two-way center potential.
Grade: B

Round 2
In round two, the Sharks drafted Chris Tierney. My projected picks Ludvig Bystrom and Mark Jankowski were already gone, so San Jose can't be faulted there.
Tierney was an apparent reach, as he was projected to go in the 5th round or later. However, San Jose didn't have another pick until round 5, so taking Tierney early is undertandable. Still, San Jose could have traded down for, say, a 3rd and 6th rounder, adding Tierney in round 3 and an extra draft pick.
Grade: C-

Trade w/ Chicago
The Sharks always target individuals aggressively. It leads to them "reaching" as they did in round 2, and it leads to them trading up as they did here. San Jose clearly wanted Christophe Lalancette, and giving up a future 4th rounder and one of their two 7th rounders this year was a small price to pay.
After drafting two projects at center, the Sharks did well to add a wing in round 4.
Grade: A-

Later rounds
San Jose went back to center with Daniel O'Regan in round 5, but drafting three centers in the first five rounds may be a good thing: It means the Sharks will very likely gain at least one NHL center from this draft; O'Regan is less of a gamble but more insurance.
The Sharks have an exceptional history of finding NHL-defenseman late in the draft, so the additions of Clifford Watson and Joakim Ryan seem to be far more than Doug Wilson grabbing the best players left—the Sharks likely targeted these guys before the draft.
Grade: A

Overall
The Sharks seemed to reach early and dominate the later rounds, both as per usual. They addressed positional needs at the right places and added a good number of long-term projects. The decision not to drop back to draft Tierney seems questionable, but the decision to jump up for Lalancette seems to even things out.
Overall, this was a typical Sharks draft, and unless they get unlucky, they'll get their usual two or three NHL factors out of it.
Grade: B