The Bluths Explain Football: The Indianapolis Colts Prepare for 2012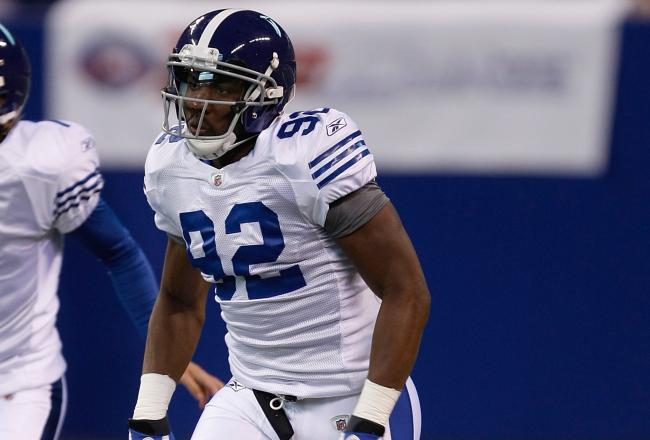 What career?
Scott Boehm/Getty Images
Welcome back to the Bluths Explain Football, an ongoing series in which the cast of Arrested Development gives you insight into the AFC South.
Today's episode is "Storming the Castle." Let's see what it can teach us about the upcoming season for the Indianapolis Colts.
Plot
Michael is still pining for Marta, who can't find Gob. Gob is busy philandering with his "legs" from his "saw the lady in half" trick. Lucille wants to break up Buster's relationship. Maeby and George Michael seek attention through leather.
Michael hatches a plan to expose Gob's deeds to Marta while trying to get Gob back in the good graces of the alliance. It goes awry.
Tobias becomes a "leather daddy."
Quotes
"He thought I was belittling his career, but I never would do that!"
"Neither would I. What career?"
-Marta and Michael
Jerry Hughes was taken in the first round two years ago and has contributed 10 tackles and one sack in his career. He's only still on the roster because it's cheaper to keep him than cut him cap-wise.
Oh sure. First you dump all over it, and then you want to know how it's done.
-Gob
I've been critical of the Colts plan to try and convert Dwight Freeney and Robert Mathis to linebackers, but I'll admit, I'm insanely curious as to how they'll pull it off. One of the interesting points brought up by this article is that the Ravens blitzed 75 percent of the time they had their Mathis/Freeney counterparts on the field.
I find that insane.
You're the noble one. The one who never wins. The loser. The fool.
-Lindsay
Jim Caldwell isn't with the Colts anymore, but somehow this quote reminded me of him. He's a great man, but well, you know...
Tell him Rollo wants him to say goodbye to his legs.
-Rollo
Reggie Wayne just isn't what he used to be. He's still catching everything thrown his way, but he has visibly slowed. His legs are simply gone. He's still a valuable player for the Colts both on the field and in the locker room, but his days a dominant wideout are done. He's a glorified possession receiver now.
"Well, you get a false feeling of superiority."
"Well, that is nice."
-Lindsay and Michael
Colts fans are still dismissive of the rest of the AFC South. In general, fans find it hard to take teams like the Texans seriously because the Colts beat up on them for so many years. This is utterly inappropriate, as the Texans have developed into one of the best teams in the conference.
Peyton Manning lulled Colts fans into believing they had a permanent ownership of the AFC South. Manning is gone, but many fans still have the smug self-satisfaction that winning brought.
"Call me what you want..."
"An impotent man-boy?"
-Michael and Lindsay
I'm not sure where this quote really fits, but it's hilarious. For the sake of argument let's apply it to Andrew Luck, who, for all his maturity, seems a bit goofy and childish compared to Manning. Oh wait, maybe it fits better with Jim Irsay. I don't know about the impotent part, but the man-boy joke seems like it works.
Obviously, it's not a great match, but the line is too great not to highlight. I already had to cut "Leather Daddy"; I'm not losing this one too.
Just going for a new look. Trying to introduce some edge to the whole palette.
-George Michael
Can we go back to Pagano's defense for a minute? I can't see how any kind of high-blitz gambling scheme is going to work with the Colts' current crop of defensive backs. It's fine if Pagano wants to morph to a new style, but they don't have the horses to play his way yet.
Either one of two things will happen in 2012. Either Pagano doesn't actually change that much in the defense because the Colts lack the players to play his way, or they do change and play a high-risk defense and give up 400 points.
Either way, I can't see Indy as anything but a bottom-five unit.
Summary
The Colts don't need to resort to new outfits or gimmicks to get attention in 2012. They just need to show real improvement on the field.
If you are going to build a monster, you should use it to storm the castle. The Colts are on the outs with the alliance of playoff teams, but they are working hard to get back in.
Fans should just hope their cabby doesn't misunderstand the destination. That would be real pain in the butt.
This article is
What is the duplicate article?
Why is this article offensive?
Where is this article plagiarized from?
Why is this article poorly edited?

Indianapolis Colts: Like this team?