Predicting Top Offensive, Defensive Stat Leaders for the Denver Broncos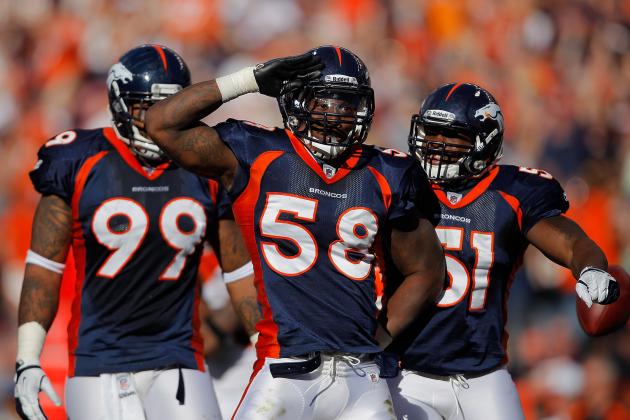 Justin Edmonds/Getty Images

Time to put on the predicting hat once again and determine which players will pace the Denver Broncos in all of the major offensive and defensive categories in 2012.
There are some new faces who are virtually guaranteed to make the list (Peyton Manning), and some returning names that were not on the list last year but could make a surprise appearance (Joe Mays).
Any number of things could throw a wrench in these predictions, but such is the drama of an NFL season. Assuming the roster stays intact, here are the players who will be leading the categories for Denver in 2012.
Begin Slideshow

»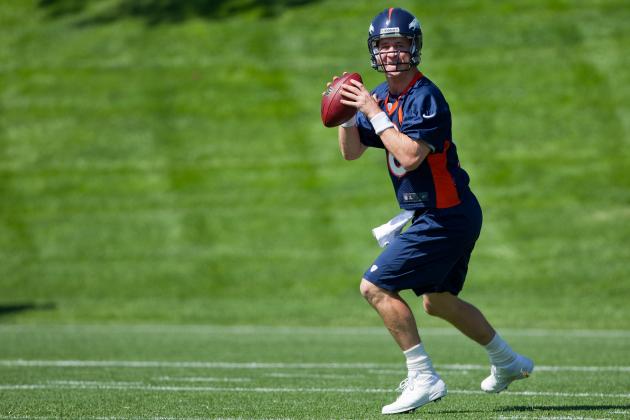 Justin Edmonds/Getty Images

It should come as no surprise that Peyton Manning will easily pace the Broncos in terms of all things passing related.
Expect to see a healthy Manning throw in the neighborhood of 4,500 yards this coming season, and if all goes to plan, something close to 30 TDs.
Denver would also be ecstatic to see a quarterback come in and complete over 60 percent of his passes, which is something Manning can accomplish as well.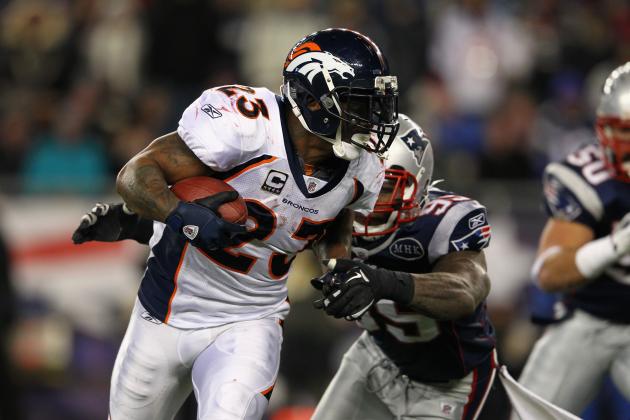 Al Bello/Getty Images

Here is another category, that barring a huge surprise, should be led by the veteran runner in Willis McGahee.
Knowshon Moreno and Ronnie Hillman will see their fair share of time toting the rock, but it will be McGahee who carries the heaviest load and leads the team in rushing yardage and rushing touchdowns.
It will be harder to get above 1,000 yards considering the change in running style, but McGahee should still be able to get just above that number. Rushing touchdowns in the realm of seven or eight should also pace the team and come from McGahee.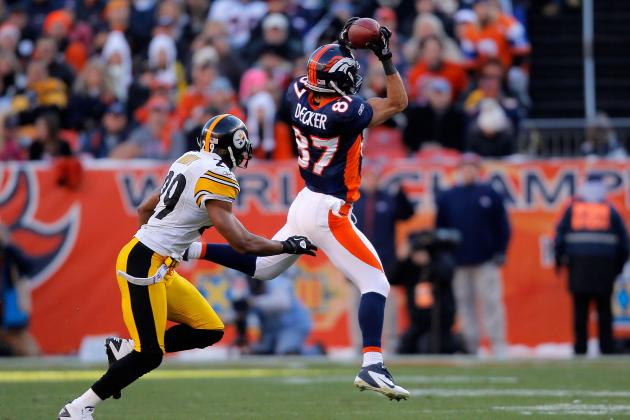 Justin Edmonds/Getty Images

As Peyton Manning goes, so shall the wide receivers and tight ends in the passing game. There should be many opportunities for players to rack up statistics in this category.
Looking at total receptions, it wouldn't be surprising to see Eric Decker lead that category with over 90 receptions. However, in terms of receiving yards the nod should go to Demaryius Thomas with his big-play ability allowing him to get easily over 1,000 yards receiving.
Receiving touchdowns is a much harder stat to predict, and based on the talents of both receivers it wouldn't be a surprise to see Decker or Thomas take the honor.
The biggest breakout star of the passing game could come from the tight end position and Julius Thomas. If he remains healthy, Thomas should easily lead all things receiving from the tight end position.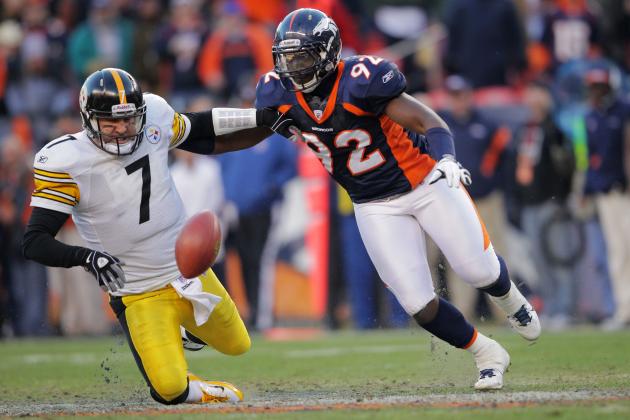 Doug Pensinger/Getty Images

The quick assessment might indicate that Von Miller should easily lead this category based on his performance from last season.
This isn't to say that he couldn't very well lead this category, but the secret is out on Miller and perhaps as a result of the attention he will garner another player will have the chance to step up again.
That player could be Elvis Dumervil, who is no stranger to this statistic. Getting back into the 15 to 18 sack range would be huge for the Broncos, and hopefully the improved pass defense allows Dumervil (and Miller) to convert more often.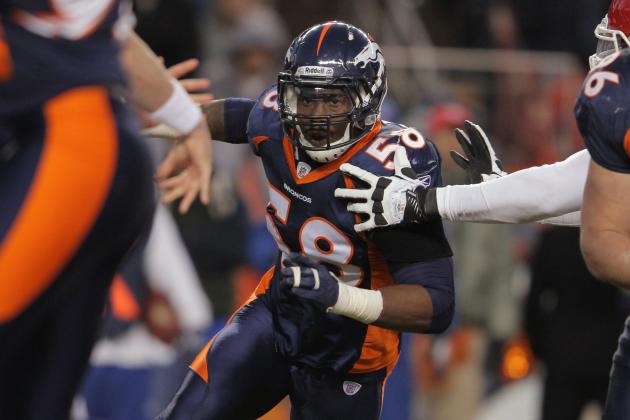 Doug Pensinger/Getty Images

Von Miller has started to build a great reputation for himself as a premier speed rusher in the NFL. That speed generates fast pressure which more often than not turns into strips and sack/fumbles.
While it's true that Dumervil may be projected to have more sacks, it will be Miller who uses his speed to surprise QBs, and running backs for that matter, and generate more turnovers.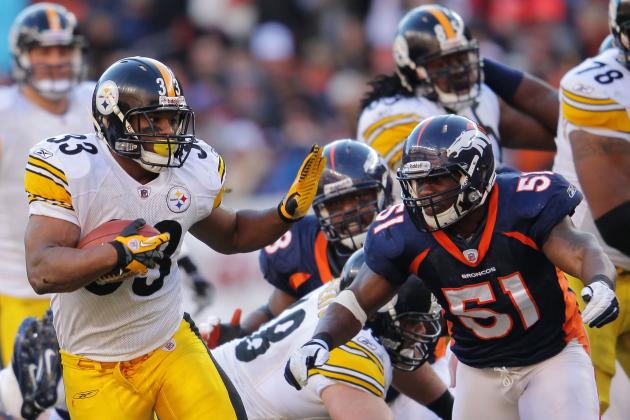 Doug Pensinger/Getty Images

He has been much-maligned at times, but the Broncos put a vote of confidence into this player and he might return that investment in tackles in 2012. That player is Joe Mays at middle linebacker.
Mays should benefit greatly from the presence of former linebacker Jack Del Rio at defensive coordinator. Not to mention there is going to be an increased need for Mays to perform if D.J. WIlliams is in fact suspended, and that should help chip in a lot of tackles to his total.
It depends on how teams try to attack the Denver defense, but there should be a lot of running at the perceived "soft" interior of Denver's defense and that will be coming right at Mays.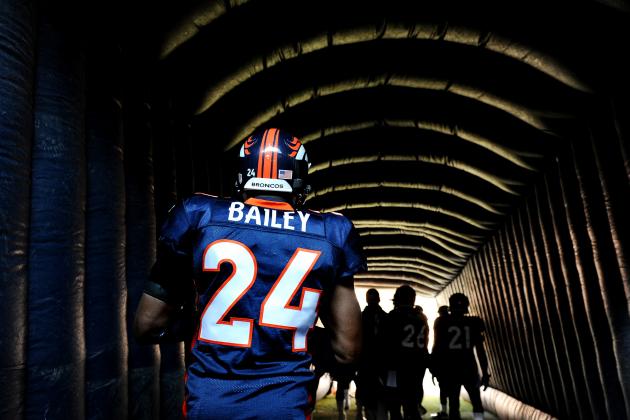 Patrick Smith/Getty Images

No need to overthink this category and go with anyone but Champ Bailey. Bailey is getting help from newcomers on defense and that might cause teams to be forced to throw at Bailey more than they would normally like to.
His total might not be staggering, or record-setting, but Denver's defensive success will be a true team effort with a lot of different players snatching picks out of the air. That is why a total of five interceptions for Bailey could lead the team and be very effective for Denver.