Barcelona: Would Gareth Bale and Lionel Messi Fit Together in Starting XI?
June 25, 2012

Mike Hewitt/Getty Images
Gareth Bale and Lionel Messi were named in UEFA's team of the year in 2011 and it will come as no surprise if history repeats it when it comes to voting for the 2012 version.
However, fantasy may well become reality sooner rather than later as the Bale to Barcelona rumours just won't go away.
Jordi Alba was the favourite to replace the likes of Eric Abidal and Adriano, but there has still been no official move making a potential deal for Bale still very much in the offering.
Many managers and analysts continue to believe the Tottenham youngster is as good as Lionel Messi but while that remains to be seen. The more important question is whether the two superstars could play together in the same team?
Now, of course, the simple answer is yes—they play in two different positions and are both world class in their given role.
On the face of it, that's a pretty simplistic answer which could well prove correct but there are plenty of factors that could prove crucial if they are to prove or disprove the theory that they could coexist and be effective.
Before we asses Bale's on pitch role and credentials, are we assuming that his new surroundings won't affect his performance?
Moving  to a new country is a difficult task for many footballers in England. Unlike the rest of Europe, the English are notoriously bad travellers—very few succeed abroad.
In the last few years, you can argue that David Beckham and Michael Owen have had the most success, but it's certainly not an endless list by any mean—it's actually incredibly short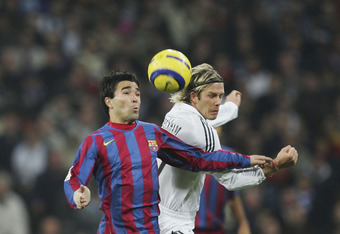 Denis Doyle/Getty Images
Yes, i realise Gareth Bale is Welsh (England wishes he was born within their borders), but he's in the EPL and the lifestyle and language change could well have a big impact on the performance side should he line up in Camp Nou.
On the pitch, Abidal has been so essential to Barcelona defensively due to Daniel Alves' free role down the right hand side. Although Bale has played left-back, the idea that he will be not given the same freedom of Alves is simply unrealistic.
His pace, assists and talent are best used going forward and whether that will be in a wing-back or left midfield role remains to be seen—it just won't be at left back.
So how would that affect Lionel Messi?
From a defensive aspect, FC Barcelona as a team will almost certainly become more open and it's up to Tito Vilanova to solve this potential problem both tactically and in personnel.
That could also have a knock on effect to their possession dominance in games—a natural result of more direct attacking football. Less time on the ball means less time for Messi which will result in a slight decrease in production for the striker.
But however open they may be defensively, the attacking aspect and chances created for the Argentinean could well offset any possession decrease that may occur as a result of Bale's arrival.
Bale's pace is incredible and if he does make the move, all La Liga defences should be very worried indeed!
15 goals and 16 assists in one season is a magnificent return and the fact that most of those goals came specifically from the left and not the central position Harry Redknapp played him in towards the end of the current campaign bodes well for both Messi and Barcelona as a team.
It would be a totally new area of production for Messi in his quest to become the greatest to have ever played the game.
Bale will certainly get special attention. His productivity went considerably downhill when opposition teams double marked the Welsh superstar.
But that won't be the same in La Liga. Simply put—there's not enough players to put two men on him.
That particular double teaming is reserved for the likes of Messi himself and with the false-nine position in full effect, it's almost impossible to execute successfully.
There are simply too many threats from too many areas in the side and Bale will only add to that dynamic.
Perhaps the most important fact of how well Messi and Bale could fit together in the same side is the return of David Villa.
It's not yet known how Vilanova will use Villa or whether he will be the same striker again but it would be extremely naive to write off such a top class player.
At the moment, Alves and Bale would be equally effective in Messi's production as he plays predominantly down the middle.
But add Villa back into the starting XI and Bale's significance considerably rises while Alves' falls.
Of course, Messi will continually have free reign to cause chaos whenever and wherever he wants but it's almost certain he would drift slightly to the right to accommodate the return of the Spanish striker.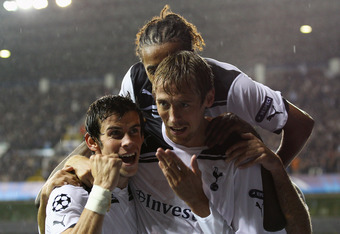 Clive Rose/Getty Images
While it won't be as far right as he once played, the change could well be enough for the left hand side to become the crucial outlet for Messi.
The fact that speculation continues to escalate as to whether Alves could be one of the men to leave Camp Nou sooner rather than later only heightens how important the Bale/Messi partnership would be.
If Barca do let Alves go and sign a more defensive wing-back/full-back, there could be a significant shift of attacking dynamic from the right to the left.
Of course, nothing is guaranteed in football and there would be plenty of questions to answer should Bale get a dream move to Barcelona.
But as far as a Messi/Bale partnership—it could be more important and devastating than anyone could ever realise.