Olympic Men's Track & Field: U.S. Sprinters Put Usain Bolt on Notice
June 25, 2012

Andy Lyons/Getty Images
It's time to hold talk of a Jamaican sweep in the men's 100-meter sprint at the London 2012 Olympics; Uncle Sam has some serious spring in his step. 
Overcoming various layers of injury and doubt, veteran speedsters Justin Gatlin and Tyson Gay qualified for the 2012 U.S. Olympic team in impressive fashion Sunday at the U.S. Track & Field Trials in Eugene, OR.
Gatlin, 30, finished first in 9.80 seconds, making him the second fastest man in the world this season and adding another chapter to his remarkable comeback story. 
After serving a four-year ban for doping between 2006 and 2010, Gatlin has been brilliant in 2012. What once seemed like a desperate swipe at restored glory for the 2004 Olympic champ now feels like a credible threat to Jamaican hegemony.
The 29-year-old Gay faced a very different, but equally acute, type of adversity on his road to London. The oft-injured Kentucky native—whose most recent convalescence included multiple hip surgeries—raced for the first time in nearly a year earlier this month and took second on Sunday in 9.86 seconds.
That time puts him fifth in the world this season, just an eye-blink behind top Jamaicans Yohan Blake (9.84) and Asafa Powell (9.85).
The only real damper on today's results was the tailwind, which checked in at a just-legal 1.8 meters per second. Even then, it's hard to muffle the clear ring of confidence echoing from Eugene—both because of the relatively cool temperatures (mid-60s) and the clear challenges faced by the top finishers.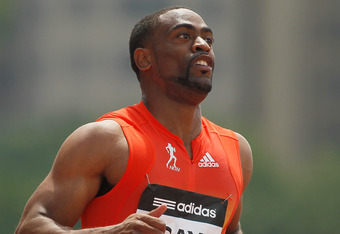 Mike Stobe/Getty Images
A year ago, Gay and Gatlin were longshots to make this Olympic team. This week, they were undoubtedly the two fastest men in America. Better yet, both appear to be trending in the right direction.
Gay in particular can take great solace in his time. His only mark entering Eugene was a finish in 10 seconds flat earned earlier this month at a meet in New York City.
Following that meet, optimists made mention of the stiff headwind impeding his progress. Pessimists wondered if his aching body could produce the sub-10-second time he would need to make the team.
The optimists, it appears, were correct. 
Now Gay gets another month to heal and work toward a London crescendo. And of all the major players in the 100-meter field, he is the one who ostensibly benefits the most from a layoff. Without question, he can be a better sprinter in early August than he was on Sunday.
So, what does this mean for Jamiaca's top talent?
Well, Usain Bolt is still a heavy favorite in this event. He has the three fastest times in the world this year and a brilliant Beijing in his back pocket.
That said, he will have to keep an eye on Gatlin. The Brooklyn-born burner has enough speed to make Bolt think twice, a notion that holds ominous tones considering Bolt's false-start disqualification at the 2011 Worlds.
But it's Jamaica's silver- and bronze-medal favorites that should have real cause for concern.
Yohan Blake and Asafa Powell now have serious competition in the fight for an individual medal. Gatlin already has a better time than both, and Gay isn't far behind.
Add in the prospect of Gay's recuperation, and neither should feel safe.
We should note that much can change in a month, and that Jamaica's best can fire a return volley at their national trials next week.
But at a bare minimum, it appears we have a more compelling and competitive men's Olympic 100-meter competition today then we did mere hours ago.