Brock Lesnar: Will WWE Screw Him Up or Can We Trust Them to Stay the Course?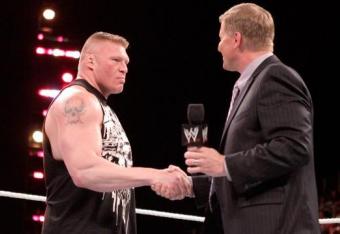 Photo Credit: WWE.com

With Brock Lesnar signed to the WWE for limited appearances over the course of a short period, it's important they maintain course and see his story line through.
If they don't, the move is a waste of Lesnar's time and fans' time.
Should they allow Lesnar to slowly develop? Of course. Can they? Chances are 50-50. Will they? With this creative team, your guess is as good as mine.
Unfortunately, history makes me believe it wouldn't be wise to hold your breath.
Now, I can't definitively say I know what "the course" is exactly. I don't personally work behind WWE's closed doors in Stamford, Conn.
If you and I take WWE's word, Lesnar returned to take the title of "face of the company" away from John Cena.
So far, that plan failed.
Lesnar lost to Cena at Extreme Rules. Since then, Lesnar has appeared on television once while Cena has worked through injuries, beaten The Big Show in a cage match and effectively gotten John Laurinaitis fired.
I'm also guessing Lesnar was billed to be an unstoppable monster who would create a path of destruction on his way back to the top.
Again, he's 0-1 since returning.
It's hard to imagine starting over with a loss as part of the plan.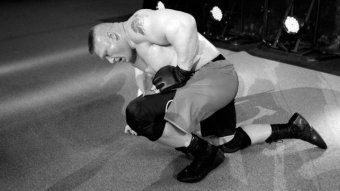 Photo Credit: WWE.com
Lesnar's second match will be August 19 at SummerSlam against Triple H.
Earlier this month I wrote an article detailing the need for Lesnar to destroy Triple H. If he doesn't win at SummerSlam and annihilate Helmsley in the process, an 0-2 record after minimal appearances kills all of the remaining momentum he has.
I don't want to sound anti-WWE and bias, though.
Even I can see the powers-that-be have taken the appropriate steps to keep Lesnar on path.
Though he lost to Cena, Lesnar absolutely manhandled WWE's "superhuman." Had Cena sold it a little better, Lesnar would be in a higher position.
Then, they acknowledged Lesnar's awful mic skills. Coupled with the fact that he has limited appearances, WWE brought in Paul Heyman to act on behalf of Lesnar.
The move was brilliant.
It removes Lesnar from having to speak and keeps him on fans' minds without using up those precious showings.
Unfortunately, the WWE seems to be a knee-jerk type of atmosphere. If something isn't going as perfectly as planned—or simply isn't getting the expected amount of reaction right off the bat—it's changed or scrapped.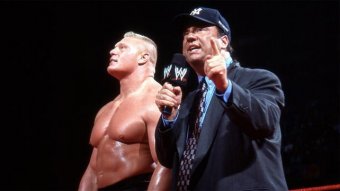 Photo Credit: WWE.com
Ask Tensai why he isn't a lord anymore.
Read comments and articles pertaining to Brock Lesnar, specifically regarding his future and WrestleMania 29, and you might find a massive desire for Lesnar to be the guy who ends The Undertaker's streak.
If this is the course, fine.
But something like this—21 years in the making—can't be half-cooked up one month prior. It needs to simmer.
Maybe that's the angle.
So, as not to take away from the current, developing roster, but still add intrigue and drama to WWE television, Lesnar looks to knock off legends.
He ended his last stint with Goldberg. He began this one with Cena. Next is Triple H and eventually it might be Undertaker. Maybe in between it'll be Shawn Michaels, Steve Austin or The Rock.
Either way, no matter what the direction is, it boils back down to the original question: can we trust creative to hold it together and utilize Lesnar in correct fashion for the year they have him?
Because doing so could lead to Lesnar re-signing for longer.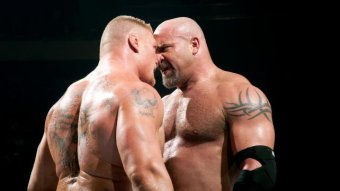 Photo Credit: WWE.com
Fail at it, and he leaves yet again.
WWE has lost many major players in the past due to creative disputes. Steve Austin has walked out on the company over creative differences. There's speculation Batista quit for similar reasons.
Lesnar himself quit the WWE once already.
Not even competing at the highest level or becoming the company's youngest world title winner could overcome his displeasure with the grueling travel schedule.
If he can be at peace quitting at the top, he won't have a hard time walking away in a lesser role.
Only time will tell if behind the scenes, management can keep Lesnar happy.
Yet, it's the sudden quitting of several superstars as well as the waving of the white-flag during multiple other story lines that have me believing it wouldn't be wise to trust WWE's creative team.
This article is
What is the duplicate article?
Why is this article offensive?
Where is this article plagiarized from?
Why is this article poorly edited?