WWE: Why Brock Lesnar Must Crush His Next Opponent
June 4, 2012

There is no better way for Brock Lesnar to regain his nearly non-existent momentum than to demolish his next opponent.
Otherwise, his return will be an epic failure.
Lesnar arrived for a second stint in the WWE with intensity and intrigue. Many questions immediately arose:
"How long will he stay?"
"Is he truly going to be the new face of the company?"
"Is the WWE going in a new direction?"
"Will anyone be able to stop him?"
It looked as if Lesnar certainly would re-insert his name into the top tier of superstars when he delivered an F5 to John Cena within minutes of entering the ring for the first time since 2004.
Lesnar and Cena squared off at Extreme Rules—the perfect venue for Lesnar to showcase his beastly, no-holds-barred style.
Instead, he lost.
Still, Lesnar's momentum continued. He appeared on television demanding contract stipulations and reducing Mr. John Laurinaitis—the company's vice president of talent relations and general manager of both Raw and SmackDown—to nothing more than his own pawn.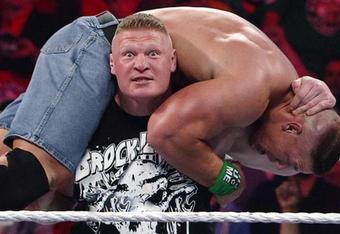 Lesnar even went so far as to attack Triple H, breaking his arm to lay the groundwork for a feud.
But then Lesnar disappeared.
It's been so long since he's been on television—or referenced for that matter—that he's nearly as irrelevant as Camacho.
Whether his next opponent is Triple H or someone else in the locker room, Lesnar needs a win badly. Not only that, he needs to do more damage than he did to John Cena on April 29 at Extreme Rules. He needs to make another statement.
Sure, he destroyed Cena. But he still lost.
Look at how the scenarios would play out in the case of a loss or win.
Brock Lesnar Loses (Again) to His Next Opponent
Assume for a moment Lesnar doesn't fight again until he meets Triple H, who—beaten down badly or not—still secures a win at SummerSlam on August 19.
Triple H restores more order and now has the ability to reject all of Lesnar's stipulations and contract desires. This likely leads to Lesnar complaining on the mic, refusing to participate and even another round of threats to sue.
All of these things make Lesnar look weak.
The point of bringing the former UFC Heavyweight champion, three-time WWE champion, 2002 King of the Ring and 2003 Royal Rumble winner in was to have him tear through the roster and cause havoc.
At least that seemed to be the case after he signed a $5 million contract for limited appearances, according to Rajah.com (h/t Yahoo.com).
If fans have to wait two months for SummerSlam to see Lesnar in action for only the second time, they won't be too pleased.
For $5 million, an 0-2 record isn't a financially sound decision.
In that scenario, money and time is wasted, and Lesnar is a loser no one fears anymore.
Worst of all, a Triple H vs. Brock Lesnar match that ends in a Lesnar loss simply takes up 15 minutes of the card that can go to younger talent.
If he loses to anyone else, the damage to his reputation is even worse.
Brock Lesnar Defeats His Next Opponent
Now, if Brock Lesnar wins his next match—annihilating Triple H or whomever else it might be in the process—there is almost an immediate return of the initial momentum he gained on the April 2 edition of Raw. 
Crushing Triple H would signal the difficulty it is to stop the beast that is Brock Lesnar. It might even have many wondering if Cena simply got lucky.
A win over Triple H is a win over a legend in the industry. To be the best, one must beat the best.
Then, there's the implications.
Triple H is the (kayfabe) Chief Operating Officer in WWE. Perhaps if Lesnar wins, he earns the right to have his contract stipulations granted.
If that is the case, Lesnar would be unstoppable in and out of the ring.
But again, Lesnar can't just simply put on a nice, technical match for a win. No, instead he has to dominate and destroy his opponent with jaw-dropping displays of power.
He has to leave no ideas of luck or questions of reduced talent and ferocity.
If he scores a normal pin after a routine finish in a regular match, it won't be exciting enough to justify the long two-month wait. The WWE Universe won't keep wanting more, and the rest of the talent won't continue to keep their distance.
Hopefully, fans get to see Lesnar in action before SummerSlam.
In this case, he needs to increase his savagery. His biggest spots have been his first appearance back, bloodying Cena's mouth and having to be separated by other superstars and attacking Triple H until rescuers arrived.
There's no need to stray from a working formula.
No matter who his next opponent is, Lesnar shouldn't ease up until backup arrives to force him to stop.
With his reputation, anything less is boring. 
Lesnar better do something fast, and it better be big. If he doesn't, this venture was a waste.