NHL Draft 2012 Results: What This Means for the Future of the Chicago Blackhawks
June 24, 2012

Justin K. Aller/Getty Images
The Chicago Blackhawks showed several areas of need during their first-round playoff loss to the Phoenix Coyotes last spring.
One of those was a lack of size and strength among forwards, as the Coyotes regularly bounced the Blackhawks around at key moments and took some physical liberties against them.
Most notable was the blindside hit by Phoenix winger Raffi Torres that knocked out big-play forward Marian Hossa and resulted in a 25-game suspension for the Coyote forward.
The Blackhawks' other obvious need was in goal.
While No. 1 goalie Corey Crawford did not play badly—2.58 goals-against average and .893 save percentage—he gave up several game-deciding goals on less-than-stellar shots.
If the Hawks are going to return to Stanley Cup-contending status, they need to get bigger, stronger and have better goaltending.
With that premise as a backdrop, Chicago made several questionable moves during the draft. The first was the selection of Finnish forward Teuvo Teravainen (pronounced TAY-vo Terra-VINE-en) with their opening pick, the 18th overall.
Teravainen is 5'11" and 165 pounds, and he is not going to be able to muscle opponents off the puck. He has plenty of speed, quickness and savvy, but he is not going to bring any immediate offensive help.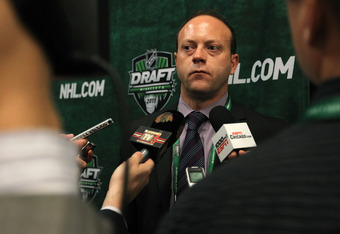 Bruce Bennett/Getty Images
Teravainen is planning to play with Jokerit in Finland next year and may be at least two full seasons from being able to help the Blackhawks.
He had 11 goals and 7 assists in 40 games last year.
General manager Stan Bowman decided to upgrade the team's goaltending situation with their two seventh-round selections.
Brandon Whitney of Victoriaville in the Quebec Major Junior Hockey League is an imposing-looking prospect in the net. He is 6'5" and 193 pounds, and he had a successful year, leading all rookies in goals against and was second overall in victories and save percentage.
He will play with Victoriaville next season.
The Hawks used their second seventh-round pick on Matt Tomkins. He played junior hockey last year and will go to Ohio State this year to play with the Buckeyes. He had a .894 save percentage with Sherwood Park of the Atlantic Junior Hockey League last season.
The picks in between Teravainen and the two goaltenders were about addressing the Hawks' depth.
Second-round choice Dillon Fournier is a puck-moving defenseman with good size. At 6'2" and 178 pounds, Fournier has the frame to put on more muscle, and he already has the ability to carry the puck out of his own zone.
Fournier's game is patterned after Hawks defenseman Duncan Keith, according to the Chris Kuc of the Chicago Tribune.
The Hawks may have addressed some of their size needs by selecting winger Chris Calnan with their third-round pick. Calnan, a 6'2", 187-pound Boston native, will play junior hockey next year before heading to Boston College. He is clearly two or three years away from competing for a spot in the organization.
The Hawks also added two more small forwards and a big defenseman in Travis Brown. The 6'1", 179-pound Brown is a solid-looking prospect who had 31 points in 66 games for Moose Jaw of the Western Hockey League last season. He is in need of quite a bit more development.
Aside from Teravainen and the two goaltenders, the Hawks appeared to address their needs for greater depth on their third and fourth lines, as well as defense.
As far as addressing their primary needs of greater size, strength and goaltending, the Hawks still have a lot of work to do in the offseason.