Chicago Blackhawks 2012 NHL Draft Picks: Predictions and Analysis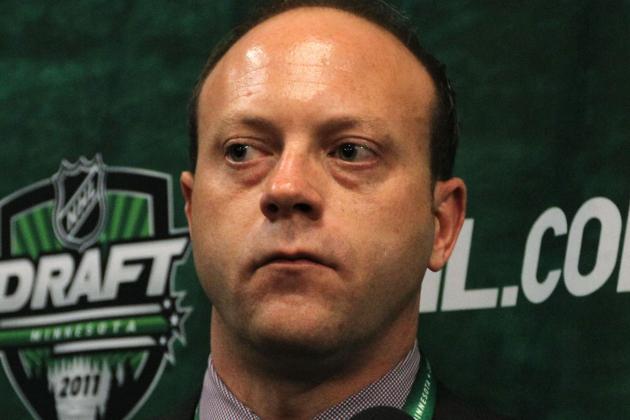 Bruce Bennett/Getty Images
Stan Bowman hopes to find players who will develop into stars quickly in the draft.
The Chicago Blackhawks went into the draft feeling confident about their roster. Since they did not have a pick at the top of the first round, they were not thinking about bringing in a youngster who could make the roster immediately.
The Blackhawks are willing to go into training camp next year with prospects like Chicago Blackhawks 2012 Draft Preview" target="_self" href="http://www.hockeysfuture.com/articles/73205/chicago-blackhawks-2012-draft-preview/">Philip Danault and Kevin Hayes battling for positions up front and Stephen Johns and Michael Paliotta on defense. These are players who have a chance to make the roster and could be productive.
However, if the Blackhawks are going to be successful in the 2012 draft, Bowman would like to find a prospect or two with the potential to dominate.
While the organization appears to be in decent shape for the present and near future, the Blackhawks have been knocked out of the playoffs in the first round in each of the last two seasons. That's certainly not going to satisfy the fanbase after the team won the 2010 Stanley Cup.
General manager Stan Bowman is hopeful that tiny first-round pick Teuvo Teravainen will eventually become the dominant scorer the team would like to have
Begin Slideshow

»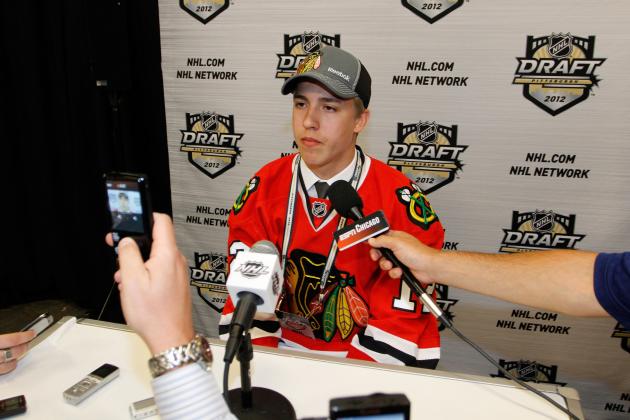 Justin K. Aller/Getty Images

Throughout the season, the Blackhawks rarely had an advantage on opponents when it came to physical play. They were regularly outhit by opponents and it was clear that if they wanted to get bigger and stronger, they needed to address this in the draft.
General manager Stan Bowman could have made a signature pick in the first round to address this situation, but he used the 18th pick in the first round to select winger Teuvo Teravainen, an undersized Finnish player who is only 5'7 and 165 pounds.
While Teravinen obviously does not address the Hawks' size and strength needs, he brings a very high skill level to the organization. Teravainen has a slew of different speeds that he uses on the ice to get open or pull away from defenders. He has excellent moves and a solid shot.
Another strength is his willingness to work hard and play defense. Despite being outweighed by all his opponents, he is not afraid to check and go get the puck.
Grade: A-minus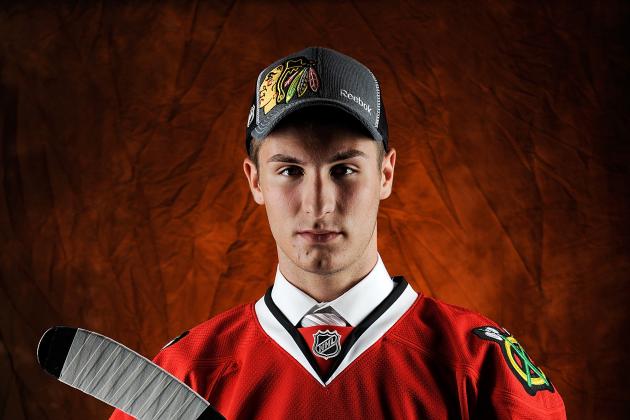 Jamie Sabau/Getty Images

The Blackhawks love defensemen who can carry the puck and they see Fournier as a prospect who may be a bit on the raw side, but one who can do just that. He is 6'1 and 160 pounds so he appears skinny, but he has the frame to get a lot bigger.
Fournier has the skills to carry the puck from his own zone and create an offensive play. He's an aggressive player who can make the short, medium and long pass. He needs to develop a better shot before he can be used at the point on the power play.
Grade: B-plus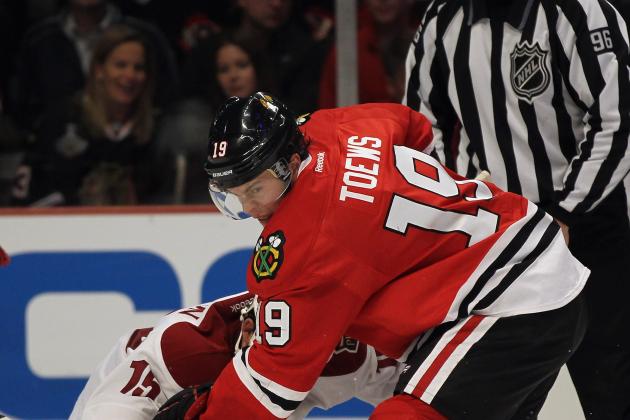 Jonathan Daniel/Getty Images
The Blackhawks would like to add a responsible center.
The Blackhawks decided to use this pick to address their size needs. Calnan is big at 6'2" and 195 pounds and he is quite aggressive. He is not going to shy away from physical contact at any point on the ice and he can go into the corners and win the battle.
He is a good forechecker who can make strong offensive plays once he takes the puck away. Calnan is a good passer and has a strong wrist shot. A good but not great offensive player at this point.
Grade: B
Christian Petersen/Getty Images
Improving their goal scoring is a Chicago priority.
Ross would seem to be another player that the Blackhawks would want to stay away from because he is undersized at 5'11" and 169 pounds. However, they couldn't help themselves because their scouts have watched him for three years and they like the effort that he brings on an every-game basis.
Ross is very aggressive despite his lack of size. He had 93 penalty minutes a year ago and added 25 goals and 29 assists in 60 games.
Grade: C-plus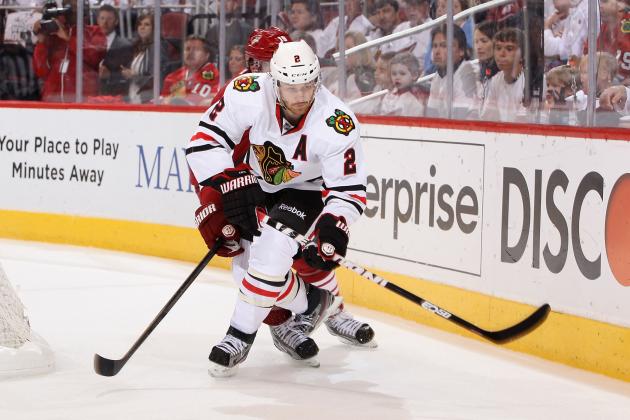 Christian Petersen/Getty Images
Improved defensive depth will help in the future.
This pick is anything but a sure thing for the Blackhawks. While the 6'1, 179-pound left-handed shooting defenseman did not have a great year for Moose Jaw in the Western Hockey League, he made tremendous strides in the last two months of the season. As a result, he opened the eyes of the Hawks scouts.
Brown had 7 goals and 24 assists last season.
Grade: C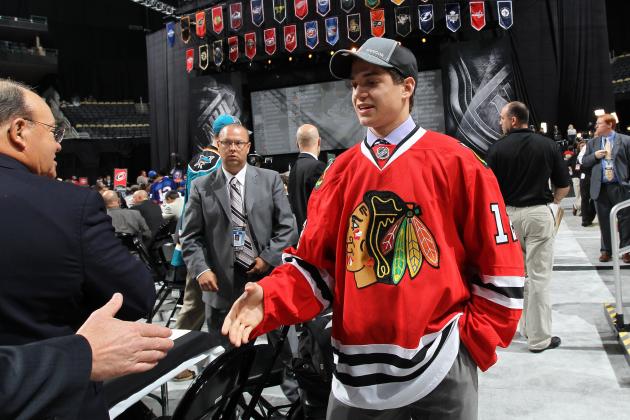 Bruce Bennett/Getty Images

You have to wonder what Bowman was thinking throughout the draft. Hinostroza is another small player who is not going to be able to withstand the physical punishment that will almost certainly come his way on an every-game basis. Hinostroza is a 5'9", 158-pound Illinois native who has speed and vision. However, if his quickness and stride is not completely off the charts, he is going to have a hard time winning a spot and staying in the lineup.
Grade: C-minus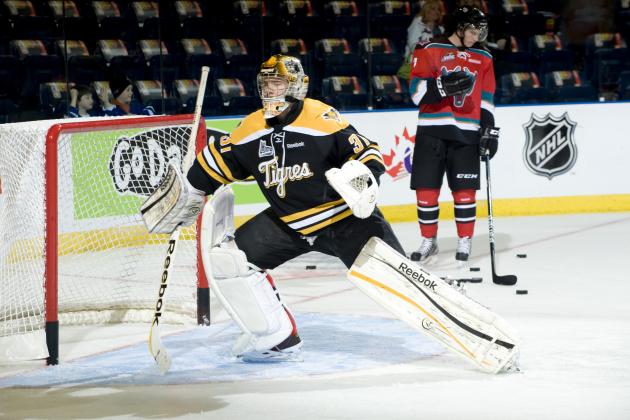 Marissa Baecker/Getty Images

The Blackhawks have a strong need for improved play from their goaltending. Starter Corey Crawford is a tough and competitive goalie, but he is not among the elite puck stoppers in the league. As a result, Bowman decided to go with Whitney and Tomkins with his 7th round selections.
Whitney is likely to return to Victoriaville of the Quebec Major Junior Hockey League next year where he had a very good rookie season. Tomkins played for Sherwood Park in the high-scoring Atlantic Junior Hockey League last year where he had a 3.41 goals against average. He will play at Ohio State next season.
Grade: B (for both Whitney and Tomkins)