Tim Lincecum: Taking a Deeper Look at His Start Against the Oakland A's
June 23, 2012

Thearon W. Henderson/Getty Images
It seems as if every time The Freak takes the mound this year, the Giants community spends the following several days desperately trying to figure out what the hell happened.
The way it has generally been understood, Lincecum's starts have featured a Dr. Jekyll-and-Mr. Hyde-style dichotomy that always ends in that destructive psychopath, Mr. Hyde, taking over and ruining any chance of a win the team ever had.
Before people were even in their seats, there were relievers warming up in the bullpen before Timmy got the first out. It looked as if this was the culmination of a season-long implosion that would surely see The Franchise removed from the rotation, a scenario previously thought impossible.
But then, just as quickly as his implosions usually start, that same Timmy that we all know and love showed up and saved the day by striking out the side with the bases loaded.
And he never looked back.
Still, here we are and once again we're trying to figure out what the hell happened. How is there such a clear distinction between the two Timmys that are of course the same person?
What controls this on/off style switch that seems to separate the former Cy Young winner with this Jonathan Sanchez-esque impostor? Well as we try to do every week, let's try to figure it out, only this time with undertones of justifiable optimism.
What we see here (click on the link if you want to see a bigger version of the brooksbaseball.net graph) is Lincecum's night as a whole, and it's easily apparent that this was the sharpest version of Tim Lincecum we've seen in some time.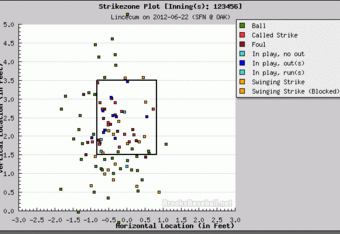 Outside of those wild first-inning fastballs, we can see that he was keeping the ball down and to the left side of plate, which is right where he wants to be.
Location-wise, the biggest thing to take away was the lack of balls just laying down the middle in the top of the zone, i.e. the crushables. So far this season, Lincecum's biggest problems has been his location mistakes in the zone, leading to an excessively high line-drive percentage of 25.5 percent, which ranks as third-worst in the game among starters.
We can see from the graph that although he did throw some pitches up, most of them were either high enough to get swing-throughs and easy fly balls or pop-ups, or stayed to the sides enough that guys weren't getting good contact on them.
In fact we can see that there's only one super-hittable pitch, that light blue (which of course denotes a ball hit in play, but failing to cause an out) pitch down the middle that was the RBI single up the middle from Jemile Weeks.
That pitch was the best-handled pitch Oakland got against Lincecum all game (grounders up the middle tend to be the only ground balls that are actually well hit, handled and timed).
We can see that the other hits were all on really good locations and it's no coincidence that these hits were merely ground balls that happened to be hit to Ryan Theriot.
Well that below-the-zone hit was that "soft line drive" (gameday's classification) hit by Josh Reddick, Oakland's far-and-away best hitter, but that was just good hitting combined with the fact that Nate Schierholtz was playing pretty far back, anticipating the power that Reddick later put on display.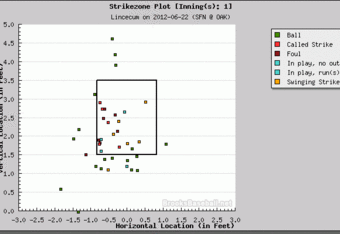 Anyway this was his start as a whole, so let's take a look at just his first inning so we can see where the problems lie.
Well that (again click if you want to see a bigger version of the graph) was definitely not as bad as expected.
So there were some huge misses up out of the zone, some pretty big ones to the left and some in the dirt ones down and to the left, but outside of those seven huge misses, he was pretty good location-wise.
Here's the link for which pitches those were so you can see that he left one change a little higher than preferred, but outside of that kept the off-speed stuff down and kept the fastball to the sides for the most part, namely the left side.
Looking back on the inning, this makes a lot of sense as despite the runs, the A's never really hit the ball that hard. We talked about the contact earlier, but for the most part it wasn't really the problem as those balls would go for outs about half the time (again with the exception of that down-the-middle Jemile Weeks hit).
This marks a distinctive change from Lincecum's usual implosions, as normally hitters are crushing his pitches left and right. Here it was just the clean nowhere-near-the-zone misses that were the cause of his struggles.
Indeed, over the start as a whole he only let up two line drives and two fly balls, both of which  were easy outs (one was even caught by first baseman Brandon Belt). Compare that to 10 groundouts and eight strikeouts, and it's easy to see that this was not the same pitcher who has been getting torched all season.
Looking at the batted ball data from his game log (courtesy fangraphs.com), we can see that this is very distinct from his previous outings as he has allowed at least 10 combined fly balls and line drives in his previous five starts.
Looking at the graph of his previous start in Seattle (from brooksbaseball.net), we can see that there's a pretty big difference in terms of pitch location as he threw just as many pitches in the upper part of the zone as the lower, which is just not sustainable when you throw in the low 90s.
If Lincecum can continue what he started in Oakland and even improve on those big misses he suffered earlier, Giants fans can get back to doing what they do best, and that's blaming Barry Zito.