Portugal vs. Spain: Complete Tactical Guide to Euro 2012 Semifinal 1
June 25, 2012

Laurence Griffiths/Getty Images
Euro 2012 has reached the most exciting stage of the competition—the semifinals.
Whilst the grand finale is usually a cagey and careful affair, semifinals have a reputation for being explosive and action-packed.
Our first game features Portugal and Spain—two old enemies in footballing terms.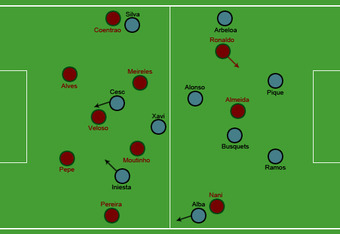 Portugal's Approach
Before the tournament, it was clear how Paulo Bento would set his team out. He's maintained the same starting XI throughout, but may be forced into a single change.
Helder Postiga was removed with a hamstring injury during their 1-0 win over Czech Republic, so Hugo Almeida is a likely start in the central striking role. Nelson Oliveira, despite promise and potential, will not be trusted for a full 90 minutes in such a high-profile game.
There are three incredibly important roles in Portugal's formation—fullback, anchor midfield and Cristiano Ronaldo.
Fabio Coentrao and Joao Pereira are two flying fullbacks, allowed to maraud up and down the line and help Portugal's controlling 4-3-3 formation function.
Ronaldo's role has changed throughout this tournament, ranging from unused left winger to the one person in this team able to break down a defence.
Lastly, Miguel Veloso is key. Consistency must be found for him, as he is required to fulfil two incredibly important duties.
He provides short, sharp passes out of defence to initiate attacks as a matter of course. He may be asked to provide longer, direct ones to Almeida or Ronaldo to skip between the lines and create quick counterattacks.
He also may have to track Spain's key attacking threat and man-mark him into submission, just as he attempted against Mesut Ozil.
Spain's Approach
Spain's footballing philosophy is clear to see right now, as they continue to assert themselves as a slightly toned-down version of Barcelona.
Such is the attempt to mimic La Blaugrana, we've seen Cesc Fabregas employed as a false-nine striker in two games out of four so far. It's fair to say he's no Lionel Messi in that position and lacks the threat of making genuine incisive runs.
The other option is Fernando Torres. Despite offering a dramatic, positive change to Fabregas against Italy, he still can't find the back of the net against good opposition in this tournament.
Which option will he go for? No one can predict.
The rest of the team is a settled constant. Jordi Alba has impressed, so much so he was the subject of a failed double right-back experiment by Laurent Blanc. In addition, the midfield three of Xavi, Sergio Busquets and Xabi Alonso remain unbeatable in the passing game.
Spain Attack vs. Portugal Defence
Portugal's defensive structure will not change—even if they are playing football's version of the Hungry Hippos.
We saw them defend in a stoic fashion in the World Cup 2010. Although Carlos Queiroz has been replaced with the more liberal Bento since then, I don't expect to see a significantly different game.
Here is a diagram of Portugal's likely defensive shape.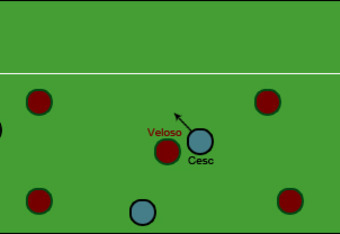 Expect this to be a concurrent theme and for Portugal to abandon their recent free-flowing style in favour of a more conservative, careful approach.
Fabio Coentrao will go one vs. one with David Silva, while Alvaro Arbeloa will likely be ignored by both Spanish and Portuguese players.
Joao Pereira will have a tough, tough game trying to mark Andres Iniesta and Jordi Alba. Who helps him out here will hinge upon who Spain select up front.
If Fabregas fulfils a false-nine role, Veloso is highly like to be asked to mark him tightly and track his runs all over the pitch. If Vicente del Bosque opts for Torres, Veloso will be free to screen the back four as both Pepe and Bruno Alves keep an eye on the striker.
Portugal Attack vs. Spain Defence
When Bento's side do acquire the ball, a lot of strain will be placed upon the three central midfielders. If Miguel Veloso has a good game, Portugal have a chance.
Raul Meireles, Joao Moutinho and Veloso will only be asked to hold onto the ball for two or three seconds—long enough to attract a mob of Spanish pressing players and pull them out of position.
From there, one pass to Cristiano Ronaldo could see Portugal bring all three key offensive players into the game in the right area of the pitch.
The gap between the midfield and the front three will be at least 15 yards. The pass must be accurate, or they will just find themselves under pressure yet again.
Spain's pressing is a weakness—it's like a swarm of unorganised bees to honey. It creates massive gaps and leaves them incredibly open to the counterattack. This is something Portugal must exploit.
Conclusion
Spain are strong favourites, and rightly so, but this match will be a more even contest than their destruction of France.
Each of Portugal's seven defensive players are good trackers and commit themselves to the cause, meaning no Florent Malouda mistakes in this game.
Bento's players are used to soaking up an awful lot of pressure, as many have survived from the 2010 skirmish.
Expect a one-sided affair, but expect Spain to struggle to make the breakthrough, no matter which offensive option they utilise. The best one would probably be Fernando Llorente, but it doesn't look like he'll get the nod.