Examining How ESPN Shapes Public Perception of Top Stars in NBA Finals
June 22, 2012

Ronald Martinez/Getty Images
ESPN has a unique ability in sports media to shape and change the public opinion of certain star players in sports, and perhaps no sport is more affected by the network's analysts than the NBA.
The sports world paid attention to the 2012 NBA Finals, evidenced by the incredibly high ratings for this year's series between the Miami Heat and Oklahoma City Thunder.
While many NBA stars are talked about and have their performances dissected on numerous ESPN programs, no basketball star is more talked about than LeBron James. At the top of the list of James critics is the one, the only, Skip Bayless.
Let's look at ESPN's role in shaping the public perception of the stars at the NBA Finals.
The Bayless Factor
With all due to respect to Stephen A. Smith, Bayless is the star of the popular ESPN morning program First Take, which features Bayless and Smith debating hot sports topics. More often than not, the discussion is centered around James or NFL quarterback Tim Tebow.
While we can say that we hate Bayless and his overly critical, weak arguments to why James isn't a "King" and doesn't have the "clutch gene," most of us will tune into the program anyway just to see what crazy points he makes.
When James and the Heat won the championship Thursday night, Bayless took to Twitter as he often does and everyone was waiting for what he had to say. Fans and members of the sports media industry reacted to Bayless' tweets, proved by the thousands of people retweeting his tweets, or just tweeting about him in general.
Jimmy Traina of SI.com had an interesting tweet on Thursday night.
I'll give ESPN credit for one thing: LeBron just won his ring, but my timeline is filled w/people tweeting about Skip Bayless. That's power.

— Jimmy Traina (@JimmyTraina) June 22, 2012
So many people were more interested in Bayless being wrong about James and looking like a fool than they were about the fact that the Heat star had actually reached the goal that has taken him nine long years to accomplish. Bayless and his crazy opinions, when presented on a platform such as an ESPN program, can have a major affect on how we perceive certain athletes.
James winning a title will likely open up another debate that Bayless has already talked about many times on First Take, but will probably address far more often now that he cannot criticize James as much as he used to.
Now we can look forward to watching Skip Bayless say that it's time to break up OKC because Durant & Westbrook can't coexist. #NBAOffseason

— Not Bill Walton (@NotBillWalton) June 22, 2012
Thunder stars Kevin Durant and Russell Westbrook are similar players and many wonder if they are a good fit together. Whether it's a fair debate or not is irrelevant. If Bayless talks about it enough, people will shape their perception of these stars off of it.  Not only do fans and people in sports journalism have their own view on Bayless and his crazy opinions, many athletes, including Durant, have also shared their view on the ESPN star.
Per the Oklahoman (April 3):
"That guy doesn't know a thing about basketball," Durant said of Bayless before the Thunder faced Memphis on Monday night.
Bayless is as much of a topic as the games themselves. People want him to be wrong, and no matter how much they claim to dislike him, they want to know what he's saying on certain topics, especially James. This shows the huge role in shaping the public perception of stars that ESPN has.
SportsCenter
ESPN's popular program is what many of us start our sports day with. Whether we are eating breakfast while watching it, or catching the show while getting ready for work, many of us get our sports news to share with friends at work and school from SportsCenter.
Since so many sports fans watch this show, the opinions of the analysts and anchors certainly help shape our perception of athletes. Much of the focus on the morning SportsCenter on Friday centered around James, and his journey toward an NBA championship.
The network's analysts also talked about the maturity James has shown this season compared to last year. Talking about this repeatedly might actually help shape the perception of James around the country.
ESPN's Influence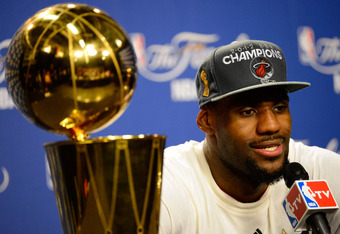 Ronald Martinez/Getty Images
There's no question that ESPN plays a major part in how we look at the stars of the NBA. Everyone has an opinion on who's playing well, who's the best, and who needs to step up their game. When you are available on all platforms (TV, internet, mobile), you will shape the opinions of many sports fans.
ESPN's power in American sports is unparalleled, and this was evident in the finals. There are many prominent media members who are critical of star players, but no one has been discussed during a championship series as much as Bayless was during the 2012 NBA Finals.
ESPN plays a major role in shaping the public perception of NBA players, and that's never going to change.