LeBron James Wins First NBA Title, Named Finals MVP: Will the Questions Stop?
June 22, 2012

Ronald Martinez/Getty Images
Since coming into the NBA back in 2003, LeBron James has been the most scrutinized player in the league.
Being the No.1 overall pick out of high school, expectations were high. A freak of an athlete the likes of which the NBA had not yet seen. Being drafted to his hometown team. Having media coverage since he was in middle school.
LeBron James has felt the heat his entire career. Every word he says, every facial expression, every little move he makes is under a microscope. 
Now, the burner can finally be turned off, or at least down to low.
James silenced a lot of doubters with his incredible performance in these playoffs. His finals stat line? 28 points, 10 rebounds, and seven assists. Oscar Robertson-like stats. 
When James made his infamous decision, he effectively made himself the biggest villain in the NBA. Unless you lived in the South Florida area, chances are you feel some negativity towards the newly crowned finals MVP. Fair or not, the court of public opinion had ruled.
As I watched the Thunder implode last night, and saw James finally get his crown, I couldn't help but think that this was different than when Michael won. I almost feel cheated to an extent. James had to assemble with two other legitimate super stars to win a title.
It almost felt inevitable. LeBron James, Dwyane Wade, and Chris Bosh all on the same team. Not that they didn't have some hurdles to jump as a team, but with those three players, it is almost unfair. 
Now I am wondering if the LeBron haters will back off, or just be more enraged with this title run.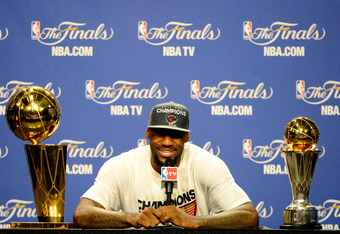 Ronald Martinez/Getty Images
History won't question LeBron's talent. No one will. He is on another planet, partly because of his physical makeup, partly because of his work ethic. 
Michael Jordan is great for many reasons, but the thing that makes him tops on most people's list of best ever is his six rings. He didn't win six rings pairing with Magic or Larry. He didn't recruit Clyde to become a Bull, and he didn't take off to a better situation when things were difficult. 
Michael won with what he had. He made his teammates better. He was determined to win where he was. His greatness hinges on the fact that he did it himself. On any other team, Scottie Pippen is a solid player. Alongside Jordan, he is a Hall of Famer. 
No one in Cleveland was ever elevated to another level because of James. 
That's the difference.
I'm not trashing LeBron. He won. He played like an MVP. He got his ring.
I am simply pointing out that him winning on this Heat team was a matter of time, and nothing more. He assembled an all-star team, and they should be winning titles. Basketball is the ultimate team game, but when you are always up by at least a player in the star category, the scales are forever in your favor.
I am glad James won. The Thunder were obviously way too young to handle the moment they were in, and James capitalized, like a great player should do. No one could contain him the entire playoffs. 
I hope the Thunder mature, because I don't want to see James win again. I know with the team he has around him that they will be heavy favorites for the next few seasons, but then what?
Then James will be in the twilight of his career. Wade will be gone. He will have to try to win alone.
Which is what he should have done, in my humble opinion, in the first place. 
I wonder how the city of Cleveland is feeling today.