What Role Can Terrelle Pryor Play for Oakland Raiders in 2012?
June 22, 2012

Otto Greule Jr/Getty Images
A whirlwind season for Terrelle Pryor had him questioning his desire to play the game in 2011.
After getting busted by the NCAA for selling memorabilia at Ohio State, Pryor entered the NFL supplemental draft and was suspended five games for trying to skirt the rules of the draft before participating in zero official snaps during his first year.
Pryor ended up being Al Davis' final draft pick and was reinstated two days after the death of the Raiders' iconic owner.
Fast forward eight months and there is a new regime in Oakland that has taken control and everyone is asking about Pryor. What is his role? How is his development coming?
Pryor is a quarterback—that's been established—but the signing of Matt Leinart via free agency changes the depth chart. It's hard to imagine Leinart not winning the backup quarterback job behind Carson Palmer considering his experience with offensive coordinator Greg Knapp.
That leaves third string for Pryor—the same role as 2011 that had him considering leaving the game.
While Pryor may have a lot of work to do as a traditional quarterback, he's still a freakish athlete. The Raiders need to have a role for Pryor to play in 2012.
There are four roles Pryor could fill.
Third-String Quarterback
The Raiders can simply tell Pryor to be the best backup he can be. The Raiders, focusing on what Pryor can be in the future, simply tell Pryor to keep working in hopes of one day being the starter.
So far, this appears to be the route the coaching staff is taking and there is wisdom behind this approach.
At some point the Raiders have to test Pryor's desire to play the game. Rarely, if ever, has a player questioned his desire and ended up being a great quarterback.
It's nothing against Pryor personally, but if the Raiders can't count on Pryor mentally, they can't count on him at all.
Unfortunately, this approach wastes Pryor's athletic abilities for the promise of future production.
Wildcat Quarterback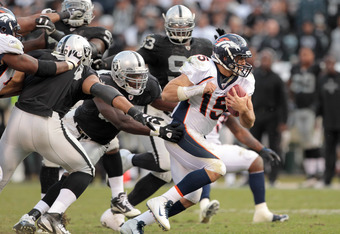 Ezra Shaw/Getty Images
Perhaps the most exciting option for Pryor is to make him a hybrid quarterback. Tim Tebow will play this role for the Jets in 2012 to a greater degree.
Get Pryor and his gobs of athletic talent on the field and see what he can do to help the team. It doesn't have to be every week and it can be as few as two or three plays per game.
Making a young player feel important is a great way to keep them engaged and focused on their professional development. It will be important to not be afraid of Pryor passing the ball as the threat of a pass can really make the Wildcat a dangerous formation.
Greg Knapp is no stranger to having a running quarterback and his scheme is built to handle that possibility. Michael Vick made his first mark on the NFL in Knapp's scheme with Warrick Dunn putting up huge numbers as the zone runner in Atlanta.
It wouldn't even have to be something "special" for Pryor. Think of it as a section of the playbook the Raiders can execute with the unique talents of a running quarterback.
This role for Pryor is risky: He could not have much success and then the coaching staff is put in the position of either giving him more snaps to see if he can endure or backing off and killing his confidence.
To do this correctly, the Raiders need to get Pryor a couple snaps early in the game. A mistake by Pryor early in the game shouldn't hurt the team as much as it would late in the game.
Third String and Start the Transition to Another Position
The Raiders, while keeping Pryor as the third-string quarterback, could determine that Pryor just isn't going to be a starting quarterback in the NFL.
Maybe the Raiders have already come to this conclusion, or maybe the team isn't even imagining it. If the Raiders determine Pryor is not a quarterback, they should give Pryor a shot at another position.
It's not hard to fathom a red-zone formation with Pryor on the field as a receiver or tight end and Carson Palmer the quarterback.
It would be slow at first. A few plays, like the Wildcat, but it would give the coaching staff an idea if Pryor would even have what it takes to be a tight end or receiver and if a full-blown transition makes sense in the future.
Second-String Quarterback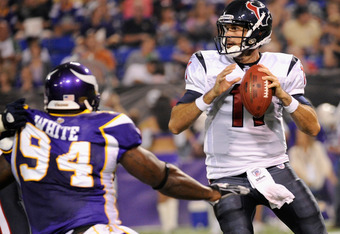 Hannah Foslien/Getty Images
Pryor is more important to the long-term success of the Raiders than Leinart. What do the Raiders have to lose in making Pryor the primary backup above Leinart?
If Palmer were to go down with an injury, the Raiders could always turn it back into a competition. Perhaps even make it a week-to-week decision on who is the primary backup, but give the nod to Pryor early on when the team can afford to keep three quarterbacks active on game day.
One would expect Leinart, with more experience, to be the primary backup.
It boosts Pryor's confidence, but it also drives up any trade value Pryor might have. The rest of the league would believe Pryor is developing and a team more willing to use the Wildcat might consider trading for him in the future.