NBA Finals 2012: Is LeBron James, Miami Heat Championship Bad for the NBA?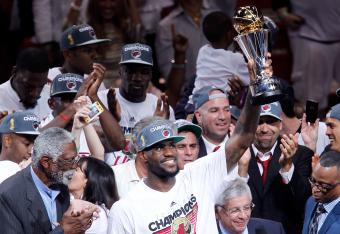 Mike Ehrmann/Getty Images
LeBron James and the Miami Heat are the 2012 NBA champions. LeBron James has answered many of his critics by winning a ring and earning the NBA Finals MVP award in the process. He was brilliant throughout the entire 2012 NBA playoffs, leading the Miami Heat to their second NBA title in franchise history.
LeBron James is one of the world's best athletes, but he's also one of the most hated, which isn't a bad thing for the NBA.
LeBron garnered tons of media and fan attention prior to "The Decision," but it was nothing compared to the circus that came after he decided to play for Miami.
Basketball fans and the media have been highly critical of LeBron's decision and his performance over the last two years. Whether justified or not, one thing is for certain: LeBron James has been the centre of attention in the sports world for some time and that's been great for the NBA.
From hardcore, lifetime basketball fans, to those who don't know the difference between a free throw and a jump ball, everyone became aware of LeBron James' story. That is, the story of one man's search for greatness, for eternal glory, for that elusive NBA championship.
Casual basketball fans were drawn in by the LeBron saga. These fans have watched games, media coverage and talked basketball, when they otherwise wouldn't have.
Many of these fans tuned in to root against LeBron, while members of the media depended on LeBron losing so they could keep writing stories about how he would never live up to the hype, never prove to be clutch and never win it all.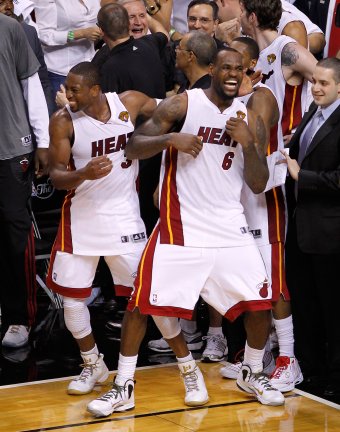 Mike Ehrmann/Getty Images
So with LeBron winning an NBA championship with the Heat, it's possible that many of these fans won't watch as much basketball and the media won't have quite as much to talk about. Winning a championship should put an end to a lot of the criticism and silence some of the "haters." After all, the biggest knock on LeBron was that he hadn't won a title.
However, on the flip side, it's possible that one championship won't be enough to satisfy the media or basketball fans. The LeBron bashing could continue with many arguing that LeBron only has one ring, while Jordan has six and Kobe has five.
Perhaps the Miami Heat will become the New York Yankees of the NBA, with people watching year after year, hoping to see them fail.
Could LeBron and the Heat's championship hurt the NBA? It's possible. Look at it this way, would you rather watch LeBron and the Heat attempt to defend a championship, or attempt to win their first title in their third year together?
Ultimately it will come down to the fans and to some extent, the media. There will always be those who choose to root against LeBron, while others will change their opinion of him now that he's won a title.
We will find out next season if LeBron and the Heat can continue to capture the attention of casual fans and the media, as they have in the past two seasons.
This article is
What is the duplicate article?
Why is this article offensive?
Where is this article plagiarized from?
Why is this article poorly edited?

Miami Heat: Like this team?