Ranking the 10 Best NBA Pure Scorers in the Game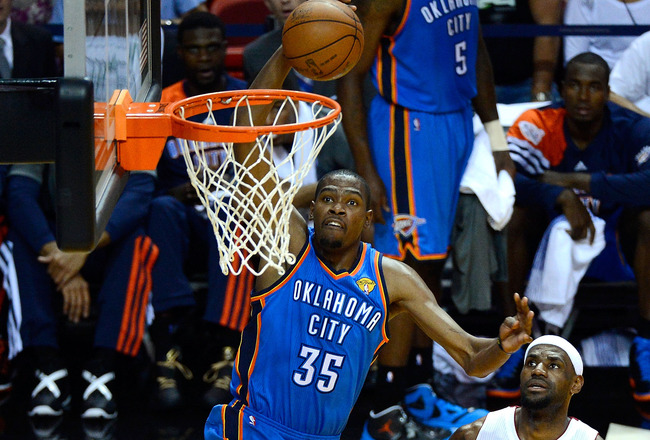 Ronald Martinez/Getty Images
Most of the time, pure scorers don't necessarily amount to the best players in the NBA.
But why not?
To win a basketball game your team needs to score more points than the other team, meaning if you have the better scorers, you usually win.
Obviously defense plays a huge part in any game, but today we're strictly talking offense.
Let's take a look at the best pure scorers in the NBA today.
10. Monta Ellis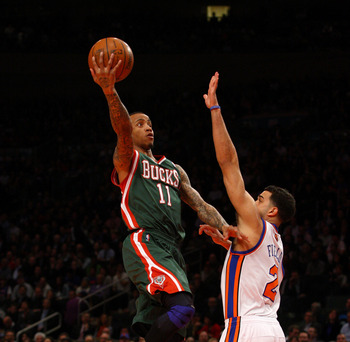 Chris Chambers/Getty Images
Bucks guard Monta Ellis is a blur when flying to the hoop.
He's arguably the quickest player in the NBA and is also a deadly shooter. Ellis averaged 20.4 points per game and shot 80 percent from the free-throw line last season.
While he isn't a prototypical point guard or shooting guard, Ellis is a skilled combo guard with the ability to drop 30 points on any given night. However, I'm not sure I like the dynamic of Milwaukee's backcourt going forward, and it will need time to build chemistry.
9. Deron Williams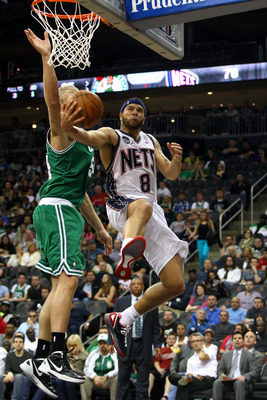 Chris Chambers/Getty Images
The former Illini star will be the most sought-after free agent this summer. And whichever team lands him will bring in a superstar scorer with the mentality of a true point guard.
While he may not be a true point guard, he's a better orchestrator than, say, Russell Westbrook, and he can score like him.
Williams averaged 21 points per game while shooting 84 percent from the foul line and is a finesse guard who possesses the smooth skills to dupe any defender at the rim or on the perimeter.
Wherever he ends up, he's almost certain to be in the playoffs in the near future.
8. Dirk Nowitzki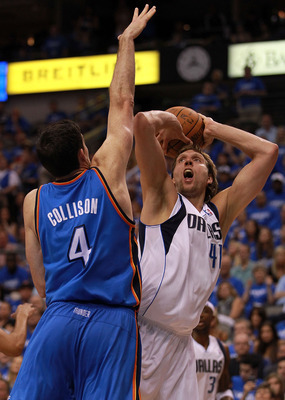 Ronald Martinez/Getty Images
Last year's NBA Finals MVP is still one of the best scorers in the game today.
Dirk averaged 21.6 points per game last season while shooting 37 percent from beyond the arc and 90 percent at the line.
Despite his aging physique, Nowitzki remains one of the best shooters in the NBA, and therefore, one of the best scorers. Like Kevin Durant, he possesses the ability to shoot over virtually any defender and has a soft touch at the rim that allows to him finish with the best of them.
The big German will be in the league for a few more years, and if he's teamed up with another star such as Deron Williams, expect to see him deep in the playoffs again.
7. Derrick Rose
Jonathan Daniel/Getty Images
The only reason last season's MVP isn't higher on this list is because I'm hard-pressed to call him a pure scorer.
He does so many different things well and can impact a game in so many different ways other than his scoring.
Rose averaged 21.8 points per game in a season which he was never really able to get comfortable. Expect Rose to up his scoring output next season.
I'll take Rose over any point guard in the world, and his game is similar to Russell Westbrook's with a better three-point shot, better defense, better handling and much, much better passing.
6. Kevin Love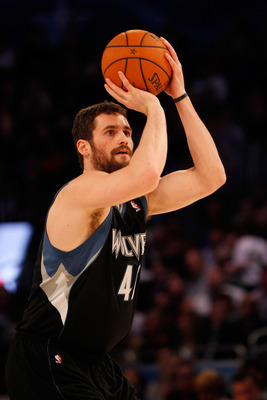 Mike Ehrmann/Getty Images
Love burst onto the scene in 2010 and will be a legitimate MVP candidate in 2012.
The former UCLA star averaged 26 points per game on 45 percent shooting and 37 percent three-point shooting.
He reminds me of a young Dirk Nowitzki, and he has already surpassed the German superstar—which is scary. Love can shoot like nobody's business, and he is 6'10''.
Ricky Rubio should help shoulder the load for the T-wolves next season, and his complimentary play could even boost Love's numbers.
5. Carmelo Anthony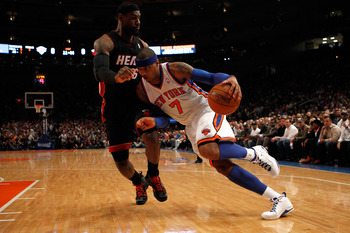 Jeff Zelevansky/Getty Images
The star of New York had a superb season last year, save some inconsistent performances.
'Melo averaged 22.6 points per game and shot 34 percent from downtown. He has the speed and quickness to blow past defenders, the strength to earn a bucket down low and the shot-making ability to burn you from long range.
There are only four scorers better than him in the whole world, and three of them are playing in the NBA Finals.
Look out for Anthony in 2013, his third season with the Knicks
4. Russell Westbrook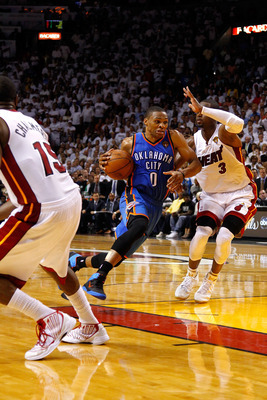 Mike Ehrmann/Getty Images
If Game 4 of the NBA Finals was any indication, Russell Westbrook will be one of the premier scorers in the NBA for many years to come.
How do you stop this guy?
It seems like Derrick Rose and Tony Parker are the only two men on Earth that can guard him one-on-one.
Westbrook averaged 23.6 points per game on 46 percent shooting this season. He is lightning quick and will beat defenders to the rim with ease, while also possessing the athleticism to stop on a dime and hit a quick pull-up jumper.
His game will only blossom further in years to come—a frightening prospect for guards everywhere.
3. LeBron James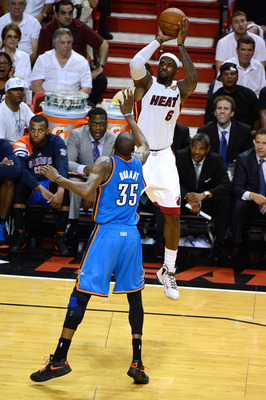 Ronald Martinez/Getty Images
While he may be the best player, he isn't the best scorer.
King James has arguably the best offense in the league, but I have him at No. 3.
He isn't the jump shooter that he is capable of being, and that's what is holding him back.
Other than that, I'm not sure we've ever seen a player of his stature with his finishing ability. LeBron's attacking style is ruthless, and if you're in his way, watch out.
James averaged 27 points per game last season while shooting an astounding 53 percent from the field. He's probably the best finisher in the game, but his erratic shooting can make him one-dimensional at times.
2. Kobe Bryant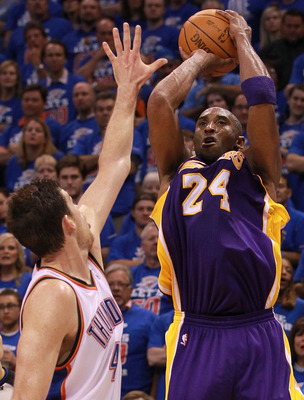 Ronald Martinez/Getty Images
Yup, Kobe's still got it.
Bryant has been the best pure scorer in the game for the past decade, until this season when he passed the torch.
Kobe averaged 27.9 points per game last season, barely losing out on another scoring title to Kevin Durant. But he can stick around for as long as he wants because of his status as a knockdown shooter.
Arguably the best shooter in the history of the game, Kobe is also one of the best players in the history of the game.
While he's lost a step, he can still get past defenders and finish with authority at the rim.
1. Kevin Durant
Mike Ehrmann/Getty Images
KD is the best scorer in the game. Period.
The former Longhorn averaged 28 points per game on just under 50 percent shooting and 39 percent shooting from three-point range.
Like Dirk and Kevin Love, Kevin Durant can shoot over any defender and has shown that nobody is ever going to shut him down. LeBron James is considered one of the best defenders in the world, and even he cannot limit KD.
He's going to get his, and he's going to get it for the next 15 years. Durant has a great mid-range game, blistering quickness which allows him to score at the rim before you know it and an obvious three-point shooting game.
Durant is possibly the best shooter in the game, and he can even score on off-balance, contested shots that defenders can do nothing about.
Hence, KD is the best scorer in the NBA.
Keep Reading

Oklahoma City Thunder: Like this team?