Czech Republic vs. Portugal: 6 Things We Learned from Euro 2012 Quarterfinal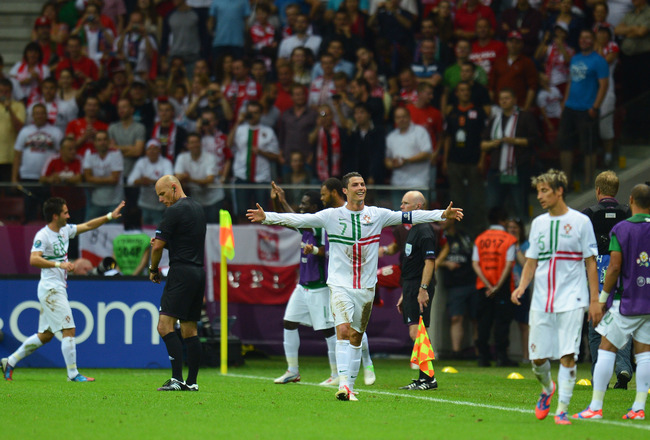 Shaun Botterill/Getty Images
Ronaldo 1, The Field 0.
Portugal defeated the Czech Republic, 1-0, in Warsaw on Thursday in the first of four Euro 2012 quarterfinals. The goal, almost inevitably, came courtesy of Cristiano Ronaldo.
After a tight, tactical first half, Portugal started the second half by creating numerous chances on Petr Cech's goal. But despite dominating throughout, Portugal had to wait until the 79th minute for the breakthrough.
That's when Ronaldo headed home his third goal of the tournament—and reminded us all that when it's Ronaldo against the world, it's unwise to bet against the Portuguese superstar.
The victory put Ronaldo and Portugal within 90 minutes of their second Euro final in eight years, and they'll play either Spain or France next week in the semifinals.
How far can Ronaldo and company go? That might be the summer's most interesting question.
Europe's Best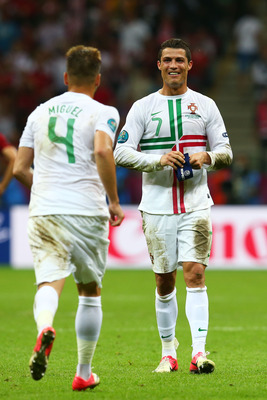 Alex Grimm/Getty Images
Just think. A couple games ago, Cristiano Ronaldo's performance at Euro 2012 was considered a disappointment. Decent enough in truth but far short of the Portuguese superstar's elevated standards.
Now: wow.
Ronaldo scored again Thursday, heading home the only goal 11 minutes from time to see off a stubborn Czech Republic side. As you'll remember, that makes three goals in two matches for Ronaldo, who bagged both in Portugal's 2-1 comeback win over Holland in the Group B finale.
When he wasn't scoring, Ronaldo was doing everything but. Twice he hit the post—once after a Dennis Bergkamp-esque pull-down, turn and shot, and again with a trademark dipping free kick.
Throughout the rest of the 90 minutes, he was busy reminding us, once again, why he's the best player in Europe. For so long, the deserved goal remained elusive, but on this day's form, the breakthrough was almost inevitable.
That overhead kick he tried in the first half was absolutely ridiculous, and scoring from a header demonstrated just how dangerous he is in the air. In short, Ronaldo is a complete player.
So then, a question:
Is this the latest sublime performance in an individual masterclass for the ages?
If Ronaldo continues this way, he may yet find himself among Diego Maradona's prestigious company. Twenty-six years have passed since Maradona's epic World Cup 1986, when Argentina lifted their second—and as yet last—world title.
Granted, Ronaldo is not a one-man team. The Portuguese have top-class players at several positions.
But Ronaldo stands head and shoulders above them all, and if Portugal win their first major title this summer, it will come on his shoulders.
Shooting Boots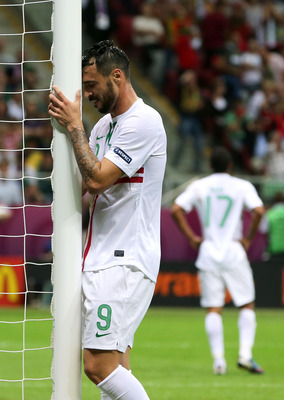 Alex Grimm/Getty Images
For all of Cristiano Ronaldo's brilliance, Portugal still have a problem heading into the semifinals.
On Thursday, none of Paulo Bento's men seemed to have brought their shooting boots with them. The Portuguese took 20 shots, only five of which hit the target.
Holding midfielder Raul Meireles was notably wasteful—that's why he's the holding midfielder, then?—but he wasn't alone.
And while all the rattling of the woodwork looked impressive in real time, each shot off the bar counted as a shot off target. Nor did any count as goals.
6 - No team has hit the woodwork as often as Portugal in a single EURO tournament. Unlucky.

— OptaFranz (@OptaFranz) June 21, 2012
Unlucky? Maybe.
Worrisome? You bet.
Cech Brought It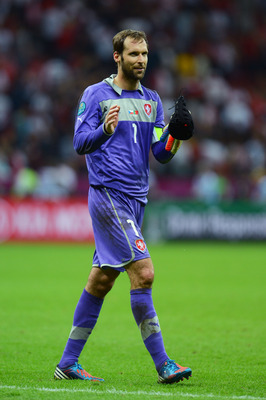 Shaun Botterill/Getty Images
Czech Republic goalkeeper Petr Cech faced only five shots on target. Four of those left him completely untroubled.
Not that they were weak efforts.
João Moutinho tested Cech with a dipping piledriver from outside the box in the 64th minute, while Nani and João Pereira forced smart saves from the Czech No. 1.
Cristiano Ronaldo's goal, meanwhile, was his fault (more on that momentarily). But Cech still almost managed to keep the bouncing header out.
Cech has long been considered one of the world's top keepers. He showed it these quarters.
Ball-Watching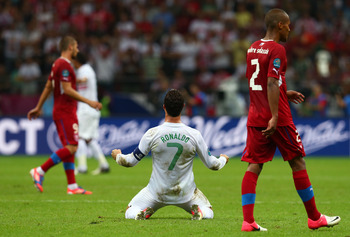 Alex Grimm/Getty Images
From the lowest levels of football, coaches preach against ball-watching.
Theodor Gebre Selassie was caught ball-watching in the 79th minute Thursday, and now his team is out of the European Championship.
That's not meant to criticize Selassie heavily. He was excellent in the group stage, even if Group A failed to provide a challenge equal to that of Portugal and Cristiano Ronaldo (more on that momentarily).
But at this level, defenders must maintain their vigilance for the full 90 minutes. A lapse of even a second or two can prove lethal.
After all, Ronaldo might just sprint past and head home the winning goal.
Outclassed, Outmanned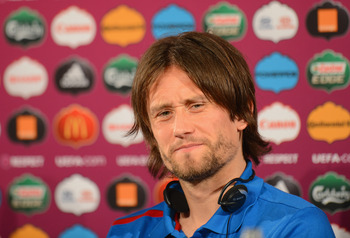 Handout/Getty Images
By the time second-half stoppage time rolled around, the difference between the teams had become obvious.
Only one goal separated Portugal from the Czech Republic, but the disparity in talent, skill and fitness was glaring.
The Czech midfield clearly missed playmaker Tomas Rosicky (pictured), out after suffering an inflamed Achilles' tendon versus Greece, but even the Arsenal man wouldn't have been enough. By the 90th minute, Czech legs were weary and Portugal had only to play keepaway.
That the Czech Republic won Group A speaks volumes about that group's quality.
Headers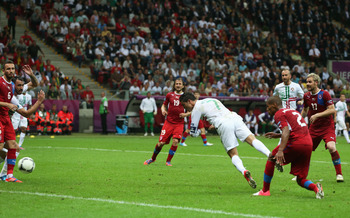 Alex Grimm/Getty Images
Euro 2012 is officially the tournament of the header.
Cristiano Ronaldo's goal was the 18th header of the tournament.
If that sounds like a large number, it is.
From Opta:
18 - Cristiano Ronaldo has netted EURO 2012's 18th headed goal, more than any previous tournament. Aerial.

— Opta (@OptaJean) June 21, 2012
Keep Reading