Irresistible Ronaldo Puts Portugal in the Semifinals at Euro 2012
June 21, 2012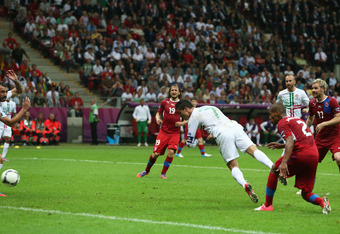 Alex Grimm/Getty Images
It was 79 minutes coming, but Cristiano Ronaldo would not be denied his grandstand moment in Portugal's Euro 2012 quarterfinal win against the Czech Republic.
Ronaldo had already hit the post twice. He'd once again been central to almost every attack that the Portuguese mounted, and the Czechs were seemingly engaged in a desperate, 11-man firefight against a Ronaldo-fueled blaze that refused to go out.
As the second half wore on, Portugal's dominance increased to the point of encampment. White shirts scampered forward at will, and Paulo Bento's men were released from the restrictions of their first-half performance to wreak havoc.
Portugal sensed blood, but while the score remained at 0-0, there lingered the possibility that it might yet be their own.
With just over 10 minutes to go, things were getting tense. Extra time loomed large, and with it, the terrifying possibility Portugal would be up against Petr Cech—Chelsea's gloved conqueror of Europe—in a penalty shootout.
Cometh the hour.
As the ball was fed to the impressive Joao Moutinho down Portugal's right, Ronaldo was already in motion.
Coming from deep, he exploded into the Czech box and timed his run to meet Moutinho's ball and crash a thumping header down and beyond Cech into the roof of the net.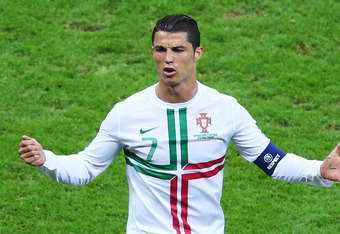 Michael Steele/Getty Images
It was no more than Ronaldo, or Portugal, deserved.
After a subdued first half, Bento's team came out firing in the second. The midfield axis of Raul Meireles, Miguel Veloso and Moutinho set the tone centrally, while Ronaldo and Nani were free to probe wide areas and come inside whenever they fancied.
It's worth noting that Portugal are also strong in both full-back positions. Real Madrid teammates Fabio Coentrao and Pepe have impressed throughout for Bento's team that has grown in confidence with every game at Euro 2012.
But for all Portugal's collective strength, there can be no doubting Ronaldo's influence remains vital to their fortunes.
After misfiring in his opening two games and taking both barrels from the media, the Real Madrid star has scored three goals in two games at Euro 2012—making it his most prolific major tournament yet with Portugal.
There are still elements we'd rather not see—like the indulgent pouting and the maddening theatrics—but not even Ronaldo's biggest critics could deny he was the best player of Euro 2012's opening quarterfinal.
Don't let Ronaldo's slicked-back hair and pretty-boy appearance fool you. He worked as hard as anybody for Portugal tonight and has a desire as strong as any player in the tournament.
His goal was the perfect example. We've all seen Ronaldo pick up the ball and part a sea of defenders before him, but this was a goal that was owed as much to his work rate as it was to his phenomenal technique.
First, you have to know where to run. Then, you have to be intelligent enough to time your run. Only when you get there can you demonstrate why you're the best player in Europe.
For the second match in a row, Ronaldo would not be denied.
Up next could well be defending champions Spain and the tantalizing prospect of Ronaldo going head-to-head with a number of players he'll know all too well from Barcelona.
On this form, he'll be hard to stop.
And if we're taking about another Ronaldo-led triumph after the final on July 1, a certain Lionel Messi may find himself beaten into second place for the 2012 Ballon d'Or.