LeBron James' Quest for 1st Ring Has Been the Most Arduous in Sports History
June 21, 2012

Ronald Martinez/Getty Images
It didn't come easily for LeBron James, but here we are.
The man who was to be king may finally be crowned—and not a moment too soon. This has—after all—been a long time coming.
James' first foray into the postseason was a learning experience, albeit a largely successful one. On the one hand, he joined Magic Johnson and Johnny McCarthy as the only guys in league history to record triple-doubles in their first-ever playoff games.
Not too shabby.
On the other hand, he blazed a trail no one wants to go down by turning the ball over 34 times, a record for a six-game series.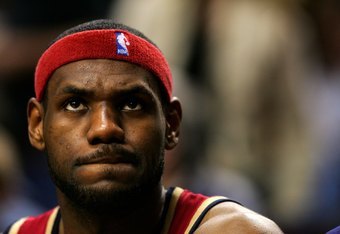 Jonathan Ferrey/Getty Images
Of course, this was still only James' third season. You'd expect far worse, even from one of the best. When all was said and done, the Cleveland Cavaliers made it to the second round before bowing out in seven games against the Detroit Pistons.
A year later, James would fall just short of his ring, this time against the San Antonio Spurs in the NBA Finals. This anti-climax was all the more painful given just how extraordinary LeBron was in the Eastern Conference finals.
He faced similar disappointment a season later, when even his 45 points weren't enough to best the Boston Celtics in Game 7 of the Eastern Conference semifinals.
Little changed during the remaining two years in Cleveland, except that James appeared to have all but given up in his final season with the Cavs. Perhaps he already knew then what the rest of us would find out later that summer: James was to take his talents to a locus of talent.
When the going got tough, the tough got going...to Miami.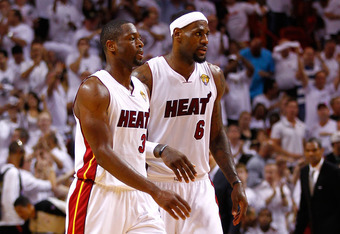 Mike Ehrmann/Getty Images
It seemed as though the Heat were instantly unbeatable, even in an initial season that would test the wisdom of combining three players accustomed to succeeding without much help. Somehow James, Dwyane Wade and Chris Bosh found a way to put their skills together in relatively no time at all.
We all know what happened next.
But this time things will be different. The stars have aligned, and it's finally LeBron's turn.
Titles are never anything short of sweet, but this one will be all the sweeter for LeBron James. After years of struggling through the kind of problems so much of the league wishes it had, LeBron was forced to take a shortcut.
And now he's here already.