France Must Play the Chelsea Way to Beat Spain on Saturday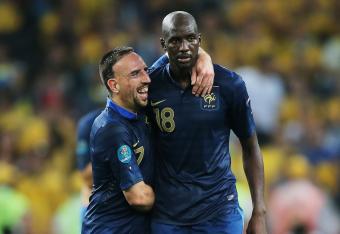 Ian Walton/Getty Images
At first glance, some of the similarities are uncanny.
Chelsea rode a wave of positive form to the 2012 Champions League title, defeating in a most improbable manner FC Barcelona in the semifinals of the competition.
They didn't accomplish that rare feat (Barcelona have won two of the past four Champions League titles) by trying to match the Blaugrana at their famed—and near-inimitable—playing style steeped in fluid passing and incisive finishing.
Rather, Chelsea played to its strengths: a stolid defense that, while a bit bent and broken—they saw central defenders Tim Cahill (injury) and John Terry (seeing red, and getting a red card for it) both leave the field in the first half of the return leg at the Nou Camp—did its job in breaking up attacks and clearing effectively enough to see out a 2-2 draw that allowed them to advance to the final on a 3-2 aggregate.
The defense was the base for the club's success. The Guardian hailed Chelsea's "defensive discipline" on the night, and even glowed that the performance hearkened memories of former Chelsea manager and fellow defeater of Barcelona in the Champions League semis Jose Mourinho, who did it with Inter Milan in 2010.
Fast-forward to Saturday, when Spain, whose recent dominance on both the continental and world stage has been fueled by a golden era of Barcelona superstars, take on France in the European Championships quarterfinals.
France are considered serious underdogs in the affair, a tag that was firmly embedded in them after a shock—and hugely disappointing—2-0 defeat to Sweden in the last match of group play saw them miss out on a match with Italy, and thus draw La Furia Roja instead.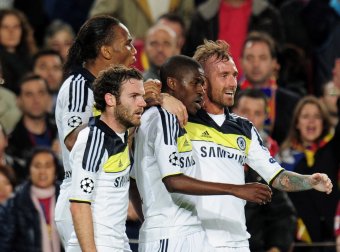 Shaun Botterill/Getty Images
But all hope is not lost, from a French perspective. The last time Les Bleus met Spain in a major competition—the 2006 World Cup round of 16—they emerged victorious.
Granted, the Spanish tide has positively convulsed since then, while the French saw their former dominance (they pulled the reverse of Spain, winning the World Cup before the ensuing European Championship) ebb almost to the point of insignificance.
But no more. Before the reverse to Sweden, France entered that match brimming with the confidence that inevitably arises from a 23-match unbeaten run.
And like Chelsea, or Inter Milan before them (or even Croatia, who gave Spain all they could handle in the decisive Group C match on Monday before falling 1-0), France possess the tools to defeat the Spaniards.
They just have to adjust their playing style, and immediately at that.
But then, Chelsea went from Andre Villas-Boas' vision of a dynamic, swashbuckling side to Di Matteo's principled and pragmatic edition in less than two months' time before defeating Barcelona.
France have a matter of days, but considering that they have a former world-class defender in Laurent Blanc as their manager, they do have the sort of guidance and discipline needed to withstand the Spanish armada of tiki-taka.
To defeat Barcelona in the semifinal first leg, Chelsea rode their luck at times, but caught the Blaugrana out with a number of withering counterattacks that utilized the pace of Ramires and the predatory finishing of Didier Drogba.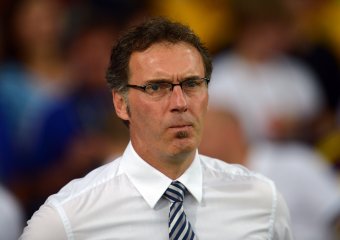 Lars Baron/Getty Images
Fitting that Ramires coursed down the left flank for that goal, considering that France's best hope to hit Spain on the counter Franck Ribery plies his trade on the left wing and has made his money as a footballer running at defenses with zealous abandon.
Like Ramires, who was easily the MVP of the two legs, chipping in a goal (literally) and an assist, Ribery will need to be at his wending best for France to move on to their second semifinal date with Portugal in six years (the two teams also met at that stage in the 2006 World Cup).
In Karim Benzema, Blanc has a striker of world-class standing. While the Real Madrid man (32 goals in all competitions in 2011-12) doesn't have the same power as Drogba—then again, who does—he is an effective finisher.
That Benzema has been far below his lofty expectations so far at the Euros—his two assists in the 2-0 win over Ukraine notwithstanding—might only add to the feeling that he is due to show up against Spain, whose players he will know well from his time in La Liga.
Keepers are often lost amid the pre-match hullabaloo, but just as Petr Cech was absolutely enormous in goal for Chelsea over those two nail-biting legs, France has a world-class keeper of their own in Hugo Lloris.
And as anyone who watched France's World Cup playoff against Ireland will now, Lloris is no stranger to making game-saving stops on the biggest occasions.

France could benefit from a tactical change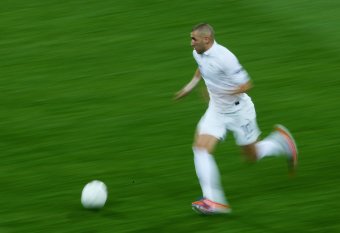 Ian Walton/Getty Images
Spain almost lulled themselves to sleep against the Croats before almost conceding a goal to a terrific bit of skill from Luka Modric, who charged down the right wing before sending a brilliant outside-of-the-foot cross to the onrushing Ivan Rakitic, who only had to head it anywhere but at keeper Iker Casillas to take a 1-0 lead (he didn't, though, and Iker saved). France have looked bereft of ideas far too often in these Euros.
That's not to say they haven't played pretty football—on the contrary, some of their passing movements have been mesmerizing—but they lack an incisiveness in the final third that might be alleviated with a more direct approach.
Enter the Chelsea/Inter/Croatian approach.
France have already shown they can excel on the counter—scoring goals in all their pre-tournament friendlies that way, not to mention the two goals against Sweden, which came by way of quick movements involving either Ribery or Benzema.
When France go direct, they're far more effective. And given as how that's proven to be a successful formula against Spain, Blanc would do well (and is almost certainly entertaining the idea) of trying to hit them on the break Saturday.
They certainly have the tools, and they might just benefit from the inclusion of central defender Laurent Koscielny in the starting XI, who will take over for the suspended Philippe Mexes.
Whereas Mexes is tall and powerful—almost to the point of lumbering—Koscielny is quick, rigorous in the tackle and able to pick a pass. All those skills have been sharpened during his two seasons at Arsenal, where Koscielny has become one of the Premier League's better defenders.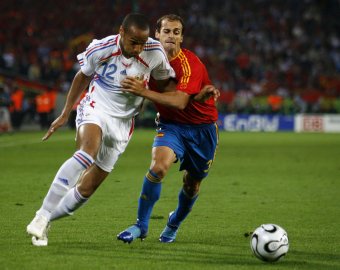 Shaun Botterill/Getty Images
His pace will come in handy against Spain. Whether Vicente del Bosque opts for Cesc Fabregas or Fernando Torres to "lead the line", France will be forced to cope with a number of midfield players far quicker than their own.
To my mind, Koscielny will be far better equipped to deal with the trickery and stupefying imagination of Andres Iniesta, who has been sensational so far in the championships.
Given how low they fell against Ukraine, it's the optimist's hope that France would swing back from the brink and into a positive performance.
That may be asking too much against the Spaniards, however, who will have received their own wake-up call against Croatia. They will be raring to get to the semifinals, where a juicy Iberian peninsula showdown against Portugal awaits.
France run the risk of seeing Blanc depart the way he came in to the side. The former Bordeaux boss lost his first two games as manager of Les Bleus—2-1 and 1-0 reverses to Norway and Belarus, respectively. After dropping that match against Ukraine, a loss to Spain would be a cruel bit of symmetry.
Blanc has been linked with a number of prestigious club positions in recent weeks with his "French" future uncertain—he only signed on for two years, and has dealt with a number of issues that would turn the most hardened man's hair a subtle shade of grey. He will surely be tempted to leave his post as summer wears on and lucrative offers pour in.
But for now, he'll be 100 percent devoted toward Spain. As a former champion, you can expect that much from him.
Now what remains to be seen is how he can fare tactically when faced with what is certainly the sternest test of his French managerial career to date.
This article is
What is the duplicate article?
Why is this article offensive?
Where is this article plagiarized from?
Why is this article poorly edited?