10 Things to Look Forward to from the Cincinnati Bengals' 2012 Training Camp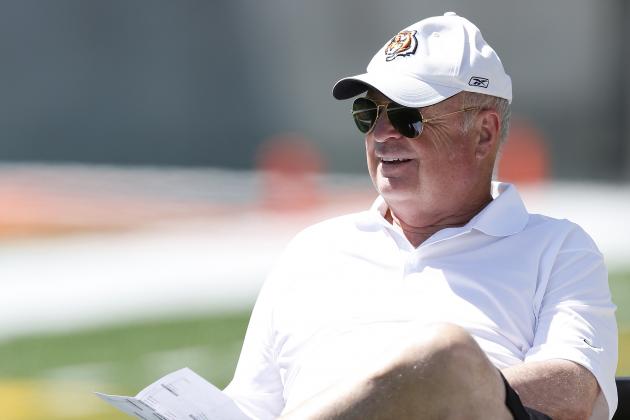 Joe Robbins/Getty Images

With minicamps over and the NFL Draft a distant memory, football fans find themselves languishing in the frustratingly docile period that is this very moment.
However, with i-playbook study underway and a Bengals roster peppered with players in need of more time to heal, a period of quiet is just what Cincinnati and a number of other teams need at this juncture.
That being said, minicamps have well and truly whet our appetite and have given insight into what might be the main storylines when training camp opens at Paul Brown Stadium.
Expectations for these young Bengals have risen significantly following an unexpected playoff appearance in 2011, and starting on the right foot will be key to doing it all over again.
Let's examine some of the key things to look forward to from the Bengals' 2012 training camp.
Begin Slideshow

»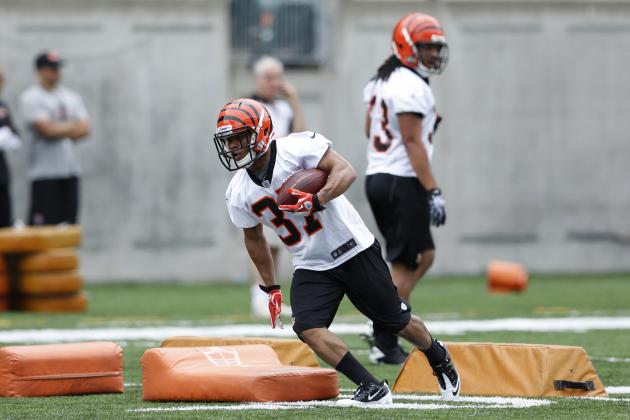 Joe Robbins/Getty Images

Not once in their 45-year history have the Cincinnati Bengals conducted their annual training camp in Cincinnati, having in recent years made Georgetown, Kentucky, their summer base.
That all changes this year due in part to the new collective bargaining agreement limiting practice to one per day, and an ever growing number of players with wives and young children to look after.
This will come as a blow for Mike Brown, who revels in donning his socks and sandals and driving his golf cart around Georgetown. But while that may be the case, this is a big win for fans.
Georgetown is just about far enough away to cause problems for Bengals fans wanting to visit, and their new location at PBS will make them more accessible than ever before.
You could argue that more fanfare and a greater media presence will bring more distractions. However, you could also argue that the quiet and sleepy surrounds of Georgetown, Kentucky, didn't exactly prepare players for the pressure and tempo of an NFL season.
Either way, the vast majority of fans will appreciate the opportunity to see new additions Dre Kirkpatrick, Mo Sanu, etc. up close and personal in the Queen City a little earlier than expected.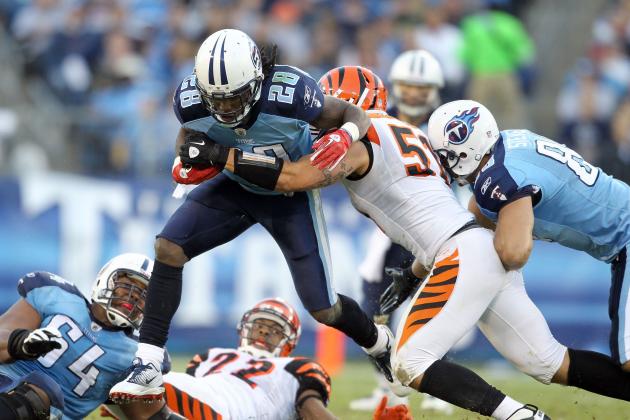 Andy Lyons/Getty Images

Dan Skuta may not have turned any heads in 2011 when he filled in for an injured Rey Maualuga at middle linebacker, but by playing to a similar standard, he exposed No. 58 as being nothing particularly special himself.
The real surprise came this offseason when linebackers coach Paul Guenther revealed that Skuta and Manny Lawson are "neck-and-neck" in the race for the starting outside linebacker spot (via bengals.com):
I think it's close; Skuta is having a great spring. He's played a lot of roles. He's played defensive end, he's played SAM, he's played the middle. He's played in the nickel. His goal is to start just as it is for Manny to keep his starting job.
Skuta is a versatile player, and his ability to play in a number of spots makes him a popular guy with Bengals coaching staff. Whether he beats out Lawson or not, Skuta provides the Bengals not only with depth but perfectly capable depth.
It's hard to know whether Dontay Moch will toss his hat in the ring when he returns from his four-game suspension, but right now it's reassuring to see a position battle going on between two equally solid SAM linebackers.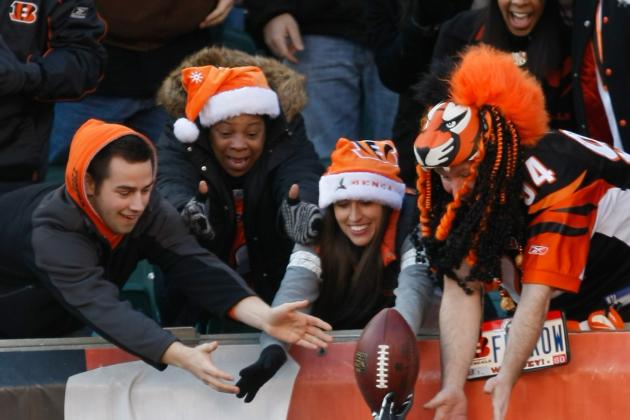 Scott Boehm/Getty Images

It may be some time before highly regarded fourth-round pick Orson Charles sees serious attention from the Bengals coaching staff, but with a deep skill set, there's no denying that he has the potential to be a playmaker for the Bengals offense.
Instead, 2012 will likely focus on creating a more dynamic partnership between the Pro Bowl TE/QB combo of Jermaine Gresham and Andy Dalton.
The absence of a No. 2 wide receiver will continue to concern Bengals fans, but the reality is, Gresham will see the most amount of targets after A.J. Green this year. This doesn't mean that a No. 2 wide receiver isn't needed, but it does downplay the importance of one somewhat.
Gresham may not have dominated in the fashion expected in his short career thus far, but when you factor in a change of coordinators from Bratkowski to Gruden, combined with a QB change and a lockout, the contribution Gresham has made is pretty pleasing.
2012 could be a breakout year for Gresham, and training camp will give us our first glimpse of how Dalton and Gruden intend to expand his role within the offense.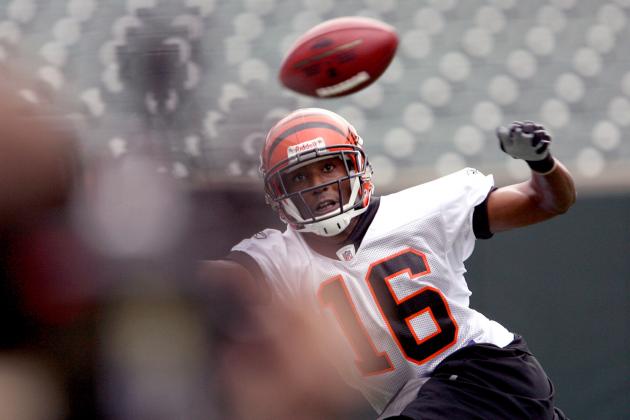 Mark Lyons/Getty Images

Brandon Tate, Marvin Jones, Mo Sanu, Jordan Shipley, Armon Binns, Ryan Whalen, Andrew Hawkins, A.J. Green, and that's not even all of them.
The Bengals are stacked at wide receiver, and yet they have no clear No. 2 to line up opposite A.J. Green. Brandon Tate saw the majority of first teams snaps during OTAs and received lofty praise from OC Jay Gruden (via bengals.com):
He's been one of the best surprises of camp for me...he's more confident, he sees that he belongs as an NFL wide receiver, and I think the confidence level that he has is showing. He's got all the ability. He runs all of the routes great, he's got great feel, and he's done an outstanding job.
A polarizing figure among NFL fans, Brandon Tate was confined to special teams in 2011, where he disappointed despite setting franchise records. A renewed focus on his receiving skills could see Tate recapture some of the success that saw him become one of Tom Brady's favourite targets in New England.
That being said, the competition is far from over. Mo Sanu and Armon Binns have been talked about as potential challengers for the crown, while Ryan Whalen and Marvin Jones have also impressed in the early going.
This battle will undoubtedly prove to be one of the most interesting storylines in Cincinnati this summer.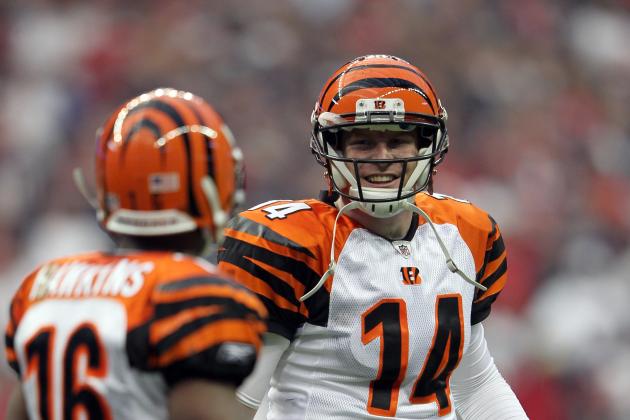 Jamie Squire/Getty Images

As has always been the case in the NFL, a number of talented players will likely never quite get a shot at first-team football.
The Bengals are no exception, and with a number of talented receivers vying for a starting gig, it's inevitable that some will fall by the wayside.
It is particularly interesting this year because there are a number of young and untested receivers on the roster.
Practice squad member Armon Binns is in a "will he or won't he?" position, and if he doesn't step up this year, he might never get another chance.
Andrew Hawkins proved to be a dependable and at times exciting target for Andy Dalton in 2011, but given the return of Jordan Shipley and the recruitment of Mo Sanu and Marvin Jones, he will have to battle for playing time.
As for Jones and Sanu, both have considerable potential, but with Shipley (health depending) and A.J. Green dead certs to start, one of them, and maybe even both of them, could have an uphill battle, especially considering Brandon Tate's reemergence.
Let's not forget Ryan Whalen who had some good moments in OTAs. He's almost an odd part in Cincinnati, and you have to feel that if released, it wouldn't take long for Indianapolis to pick him up.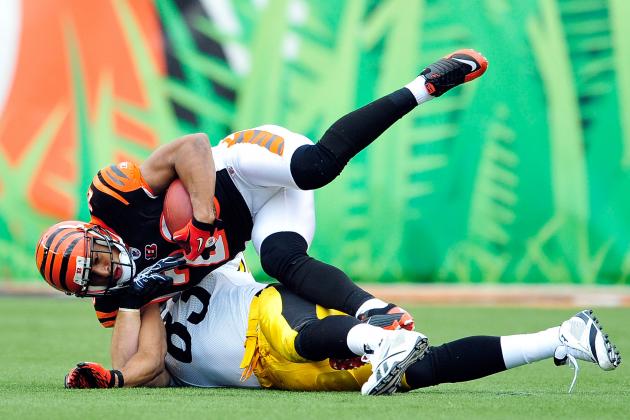 Grant Halverson/Getty Images

The Bengals secondary never quite recovered from Leon Hall's season-ending Achilles' injury in 2011 at the hands of the Pittsburgh Steelers. This was never more apparent than in the wild-card loss in Houston that saw Adam Jones blown up on multiple occasions.
Hall is determined to make it back in time for training camp, but his recent comments on local radio continue to sound cautious (via ESPN.com):
I feel pretty close. I don't have a percentage for you but as far as the work that I'm doing and how well I'm doing it, I feel pretty close. Obviously, it's a little different from doing my drills on the side and being on the actual football field with 10 other players.

I feel confident that I will be able to do it. I'm going to be smart about it, but at the same time, training camp is my goal and I'm going to stick to it.
So is there a possibility that Hall begins the year on the PUP list? Possibly. The Bengals have taken a number of steps to shore up their cornerback ranks, mainly for depth, but with some serious talent to boot.
In his depth chart predictions, Bengals columnist Chris Roling suggests that Mike Zimmer could pair Nate Clements with new face Jason Allen in Hall's absence, with Terence Newman starting on the bench.
While this veteran pairing does inspire confidence, nothing can make up for Leon Hall's presence as a tenured leader of the Bengals' defense, not to mention his speed and playmaking ability. Allen has greater straight-line speed than the aging Clements, but he can't hold a candle to Hall, which will remain a cause for concern.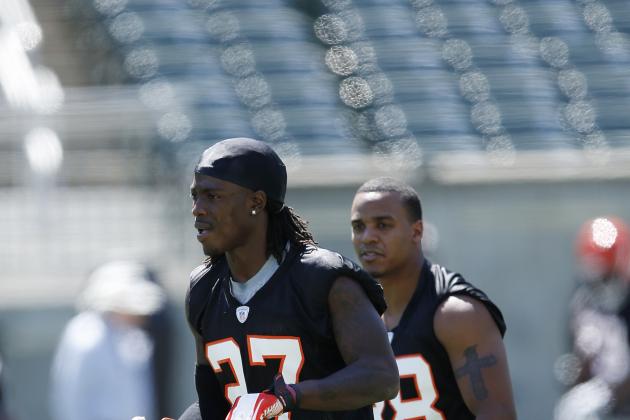 Joe Robbins/Getty Images

Let's not forget the first of Cincinnati's first-round picks in 2012, Dre Kirkpatrick.
Kirkpatrick adds yet another name to the Bengals backfield, but for those hoping for an A.J. Green-like impact this season, don't hold your breath.
Dre struggled somewhat in OTAs, having admitted recently to having never backpedaled in college. It's not his fault though, with Nick Saban's system requiring him to play mainly in press coverage, hassling his opponents as opposed to reading their routes.
However, if Kirkpatrick ever wants to be a starting corner in the NFL, he has a sharp learning curve ahead of him. He may have been able to get by on his physical prowess at Alabama, but in the NFL, as Taylor Mays' struggles have shown, you can't survive solely on physicality.
It would be unfair to start criticising Kirkpatrick after a handful of OTAs, but with playbooks distributed and coaching received, it's now up to Kirkpatrick to get up to speed and enter training camp with the ability to contribute fully.
The likelihood is that the former national champion will share time with Adam Jones in the nickel slot this year, where the pressure on him will be reduced in the hope that he can excel. This eventuality could prove to be beneficial both for Kirkpatrick and for Jones, the latter of whom struggled when the pressure was on in 2011.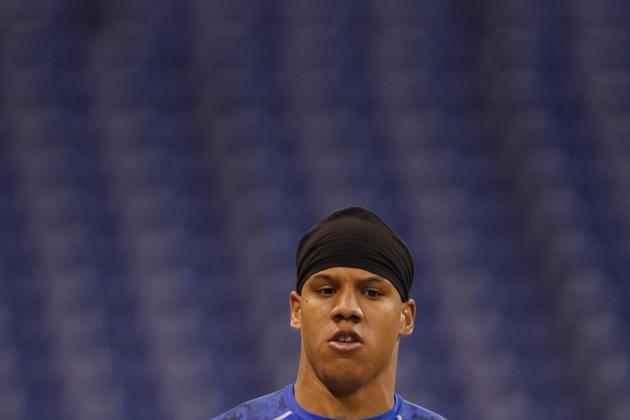 Scott Boehm/Getty Images

It could be suggested that Taylor Mays is still coasting off of his college reputation, and there is some weight to those claims.
Mays failed to turn his smash-mouth college play into smart play at the next level, and it is because of that that the former second-round pick finds himself on his second team in only his third year in the NFL.
2012 could be the year that it all changes for Mays, with Chris Crocker no longer a Bengal and no moves made to bring in a veteran replacement, it seems Mays is the de-facto starter in the Queen city.
Mays strapped up with the first unit during OTAs, which would seem to indicate that he has the edge over George Iloka and Robert Sands. It appears he is taking to Mike Zimmer's coaching style more swiftly than in 2011 (via CBSSports.com):
Zim expects a lot out of us. So, we got to really be able to perform at all times in all situations. That's really the best way to play safety, under pressure and under fire. That's the way I would want to play.
There is still a long way to go until the 2012 Bengals' season opener on Monday Night Football, but with the scales already tipped in his favour, Mays has to be the favourite when training camp opens.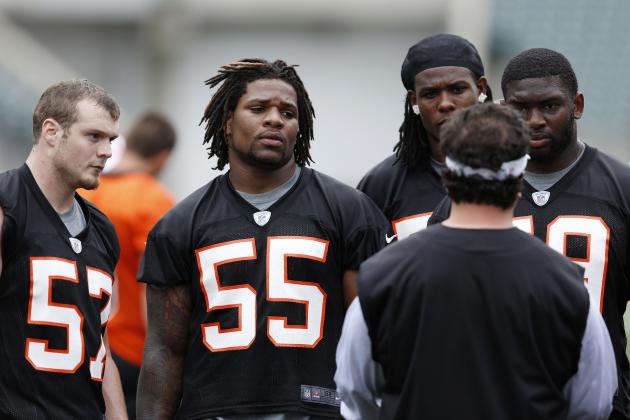 Joe Robbins/Getty Images

Vontaze Burfict seems to have undergone a transformation in the period since his stock tumbled all the way out of the 2012 NFL draft.
The transformation is by no means over, but going from Mr. Red Flag to "no longer a long shot" is indeed promising.
Burfict has re-tooled his attitude and seems intent on showing teams what they missed out on in not drafting him. Having sought out Rey Maualuga as his mentor, it seems that Burfict is ready to learn and ready to mature.
Incumbent MLB Rey Maualuga took time to express just how impressed by what he saw from Burfict in OTAs, comparing his own entrance into the league under Rashard Jeanty (via cincyjungle.com):
I know he's coming into a fresh, new start. Every time I come off the field he asks why I did what I did. Why I did it this way and not that way. I looked at Rashad [Jeanty] that way.
There's no denying that Burfict has upside, having once been touted as a first-round pick. The Bengals are no strangers to character concerns either, and by picking up Burfict as an UDFA, they have avoided any kind of risk.
While the unease and caution continue to linger somewhat, Burfict's future in Cincinnati is certain to bring excitement. Not only that, but it should light a fire under Rey Maualuga, and it all begins at training camp after this year.
Geoff Hobson of Bengals.com wrote that Burfict is "going to be one of the bigger preseason stories in the NFL" this year, and he's not wrong.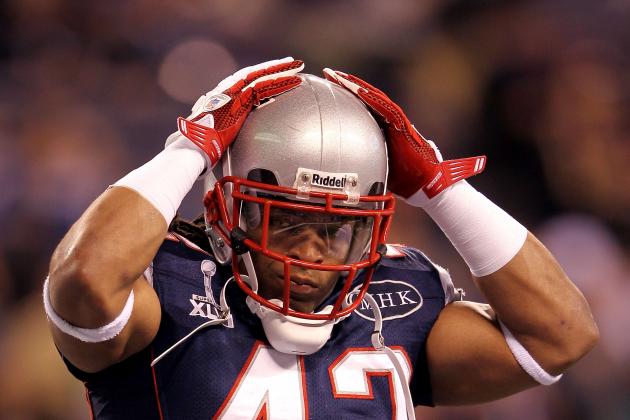 Jamie Squire/Getty Images

Cedric Benson appeared to be lost in the shuffle between the Carson Palmer era and the A.J. Green era in 2011.
With an unfaltering belief that the Bengals needed to rely on him in order to get back to the playoffs, Benson was left disgruntled and rarely used having failed to impress with what few carries he was given. It wasn't entirely Benson's fault, however, with the beleaguered offensive line not presenting him with much opportunity.
However, 2012 sees the addition of BenJarvus Green-Ellis, Travelle Wharton and Kevin Zeitler, who are all keen to get off to a quick start and collectively share a heap of talent.
The Law Firm is used to playing second-fiddle to Tom Brady and the aerial game and is unselfish as they come. He is also likely share some of the weight with Bernard Scott, who has been due a bigger role for quite some time.
The addition of BJGE is by no means a signifier that the Bengals will return to the run-heavy offense of 2009. But the hope is, that with fresh legs at the position and a new offensive line to work with, the Bengals can create a genuine threat in the backfield.
Green-Ellis may not be Trent Richardson, but the Bengals don't need him to be. A.J. Green remains the focus of this offense, and a solid run game will help to take the focus off of him on every play.