Washington Redskins: Best- and Worst-Case Scenarios for 2012
June 21, 2012

Patrick McDermott/Getty Images
Broadly, the best-case scenario for any NFL team is an obvious one. But in order to accomplish the ultimate goal of winning a Super Bowl, a multitude of positive scenarios have to come to fruition throughout the season.
Looking specifically at the factors that are most in flux, here is the best-case scenario for the Washington Redskins' 2012 campaign:
Robert Griffin III pulls a Cam Newton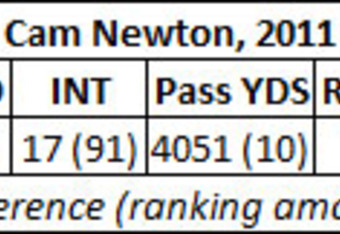 RG3 is expected to do a lot of big things very early in his NFL career. So, in the best-case scenario, he meets even the largest of those expectations by having a rookie campaign that sizes up favorably to the legendary first year that Cam Newton gave us in 2011.
What does that mean exactly? Well, Newton had 35 passing and rushing touchdowns, 4,000 passing yards, 700 rushing yards and helped Carolina improve its win total from two to six. 
In the absolute top scenario, RG3 puts up 35 touchdowns, throws no more than 16 picks, throws and rushes for a combined 3,500 yards and helps boost the 'Skins from five wins to eight or more. 
The pass rush picks up 50 sacks
The 'Skins have several talented young edge rushers, but they were still only just above the middle of the pack in terms of sacks and sack percentage last year. Pro Football Focus saw the heat they brought, ranking them behind only eight other teams in terms of pass-rushing productivity.
This year, they'll need to keep up with their sack-happy NFC East peers. To do so, they'll need Brian Orakpo to become a superstar, Ryan Kerrigan to become a consistent threat and Jarvis Jenkins to bring consistent pressure from up front. 
If those three can indeed wreak havoc, the Redskins could increase their sack total from 41 in 2011 to 50-plus in 2012. And if that happens, it'll take an immense amount of pressure off of the oft-criticized secondary.
Trent Williams and Jammal Brown become a top-tier tackle duo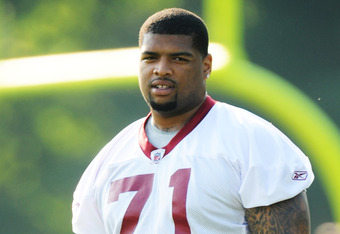 Mitchell Layton/Getty Images
Williams was really coming into his own before a four-game suspension brought an end to his 2011 campaign. This year, the former No. 4 overall pick should have a chance to explode as he takes on the responsibility of protecting the franchise quarterback's blind side.
The real question mark is Brown, who has been unbelievably bad since returning from a torn ACL and joining Washington in 2010. He had the knee to blame for that first season with the 'Skins, but last year might have been even worse. 
Is the 31-year-old former All-Pro simply regressing? He's certainly a very talented guy, and he has the drive to recapture his glory days, so the jury might still be out. All I know is, it can't really get any worse for Brown, so any sort of improvement helps the team shoot for the best-case scenario.
Other best-case scenario events: Either Roy Helu or Tim Hightower or Evan Royster becomes a star, Pierre Garcon emerges as the deep threat they desperately need and Rex Grossman remains on the sideline all season.
Result of this scenario: They win a playoff game for the first time since 2005.
_____________
And in the interest of being fair and balanced, we give cynics their fuel with the worst-case scenario:
Robert Griffin III struggles
Sure, he's expected to experience some growing pains, but in this scenario, RG3 really sucks as a rookie. We're talking Jimmy Clausen or Blaine Gabbert bad.
The team and the fans can tolerate a Christian Ponder- or Sam Bradford-like rookie campaign, so long as RG3 shows steady progress. But if he falls flat on his face, the excrement hits the fan and a team that spent three first-round picks on a supposed savior begins to panic.
I have a hard time envisioning this happening, but with rookies, you just never know. 
London Fletcher finally loses his edge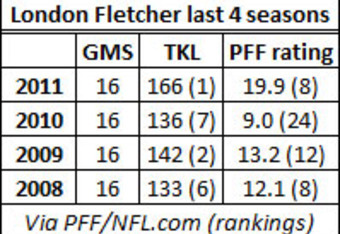 Fletcher turned 212 in May, but he's still been the team's leading tackler for half a decade. At his age (he's actually 37), you have to wonder if eventually his play will either drop off or he'll be forced to miss some time.
Neither of those things has happened in a decade. Fletcher has never missed a game in his 14-year career, and he's had over 115 tackles in 11 consecutive seasons. Despite his size and his age, he takes more snaps than any inside linebacker in football. 
Will his good fortune and remarkably consistent production slow in 2012? Eventually it'll happen, and when it does, the Redskins' defense will become weaker. 
None of their new arrivals pan out at safety
In an attempt to spruce up a weak secondary, the 'Skins dumped the aging O.J. Atogwe and the injury-prone, inconsistent LaRon Landry and replaced them with questionable veterans Brandon Meriweather, Tanard Jackson and Madieu Williams. 
I get the feeling that the coaching staff is privately hoping that Reed Doughty and DeJon Gomes emerge to win the starting jobs so that the team can wash their hands of those vets, none of whom have great track records off the field or when it comes to staying healthy. 
But if that doesn't happen and they have to go the patchwork route, look for the secondary to again struggle with consistency in 2012.
Other worst-case scenario events: Helu and Hightower get hurt again and Royster comes back to earth; Trent Williams or Fred Davis fail another drug test and get suspended for an entire season; and youngsters like Ryan Kerrigan, Leonard Hankerson, Perry Riley and Jarvis Jenkins don't bloom as expected.
Result of this scenario: They go 3-13.
When you're relying on a rookie quarterback and several young cogs and new additions, the ceiling is inevitably going to be sky-high and the floor is going to be well below sea level. That's the case here, which is why this'll be such an exciting yet also nerve-racking season for those in D.C.