AFC South Tweetbag: Indianapolis Colts Free Agency Questions Galore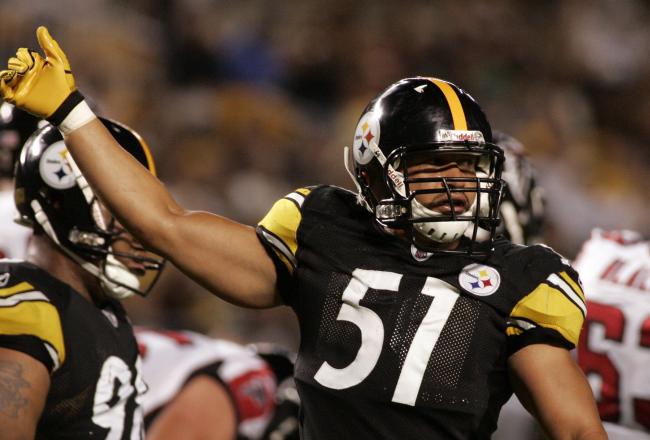 Could Farrior fit a need in Indianapolis?
Justin K. Aller/Getty Images
Welcome to the Friday Tweetbag! As always, you can tweet, email or send your questions to me in the comments section of the articles. Be sure to use the hashtag #tweetbag!
Q: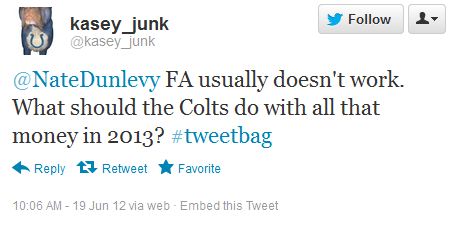 A: I've been a notorious critic of the way teams use free agency and have written many times about the trouble it brings.
So why would I think it's a good thing the Colts will have lots of cap room in 2013?
Because free agency, when used correctly, can bridge the gap at non-essential positions. Not every position on the field requires a homegrown star. In many cases, you can plug and play linebackers, corners and offensive linemen.
Guess where the Colts happen to have needs? Corner. Linebacker. Offensive line.
I don't think Indianapolis would be wise to pay huge money for a big-name tackle or a veteran wideout, but the Colts can spend strategically to upgrade a few defensive spots. Even Bill Polian, who famously eschewed free agency during his time in Indy, spent plenty of money to bring in Chad Bratzke, Chad Cota, Jeff Burris and Tyrone Poole early in his tenure.
Free agency is bad bet for teams looking for that mythical "final piece." They tend to overspend for veterans who cripple their ability to retain their own players. Indianapolis doesn't have to worry about that. The Colts can afford to add some quality players while staying away from the high-priced stars who rarely pay off.
The Colts would be wise to go after some of the interesting restricted-rights free agents. Often, these players can net big returns, even though they cost a draft pick to sign.
Q:


A: I'll field both of these questions together, as they address the same issue. Now that the Colts have moved toward a 3-4 defense of sorts, they'll be looking for linebackers. With Dwight Freeney as an expensive question mark and Jerry Hughes on his final chance with the team, the Colts could use talent outside.
They aren't exactly deep on the inside either, though both Pat Angerer and Kavell Conner are serviceable. There's no question the Colts could use reinforcements.
Banks and Farrior aren't the guys to watch, however. Farrior is contemplating hanging it up, but only wants to consider another title shot. Beyond that, he's just not very good any more. You don't bring 37-year-old linebackers into a rebuild.
As for Banks, he got a workout with the 49ers, and though his story is heartbreaking, he's probably not NFL-caliber yet. Even if the Colts gave him a look, he's a practice squad player at best.
Q:

A: Normally, I'd say the Texans were a lock to win two against Indy this year, but the second game is in Indianapolis on the last day of the season. There's a real chance the Texans have a playoff spot already locked up, so there's no telling who will actually play for them.
Because of that scenario, I'll say the Texans' winless streak in Indiana remains intact.
Q:
A: I don't think either man is a permanent solution. Redding in particular could prove a solid acquisition, but he's 31 years old and will turn 32 before the end of the season. You don't build a defense around 32-year-old ends.
Zbikowski is an upgrade over what they had, but there's not much evidence he's a top-shelf starting safety. Safety is a premium position, so the Colts should be seeking to add a true difference maker.
Both men may have solid seasons, but Ryan Grigson didn't solve anything by signing them. He just bandaged an open wound.
This article is
What is the duplicate article?
Why is this article offensive?
Where is this article plagiarized from?
Why is this article poorly edited?