NBA Finals Schedule 2012: Top Storylines for Game 5 of Thunder vs. Heat
December 13, 2016
Ronald Martinez/Getty Images
The Oklahoma City Thunder face an elimination game tonight, and LeBron James will play the biggest game of his career Thursday night.
These are just the major stories to follow leading up to Game 5's action. Inside of them lie a handful of subtle plots that you should be tracking with eager intent. 
An Oklahoma City victory would push the series back to their house on Sunday. You can view the entire NBA Finals TV schedule on nba.com.
Let's take a look at the top storylines that will impact the likelihood of Oklahoma City's homecoming.
Will Kevin Durant Bounce Back?
Durant scored 28 points in Game 4, but he was overshadowed. He wasn't efficient, didn't make his team better and failed to show up for the second half.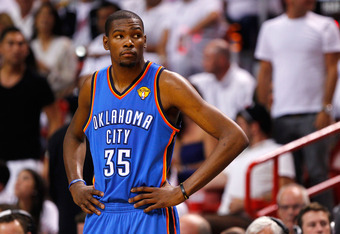 Mike Ehrmann/Getty Images
Oklahoma City needs Durant in order to win tonight. He must shake himself loose from Miami's tight man-to-man defense and find open looks at the basket.
NBA fans have become accustomed to Durant's coolness under pressure. His poor second-half performance in Game 4 was uncharacteristic of his normal late-game heroics.
Durant must return to his normal form in Game 5. Watching him try to do so will be worth it by itself Thursday night.
Expect a big game from Durant tonight in terms of efficiency and production.
Can James Shut the Door?
Game 5 will be one of the biggest games James ever plays in his NBA career.
He can close out the series with another epic performance, or he can play lackluster basketball and watch this series go back to Oklahoma City on Sunday.
If Miami loses and James doesn't have a good effort, critics will say he hasn't changed a bit. Regardless of his playoff performances thus far, people will point to his failure to show up in the series' decisive game.
But if he plays like he did in Game 6 of the Eastern Conference finals—and most of these playoff games, for that matter—he will officially get over the hump.
There's no one who doesn't want to see this series end tonight more than James. He has finally chipped away at his playoff resume and every stigma attached to it.
You can bet he will play harder than ever in Game 5 with that new-found reputation on the line.
Will James Harden Show Up?
Harden is 13-for-37 from the floor in the NBA Finals. The Thunder have been reduced from a "Big Three" to a "Big Two."
He isn't just missing shots. He is playing scared. As each shot clanks off the rim, you can almost see his reluctance grow.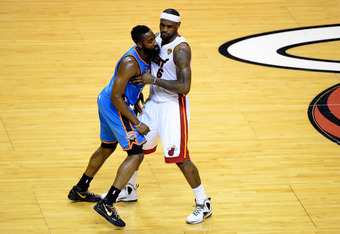 Ronald Martinez/Getty Images
The Thunder need Harden to provide his normal punch off the bench in Game 5. Without him, they are without any clear advantage over Miami.
Oklahoma City has lost three close games so far in this series, and that was without Harden. If he can show up on Thursday, all of the sudden the scales tip drastically in the Thunder's favor.
But if he stays status quo, this series isn't going back to Oklahoma City.
Which Rotation Will the Thunder Use?
Scott Brooks' rotations have been questionable in this series.
He uses Derek Fisher in odd moments, and he refuses to go away from keeping both big men on the floor at the same time.
Neither decision really makes sense.
Fisher stretches the floor, but his main attribute, at this point, is leadership. He can provide that from the bench. Brooks needs to use Thabo Sefolosha down the stretch because he is easily their best perimeter defender.
Brooks loves to keep Serge Ibaka and Kendrick Perkins on the floor at the same time. This gives his team an obvious size advantage, but sacrificing quickness works against them sometimes.
He could get away with putting Ibaka at center and sitting Perkins in favor of another guard. Perkins' main talents are in the "screen" game, but he provides little else in this series.
The Thunder can win Game 5 if they get out and run. A run-and-gun style doesn't lend itself to Fisher's presence on the court, nor to two big men.