UFC 148 Preview: Tito Ortiz and the 10 Most Legendary MMA Street Fights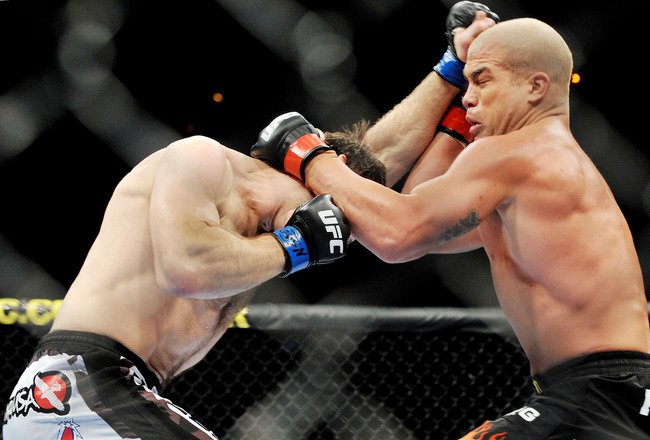 Jon Kopaloff/Getty Images
MMA fighters are the baddest men on the planet. The number of ways they can hurt you is staggering, their capability for wreaking havoc seemingly limitless. Luckily for us mere mortals, these wrecking machines usually leave all their violence in the cage, leaving us safe to walk the streets.
But sometimes, things escalate. Someone makes the mistake of attacking them, their friends or a woman. Someone says the wrong thing at the wrong time. And then?
All heck breaks loose.
What follows are 10 stories teaching a single life-lesson: Don't mess with a professional cage fighter.
Roger Huerta vs. Football Player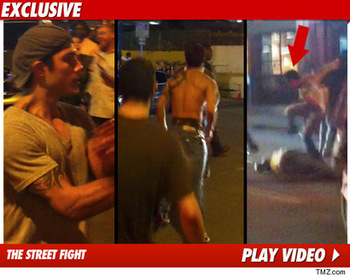 In 2010, former Texas Longhorn football star Rashad Bobino allegedly hit a woman outside a nightclub in Austin, Texas. At 230 pounds, Bobino felt bulletproof. He didn't count on former UFC star Roger Huerta leaping to the rescue like a 170-pound super hero.
Middle Easy had the breakdown:
Guys hits girl, Roger Huerta sees guy hits girl, Roger Huerta confronts guy who hit girl, guy who hits girl and Roger Huerta take off their shirts, guy who hit girl is laid out on the ground like an infantile retard. Everyone lives happily ever after and the world anticipates the new episode of True Blood this Sunday.
Ken Shamrock vs. Mark Hall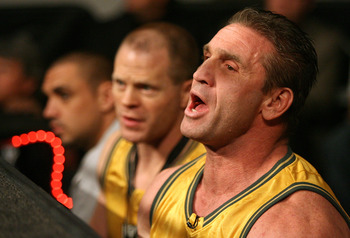 Ross Dettman/Getty Images
Back in 2000, Ken Shamrock and former UFC fighter Mark Hall had a small dispute over money. But after Hall cursed at Shamrock's wife on the phone, things escalated from plain old talk to talking with fists. Shamrock told his side of the story to Full Contact Fighter:
I am interviewing, and all of a sudden I see this crowd starting to rumble a little bit and I look up and there is Mark Hall and he has 2 big dudes coming behind him and Vernon was there with me and I said Vernon, "Keep everybody back." So, I walked away from whomever I was talking to, towards the back of the hall and as I turned around Mark Hall was right in my face and he was going, "F#ck you, motherf*cker, you are a f*cking liar." I am like going-I mean really, now I am pissed don't get me wrong. I am f*cking hot. First of all because of what he did to my wife and I am standing there just looking at him and I am thinking to myself in slow motion. Who is this guy? Who does he think he is? I mean what is he? Godzilla or what? I mean, did he get tougher than when I last saw him? I mean I am just thinking. So, all these things are going through my mind, the next thing I know is, "Bang," and it was reaction after that. He head-butted me. Why? Find out when you talk to him why. What does he think that I did to him that he is just so mad about?

After the fact that he came up and he insulted me, and then I nailed him and held him down. He got up off the ground because the security came. I held him down for a while, pushed him against the wall, hold him down, he kept trying to get up, I kept pushing him back down. Security came and they said, "Let him up, let him up." I said you better keep him away from me because he keeps trying to get back up. So, I backed off. He got up, he seen the security there and played to the security obviously. He said, "I am going to sue you, you cheap-shotted me." I was like, "Yeah, okay Mark, whatever."
Randy Couture and Dan Henderson vs. Atlanta Bouncers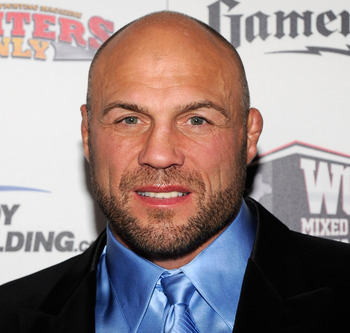 Only a dangerous man would wear that shirt/tie combo
Ethan Miller/Getty Images
Even before they were professional fighters, violence lurked in the blood of future champions Randy Couture and Dan Henderson. Both known as nice guys outside the cage, this story courtesy of long time friend Aaron Crecy shows the darker side of the two wrestling stars. The lesson? Don't pick a fight with Randy Couture. Ever:
In 1995, Randy and Henderson cleaned house on five bouncers in Buckhead (ATL)–it was a brutal bloodbath and took about 90 seconds, max. I was with them, and believe me when I tell you it was total carnage. It started when Randy pushed Dan into a car–just horseplay–outside a bar, and the doormen started talking ****. One of them grabbed a baseball bat and was acting like he was going to swing. So, Randy and Dan squared up.

After a few moments of banter–Hendo told the dude he was going to shove the bat up his[..]–Randy suddenly lunged at the dude with the bat, who immediately tucked tail and retreated into the bar with Randy on his heels. Henderson and I remained outside and Dan literally mowed through two of the four remaining bouncers–a fourth friend and I pitched on the last two. One of the guys Dan lit up tried to run away, and Dan would let him go for a few steps, and then beat him down. This lasted for about a block–I know, because I had to track him down so we could elude the police, and was literally a trail of blood on the street. Then, when I went to get Randy out of the bar, I saw that he had destroyed the place by repeatedly picking the bouncer up and tossing him into tables and across the bar.

Dan had just picked up some chick 20 minutes earlier, and she was just horrified, but ended up running from the police with us. We tossed her over chain link fences and brick walls, and by the time we got to our car, her dress was in tatters and she was just livid. Keep in mind, this was two years before either guy fought in MMA. I should also point out that I've known Dan for nearly 20 years and Randy almost 15, and it's the only time I've ever seen either guy in a street fight. The dude with the bat just set them off.
Tank Abbott vs. Alan Goes
Photo via WCW
When Tank Abbott was new to MMA, he spent some time with BJJ player Alan Goes to see what jiu-jitsu was all about. Usually what happens in the gym stays in the gym. But soon enough, Goes was telling the world how he had made Abbott tap out. When the two met face to face in the crowd at UFC 8, it came to blows. When "Big" John McCarthy's wife Elaine tried to intervene, things went from bad to worse.
Tank threatened Elaine, John flipped out and said he would quit if Abbott wasn't fired. He didn't trust himself to be around Tank. Abbott ended up suspended from the UFC until he wrote McCarthy a note to apologize.
On the surface, clear win for McCarthy. Of course,Tank was being paid to sit out, so maybe the big lug got the last laugh after all?
Urijah Faber vs. Indonesian Thugs
Urijah Faber may be the nicest guy in MMA, but when push comes to shove, he isn't afraid to throw down. Vacationing in Indonesia, Faber found himself in a fight for his life against a number of armed thugs. The story is in his amazing new book, The Laws of the Ring and he shared the whole story with Fight Magazine in the video above.
War Machine vs. Porn Stars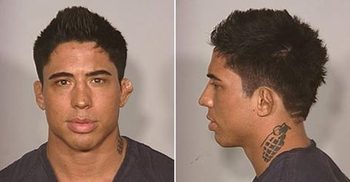 The mugshot
When you legally change your name to War Machine, it's probably a good sign that the neurons in the old noggin aren't firing quite right. The former Jon Koppenhaver has been through the ringer in his short life, getting fired from Bellator for bizarre comments about President Obama, losing a UFC gig after insulting the late Evan Tanner and spending plenty of time in jail for being unable to confine his fisticuffs to the cage.
He's had numerous street fights, but the most interesting was probably the throwdown at an Adult film industry party in 2009:
This looked like something out of a bad Vince McMahon script as this guy War Machine went nuts and began taking everyone on at this party. We're talking multiple assaults and battery with the cops after him. War Machine's own agent, Derek Hay, looked to be the primary target with a couple of shots to the head. Mika Tan's Ex was KO'd as well & sent to hospital. I never saw anything like it. War Machine was in kill mode. His fists were lethal weapons. Anyone who tried to get between him and Derek got taken down – hard.
Nick Diaz vs. Joe Riggs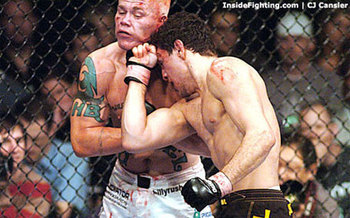 Photo by CJ Cansier/Insidefighting.com
Nick Diaz and Joe Riggs battled their hearts out at UFC 57. Riggs took home a narrow decision win, but paid a steep price for it. The hospital awaited. Unfortunately for Riggs, Diaz ended up there too. And, despite 15 minutes in the cage, the fight wasn't over yet. Diaz explained what transpired as only he can:
I'm in one room at the end of the hall, and he is at the other in of the hall with a bunch of people. He walked all the way down. I don't know if they sent him over there to get something from the nurses station. You know, because I was a little bit closer to the nurses station. I don't know if they sent him over there, or if he walked over there close to my room, by my room. When he did, he walked all the way over to my room, and I was like, what the f#%k are you doing over here?

Do you want to get your ass whooped or what? I was all, I didn't even say that. I started talking sh#t to him when walked over to my room. He was talking sh#t to me too, so I wasn't going to sit there in my room. I got up out of my room, walked out of my room, and I was like, what's up bitch. He threw up his hands and started doing his little Joe Riggs dance around and sh#t. I f#%king knocked him down. Then he got up and started trying to take me down. I turned him around. I put double under-hooks because he had a single leg. I put both my arms under his. I turned him because I'm hopping on one leg. So I hopped him on one leg, and I hopped him into the little office right next to the doors. You know, where the emergency doors open? You can't get in, but you can get out unless you are an ambulance or whatever. I would have hopped him through those doors; I should have hopped him through those doors and outside, should have taken it outside. But I hopped him into this room and I started punching him in his face up against this wall in this room.

And then the f#%king security ran in and grabbed me. I stopped fighting the security and sh#t. I was like, all right, all right, all right. I'm sorry. I'm sorry because they were about to tase us or some sh#t. Seriously, they were going to tase us. The cops came in. I figured the cops would have arrested us, but they were Nick Diaz fans or whatever. One of them got an autograph. They were like, hell no I'm not arresting this guy. He's my favorite fighter. I couldn't believe it. We were in Vegas, so I figured that is the reason why. I signed some autographs for the police. He was like, get your brother man. Get your brother man. Get your brother man, please. He was like, get your brother man. He's crazy. I'm like, f#%k you. He walked over to my side of the hospital, though. I didn't walk over there to his side of the hospital and try to fight him. I stayed on my side of the hospital. I stayed in my room. Okay?
Kimbo Slice vs. Sean Gannon
Kimbo Slice made his name on the streets, capturing his neighborhood brawls on video and somehow turning a profit as a YouTube superstar. In the UFC, he was exposed as one-dimensional. Worse still? He wasn't even that good in that single dimension.
Somehow, no one remembered that Kimbo had actually been exposed years earlier in a fight with police officer Sean Gannon. It was a confrontation that earned Gannon his shot at the UFC—where he was summarily dispatched by the underwhelming Brandon Lee Hinkle.
Frank Shamrock vs. "Big Al"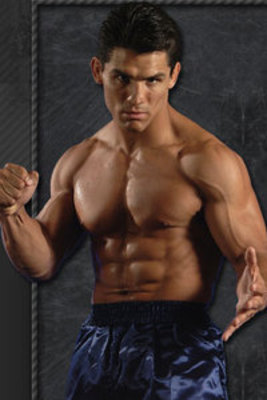 via FrankShamrock.com
Ken Shamrock and Tank Abbott: the early UFC dream fight that never happened. The two men, and their respective posses, were constantly at each other's throats, but things never got settled in the cage. But that doesn't mean they never came to blows. When I interviewed Frank Shamrock in 2010, he revealed two run-ins with Tank's crew that had me rolling: (via bloodyelbow.com)
Jonathan Snowden: Were you a part of that big rivalry between the Lion's Den and Tank's guys?

Frank Shamrock: Mostly that was between Tank and Ken. They were two ego guys that didn't mix well. And we were all under Ken so we were organically connected to all of that. I was always trying to remove myself from all those things but I did get into a fistfight with "Big Al" that giant guy that used to shadow Tank around. He attacked me in Mobile, Alabama. Someone threw a hamburger and I had to beat him down.

Jonathan Snowden: You fought that guy? That guy was enormous.

Frank Shamrock: He was like 6-8. (Laughs) I creamed him. We pull up at the hotel at the same time, at 4 AM in Mobile, Alabama. I get out of a cab and he gets out of his cab and he looks at me. The night before we had all been hanging out and having fun, but he looks at me all drunk and says 'You're the one who threw a hamburger at me' and comes after me. I look at his guys that I know are egging him on and say 'The guy is drunk and you'd better get rid of him.' Finally he grabs me by my shirt and yanks it over my head. I give him a hockey punch and then I gave him ten of them. From 6-8 he got really, really short after that and I kicked him in the face a few times. He was done. I said 'Take your guy and I'm going to bed.' He was really messed up. The next day he comes up, his face was all butterfly stitched together and said 'Frank, I'm really sorry. I was drunk.' I was like, 'It's cool, but your friends were the guys that egged you on. You should be mad at them.'

It was a really weird situation but not as weird as the one in Buffalo, New York. I was there with my then girlfriend Tiffany. Now as then she was very hot. Tank was hanging out at the bar there and wraps his arm around my shoulder. He said 'Hey cowboy, if she doesn't get down tonight, I'll take you home and suck your d%ck.'

Jonathan Snowden: (Laughs)

Frank Shamrock: At this point him and I get in a little bit of a wrestling match and then security comes in and the whole thing gets broken up. Those were my two experiences with Tank and his guys. Neither of them were very fun.
Tito Ortiz vs. Lee Murray
Lee Murray's legend will never fade. He's a bonafide MMA icon, almost entirely for things that happened outside of the cage, like being involved in one of the biggest heists of all time. And, oh yeah, knocking out UFC champion Tito Ortiz in a London street fight. Pat Miletich explained how it all went down to Matt Hughes, who included it in his book:
So it's four o'clock in the morning and they had everybody leave the club, right? Well, the UFC had bussed us all over there but they didn't have a bus to take us back. It's down to Mark, me [Pat Miletich], Tony Fryklund, Chuck Liddell, Tito [Ortiz] and Lee Murray. Lee Murray's crew was still there, Tito's crew was also still there.

I walked out the back door to go in the alley. Tito's buddy jumped on my back. He jumped on my back and acted like he had me in a choke hold, just messing around, you know? Then I felt him get ripped off of me. I turned around and Tony Fryklund had HIM in a chokehold, and was really choking him. The guy looked like a mouse that just got trapped in a mousetrap; his eyes were popping out and obviously he wasn't breathing.

Tony thought he was actually attacking me – that's the only reason he did it. So I turned round and told Tony to let him go, and Tony let him go. Then Tito's buddy turned around and basically said 'what the f*** are you doing?' to Tony. Well, when he said that, one of Lee Murray's buddies, that one guy who kind of took care of us all week long, thought this guy was actually trying to fight us, so he ran out of the crowd and cracked this kid with a right hand and knocked him out cold....

The entire alley erupted into a huge brawl. I was just standing there, and there were bodies flying all over the place. I was confused how it all happened, because it happened so fast. I was standing there with my mouth open like 'what the hell is going on?' I looked over and Chuck Liddell was with his back against the wall, knocking people out that were trying to go after him. Then I looked over and there's Tito directly past me, taking his coat off, going after Lee Murray, and Lee Murray's backing up the alley taking his jacket off. Both their jackets come off, and Tito throws a left hook at Lee Murray and misses, and right as he missed, Lee Murray counters with, like, a five-punch combo, landed right on the chin, and knocked Tito out. OUT. Tito fell face-first down to the ground, and then Lee Murray stomped him on the face a couple of times with his boots."
Tito has his own take in the video above.
Keep Reading