Georgia Football: How Mark Richt Plans to Use Talented Group of Running Backs
Al Messerschmidt/Getty Images
One of the things Georgia has been known for is producing quality running backs. From Herschel Walker to Knowshon Moreno, the Bulldogs have never had a problem finding a back who can carry the ball 25-30 times a game.
The last few years have been different because, despite having talented backs on the roster, there hasn't been that one guy who has stepped up and become the feature back. It looks like that won't happen this year, either, because the running back roster is loaded with talented backs, and Mark Richt is going to make sure he gets them on the field.
So, here is Richt's plan for his group of running backs this year.
Solidify the Rotation
Richt likes to use a lot of running backs, so he has to make sure that he has three or four guys he can trust game in and game out.
If the season were to start today, those four would probably be Ken Malcome, Isaiah Crowell, Keith Marshall and Todd Gurley.
All four are different, but all four are able to make plays when their number is called.
When Richt finds his top three or four backs, he then has to find out who is going to get the majority of carries each game.
Finding the No. 1 Guy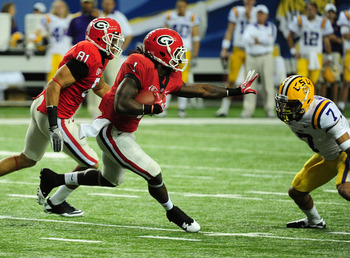 Scott Cunningham/Getty Images
The depth chart was released after the spring game ended for the Bulldogs, and Malcome was listed on top for the running backs, followed by Crowell, Marshall and Brandon Horton.
Last year, Crowell was the starter and did well for the Bulldogs when he was healthy. But the coaches like the way Malcome played down the stretch last season as well as in the spring practices.
It will come down to who has the better summer camp, which takes place in more than a month. Odds are Malcome will start the season No. 1, but that won't likely stay that way, especially if Marshall and Gurley are as good as advertised.
Playing to the Strenghts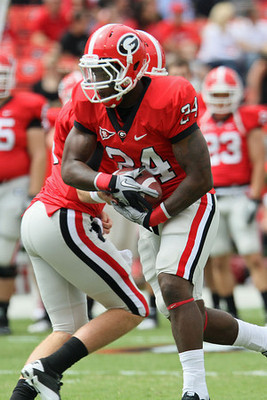 As it was said earlier, the running backs for Georgia are different, and each is good at certain things. It will be Richt's job to ensure that he maximizes the running back talent with the right calls on the field.
For example, Crowell and Marshall are good when they have a lot of open space. So, Richt will give them sweep plays, screens and draws. As for Malcome and Gurley, they are good at running inside. Because of that, Richt will give them iso, dive and gut plays to soften up the defense.
Establish the Backs Early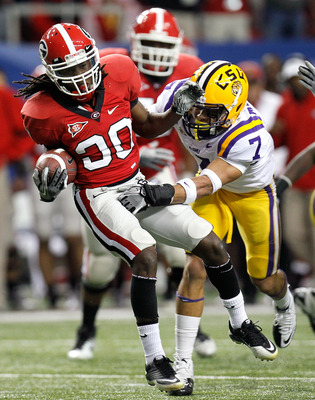 Kevin C. Cox/Getty Images
Richt knows that he has a talented quarterback in Aaron Murray and a very good group of receivers.
But in order for the passing game to be very effective, the running game has to be established in the early stages of each game.
Richt will try to have one back get 20 carries and the other back to have 10. Then the other two backs could have 5-10 carries each, and if the Bulldogs are able to do that each game, they will have a successful season.
End-of-Season Projections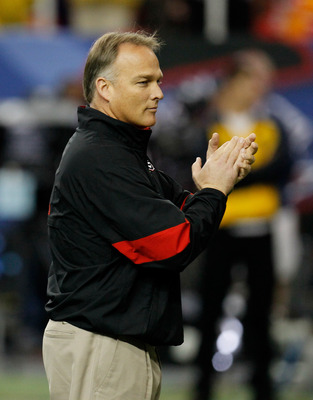 Kevin C. Cox/Getty Images
If everything goes according to plan, the running backs for Georgia should have a fine year.
Crowell will bounce back and will rush for 1,000 yards and 10 touchdowns. Marshall will burst onto the scene and will have 500-700 yards rushing and seven touchdowns. Malcome will get the tough yards and have 500 yards and seven scores. Gurley will also see action in short-yardage situations and will have around 400-500 yards and 4-5 touchdowns.
The running backs are vital to the Bulldogs' success, and in order for them to win the SEC and possibly a national title, the Bulldogs have to get back to basics and run teams to the ground.
Keep Reading

Georgia Bulldogs Football: Like this team?