NFC South Morning Jog: 2nd Look Shows Anthony Hargrove Could Be Less Guilty
June 21, 2012

Each morning, I like to start the day off with a workout—usually a morning jog. I can clear my head, plan my day and think about what's going on around the NFC South.
Joe Vitt released a statement Wednesday denying that he ever pledged money into the Saints bounty program. [NFL.com]
Joe Vitt goes more in depth on his released statement to the Times-Picayune.
A second look at video evidence may show that Anthony Hargrove did not say, "Give me my money" after a hit in the 2009 NFC Championship game knocked Brett Favre from the game. [Pro Football Talk]
New defensive coordinator Mike Nolan took some time after a Falcons minicamp session to talk about the look of his 4-3 defense this year and how there will be some 3-4 hybrid looks mixed in. [Atlanta Journal-Constitution]
John Abraham has some catching up to do in the classroom, according to the Atlanta Journal-Constitution. Abraham missed OTAs and is a little behind the rest of the defensive linemen in learning Mike Nolan's new system.
Here's audio from my segment with Fox Sports 1670 on the Morning Show with Charles Olson and Daniel Shirley in Macon where we talk about the Falcons. [The Telegraph]
Plaxico Burress said on a CBS Charlotte radio show that he wanted to play for Carolina. But the Panthers might not be calling him, according to the Charlotte Observer. Here are my thoughts.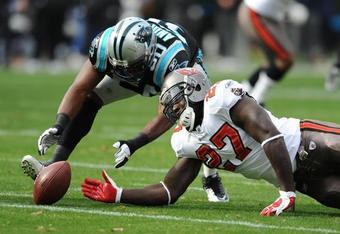 Stephen Holder of the Tampa Bay Times predicts the starting Bucs lineup on day one of training camp.
According to a Tampa Tribune report, new head coach Greg Schiano thinks that holding on to the football is "paramount."
NFC South
The Sporting News handed out offseason grades for the NFC. An "A" was given to the Bucs, a "B-" to the Panthers, a "C+" to the Saints and a "C" to the Falcons.