LeBron James Injury: King's Crown Will Be Tainted If Cramps Limit Him in Game 5
June 21, 2012

Mike Ehrmann/Getty Images
Kings don't milk injuries.
In Game 4 of the 2012 NBA Finals, LeBron James proved once and for all that he's the best player in the NBA, dropping 26 points, dishing out 12 dimes and inhaling nine boards to force the Oklahoma City Thunder against the ropes.
While his ability to play through cramps was impressive, if the injury holds him back in Game 5, it'd be an embarrassment not only for himself, but for the league.
Whether LeBron's fighting through the pain was heroic or a complete joke was the water-cooler debate of the day on Wednesday.
Chris Tomasson of FOX Sports tweeted that at least one credible source believes that his performance was inspiring.
Willis Reed on LeBron's injury: "I thought it was a LeBron James moment. It's his history that he's making.''

— Chris Tomasson (@christomasson) June 20, 2012
On the other hand, a few NHL players weren't impressed. According to CBS Boston, Ryan Potulny of the Washington Capitals tweeted: "Lebron James is embarrassing himself and the NBA or actually all athletes." He later deleted the diss, but others didn't.
Nick Bonino of the Anaheim Ducks, for instance, wasn't buying the severity of LeBron's pain. He tweeted:
We get it LeBron, it doesn't hurt when you're running around but it looks unbearable when the cameras are close up during the timeouts.

— Nick Bonino (@NickBonino) June 20, 2012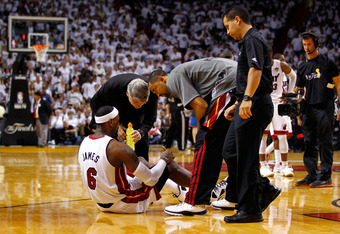 Mike Ehrmann/Getty Images
Daniel Chang of the Miami Herald reported that LeBron will play on Thursday night, but he supposedly isn't 100 percent. James said Wednesday:
"I feel a lot better than I did last night. That's clear. I'm still a little sore because of the muscles just kind of being at an intense level, very tight. I'm still sore. I was able to get some treatment [Tuesday] night. I was able to get some treatment this morning."
Dr. Bryson Lesniak, an orthopedic surgeon and assistant professor at a Miami medical school, defended LeBron's "act," stating that cramps often come with severe pain, but he also said (via Miami Herald):
"Recovery is usually fairly quick. It's a matter of minutes to hours as opposed to days. I wouldn't expect him to have any residual cramping [Thursday], for example."
Cramps are a common injury in sports, and any athlete that's had one knows how difficult that they are to play through. James not only played through his cramps, but he led the Miami Heat to victory with multiple clutch buckets. The impressiveness of his performance is undeniable.
But if LeBron plans on milking the injury further, like many believe he did on Tuesday night, let's just say it wouldn't help his reputation. And given the fact that he's the face of the NBA, it wouldn't boost the league's image, either.
David Daniels is a featured columnist at Bleacher Report and a syndicated writer.