New York Knicks: 5 Strengths and 5 Weaknesses for Next Season's Team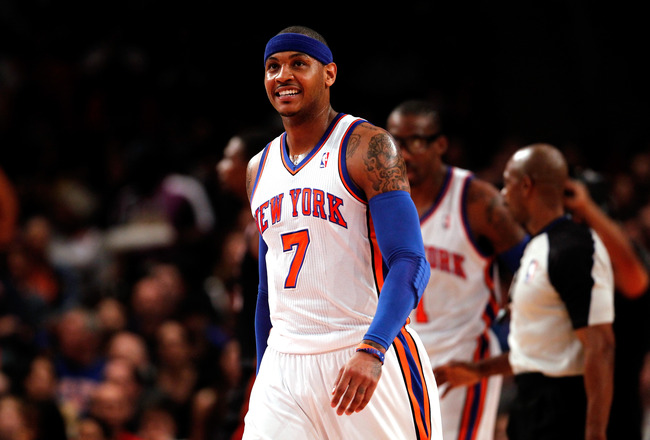 Jeff Zelevansky/Getty Images
The New York Knicks finished the regular season 18-6 under interim coach Mike Woodson, but that isn't a reason for fans to get excited for next year. Don't get me wrong. The team has a lot of strengths going into next year, but they still have a lot of work to do if they want to become serious championship contenders.
For example, forward Carmelo Anthony is probably going to be the go-to guy in Woodson's offense, but who's going to help him shoulder the load besides Amar'e Stoudemire? As much potential as the Knicks have, their roster has some pretty big holes that may need to be filled by first tipoff next year.
In fact, let's have a look at some of the team's strengths and weaknesses headed in to the 2012-2013 campaign.
Weakness: Jeremy Lin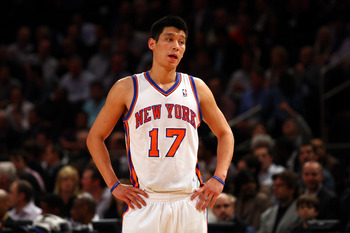 Chris Chambers/Getty Images
Lin is a restricted free agent next month, so there's no real guarantee that he will be back in New York next season. Still, assuming he stays, he presents a huge question mark at point guard.
Sure, "Linsanity" took New York City by storm, and the Harvard grad averaged 14.6 points and 6.2 assists last season, but that could have been a fluke for all we know. Keep in mind, we're talking about a player who went undrafted in 2010.
I'm not trying to pooh-pooh on Lin's season at all. In fact, I'm hoping he signs a long-term deal with the Knicks and plays a key role in their offense as they look to bring another title home.
Still, point guards in a Mike Woodson offense have never gotten much attention, and given how Lin will be sharing the ball with two superstar teammates in Anthony and Stoudemire, there's always the chance that he could go from being a city sensation to someone who's just there to pass the ball to them.
Strength: Tyson Chandler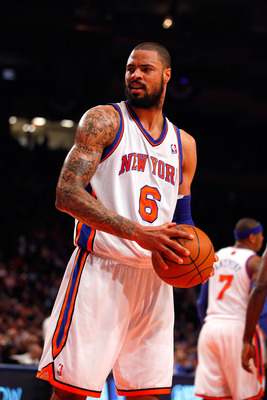 Jeff Zelevansky/Getty Images
For many years after the trade that sent Patrick Ewing to the Seattle SuperSonics, the Knicks had a gaping hole at center. Then, last season, team management signed Tyson Chandler to a long-term deal, and New York's middle had dominance again.
In his first year in the Big Apple, Chandler averaged 11.3 points and 9.9 rebounds per game, bringing some much-needed defense to the team. Sure enough, his efforts netted him this year's NBA Defensive Player of the Year award.
Given how the former first-round pick played injured for most of the season and still put up great numbers, he's going to enter the upcoming campaign even hungrier.
Chandler will settle for nothing but the best and on a team like the Knicks; that can only be a good thing.
Weakness: Bench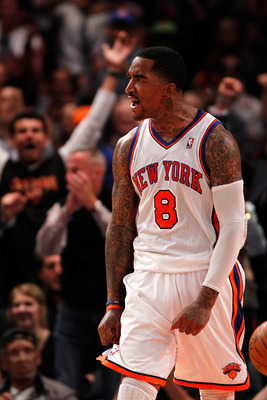 Jeff Zelevansky/Getty Images
The mark of any great NBA team is depth, as bench players are sometimes the ones who bring home the win. Yet, the Knicks will have an issue in that department come July.
As of now, the following Knicks players are expected to hit free agency in the next couple of weeks: Landry Fields, Jeremy Lin, Mike Bibby, Baron Davis, Steve Novak, Jared Jeffries and J.R. Smith (pictured). In a nutshell, save for Lin, that's the team's entire bench crew.
Fields is a restricted free agent and will most likely return, but everyone else is a toss-up. Smith has an opt-out clause and may very well explore it, and the aging Bibby and Davis aren't likely to return.
With another potential weakness looming, restocking the bench could turn out to be easier said than done.
Strength: A Healthy Amar'e Stoudemire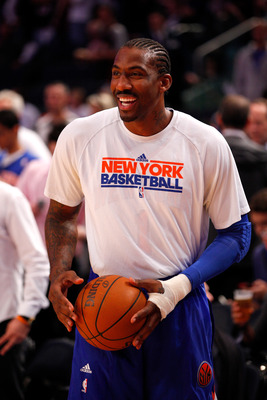 Jeff Zelevansky/Getty Images
Though he averaged 17.5 points and 7.8 rebounds last year, the 2011-2012 season was one of Stoudemire's worst.
He struggled to find his shot all year long, posting his lowest field goal percentage since 2006. On top of that, he missed time with a back injury and a now-infamous incident with a fire extinguisher.
Yet, Stoudemire is a fighter and will enter next season with his head held high. He's one of the go-to guys in an offense that's perfect for him, and assuming he stays healthy, he could be in for another All-Star year.
Weakness: Salary Cap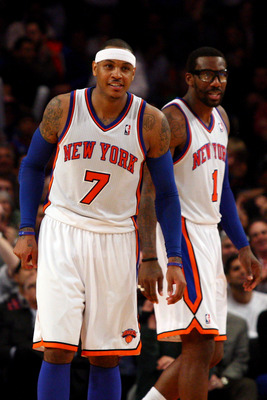 Chris Chambers/Getty Images
This summer, the Knicks need to focus their available finances on re-signing Jeremy Lin and anyone else essential to team success. Yet, that could prove to be a difficult task.
You see, the team's salary cap is already pretty heavy. Amar'e Stoudemire, Carmelo Anthony and Tyson Chandler made a combined $49.8 million last year.
Seeing as how the league's cap is a little over $58 million, the aforementioned number could prove to be a serious stumbling block come free-agency time.
Strength: Carmelo Anthony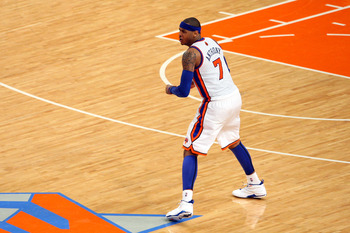 Chris Chambers/Getty Images
As did Stoudemire, Anthony also had kind of an off-year in 2011-2012. He posted his lowest scoring average and field goal percentage since 2006 and struggled to find his shot without a pass-first point guard getting him the ball, at least until Woodson replaced Mike D'Antoni.
Yet, once he became the focus of Woodson's offense, Anthony finally looked like the player we fell in love with back in 2003 and was a sensational scorer.
Now that the Knicks have Woodson signed for a multiyear deal, look for Anthony to have a great season in 2012-2013.
Weakness: Health
Jeff Zelevansky/Getty Images
I know I'm going to sound like a homer in saying this, but had the Knicks been fully healthy down the stretch, they would have gone far in the playoffs. Instead, Jeremy Lin went down with a torn meniscus, and Amar'e Stoudemire missed time with back and hand issues.
On top of that, the chalk-boned Baron Davis was getting significant minutes, Tyson Chandler was banged up all year and rookie sensation Iman Shumpert tore his ACL in Game 1 of the team's playoff series against LeBron James and the Miami Heat.
Put Lin and Stoudemire back in the lineup down the stretch, and the team is a lot more complete when in matters the most.
If they can't stay out of the trainer's room next season, then it's going to throw a wrench into New York's hopes for the Knicks.
Strength: Iman Shumpert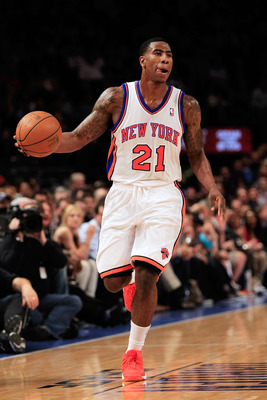 Chris Trotman/Getty Images
Though he received a cold reaction when he was drafted, Shumpert turned out to be one of the surprises of the season.
Not only did he play stellar defense, but his jump shot improved throughout the season as he adjusted to playing shooting guard. He only averaged 9.5 points per game, but his 1.7 steals more than made up for it.
Though he will probably miss the start of the season recovering from knee surgery, Shumpert is expected to be the Knicks' starting shooting guard for most of the year, and if his offensive game keeps getting better, he's going to give the fans a lot of reasons to smile.
Weakness: James Dolan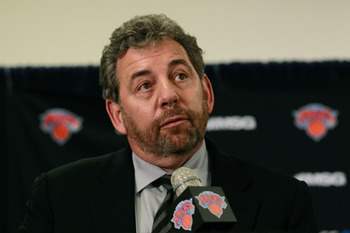 Chris Trotman/Getty Images
I love the New York Knicks to death, but team owner James Dolan sometimes drives me to distraction. Though he did successfully trade for Carmelo Anthony, he got rid of four starters and two fan favorites in doing so—Danilo Gallinari and Wilson Chandler.
Also, here's a guy who let Isiah Thomas play fast and loose with the salary cap for five years and reportedly still consults him on basketball-related decisions. I mean, come on. He sat by and watched as Eddy Curry got a long-term contract and then proceeded to eat most of the money.
Like I said, I love the team, but owners like Dolan make me extremely nervous.
Strength: Mike Woodson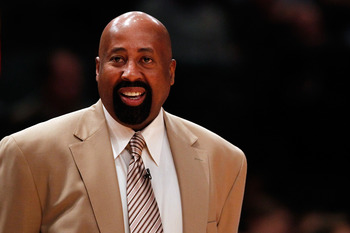 Jeff Zelevansky/Getty Images
Woodson was just an assistant coach to start last season, but when Mike D'Antoni resigned amidst a horrific losing streak, it was the former Atlanta Hawks coach's time to shine.
In eliminating the constant use of the pick-and-roll and establishing Carmelo Anthony and Amar'e Stoudemire as the team's go-to scorers, Woodson led the Knicks to an 18-6 record to finish out the season and clinch the No. 7 seed in the playoffs.
With him keeping that approach next season and most of the core returning, I can only sense good things for the New York Knicks in the upcoming campaign. If they can really stand out compared to the rest of the competition, mark my words.
Woodson WILL be Coach of the Year.
Keep Reading

New York Knicks: Like this team?