Washington Wizards Set Themselves Back 2 Years with New Orleans Hornets Trade
June 21, 2012

Streeter Lecka/Getty Images
Today isn't April Fool's Day, is it? 
When Jonathan Givony of DraftExpress first tweeted this afternoon that the Washington Wizards had sent Rashard Lewis' enormous expiring contract and the No. 46 pick to the New Orleans Hornets for Trevor Ariza and Emeka Okafor, I immediately had to double-check my calendar. 
How else can you explain a trade that legitimately sets the Wizards back two years on their rebuilding plan? 
On paper, you can almost see where Wizards general manager Ernie Grunfeld was going with this. He traded a second-round pick and a player who likely wouldn't see minutes this coming year (Lewis) for two legitimate rotation players. 
In terms of basketball talent, Grunfeld landed the best two pieces in this trade. 
What Grunfeld apparently forgot, however: The NBA isn't just about basketball talent. It's a business, too. 
Grunfeld didn't concern himself with silly details like cap-suffocating contracts and short-term financial flexibility when making this trade, it appears. That lack of foresight will likely grow to haunt the franchise until Ariza and Okafor's contracts expire after the 2013-14 season. (Ariza has a $7.7M player option for 2013-14 that he'd be absolutely insane to decline.) 
Let's take a quick trip to an alternative universe to see what the Wizards could (read: should) have done instead of this trade. 
First and foremost: Ever hear of the amnesty provision, Washington? Wizards owner Ted Leonsis likely wasn't thrilled with the prospect of swallowing a $22 million+ poison pill this summer to wipe Lewis' contract from the books, but it could have opened a heap of cap space for the team. 
Without the contracts of Lewis, Okafor and Ariza, the Wizards' projected cap for the 2012-13 season, before adding in minimum cap holds, would have been around $35.3 million. Add in the cap holds, and that would have left the team with somewhere around $15-20 million in cap space to play with either this summer or next. 
Under the terms of the new collective bargaining agreements, all NBA teams must spend at least 80 percent of the cap this upcoming season. That figure comes in around $46.4 million, according to Larry Coon's latest salary cap FAQ. 
Had the Wizards decided to stay away from making a major splash in this year's free-agent market, they could have signed veterans to low-value, short-term contracts to allow themselves the most future cap flexibility possible. The league would not have forced the team to badly overpay players, so long as they could reach the salary floor. 
Otherwise, with Lewis amnestied, the Wizards would have had the cap space to make a serious run at Roy Hibbert, Eric Gordon or any of the other free agents not named Deron Williams this summer. 
There's a reasonable chance the Wizards wanted to preserve the amnesty for knuckleheaded power forward Andray Blatche, so they can't be ripped too hard for not using it on Lewis.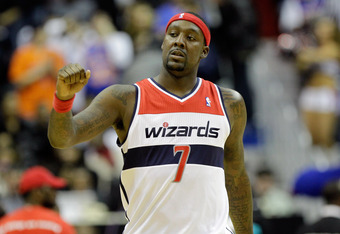 Rob Carr/Getty Images
But to trade him for Okafor and Ariza? That deserves some righteous indignation. 
Instead of having a young, flexible core to build around, the Wizards are suddenly creating a Frankenstein's monster of veteran talent and a youth movement. 
Okafor and Nene could very well make for a promising frontline, so long as both players remain healthy. (No sure thing for either guy.) Ariza represents an instant upgrade over the mishmash of players the Wizards started last year at small forward, although it remains to be seen what they do with last year's No. 6 pick, Jan Vesely. 
This trade gives wunderkind John Wall the most talent he's ever played with on the Wizards, which should help him get back on track after somewhat stagnating in his sophomore season. 
Presumably, this move also helps clarify the Wizards' draft intentions. With the frontcourt now filled, it can be assumed the Wizards will pass up Thomas Robinson, Michael Kidd-Gilchrist and Harrison Barnes in the upcoming NBA draft for shooting guard Bradley Beal, the freshman from Florida who's been drawing Ray Allen comparisons left and right. 
Still, as ESPN.com's John Hollinger says, this is a "win-now" move for a Washington team that isn't anywhere near winning a playoff series, much less an NBA championship. 
Having witnessed the intensity of this year's NBA Finals, can anyone say with a straight face that a starting five of Wall, Beal, Ariza, Nene and Okafor will be emerging as the 2013 Eastern Conference champion?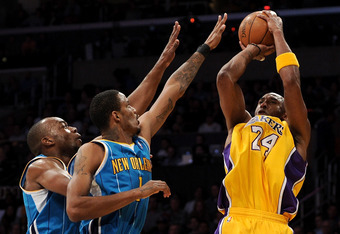 Harry How/Getty Images
If LeBron James keeps playing the way he's played the past few weeks, only a handful of Eastern Conference teams will be able to challenge Miami for the throne next year. The Wizards aren't one of them. Not even close. 
Was the stench of the Wizards' last two seasons lingering around the Verizon Center a little too long? Were Leonsis and Grunfeld afraid of total fan apathy in the District, desperate to improve the team in the short-term, no matter the long-term costs? 
Go back into hibernation, Wizards fans. 
The light at the end of the tunnel you thought you saw? 
That just faded back to the summer of 2014.