Counting Down the NFC North's 5 Biggest Busts: #3, Troy Williamson, WR, Vikings
June 21, 2012

Steve Dykes/Getty Images
We're at the third spot for the NFC North's biggest busts, and while the first edition was met with some resistance, we all seem to agree that Joey Harrington was awful enough for No. 4.
So we turn our attention to the Minnesota Vikings' first-round selection, seventh pick overall—Troy Williams.
You know how every season the Bears promise us that this is the year that Devin Hester really, really becomes a good wide receiver?
Picture that, only far worse and at a higher draft pick.
Say what you will about Hester, but he's got speed and good hands, plus he's a guy who changed positions. Williamson had no hands and an ability to get overpowered by any cornerback.
His drops were so bad he started to blame eye problems, saw a specialist and still couldn't hang onto the ball.
For a guy with a big build, he had a tendency to play small.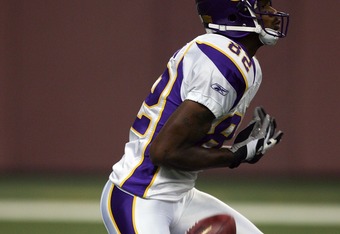 Harry How/Getty Images
Drafted to replace Randy Moss as a speedy deep threat, Williamson was billed coming out of college as an explosive player who had "good hand/eye coordination" and was "fluid making the deep reception at full speed."
The above report was also one of several I found that pointed out that he shied away from contact (at his size, red flag No. 1) and was never really productive in college (red flag No. 2).
So in retrospect, his struggles shouldn't have been a surprise. The drops were, though, and they were the chief reason for his complete meltdown of a career.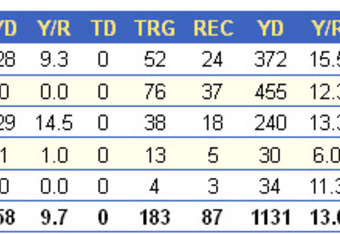 Williamson never caught 50 percent of his targets, catching just 47.5 percent for his career.
Given his "good hand/eye coordination," that number would be funny if he hadn't been the seventh overall pick. In that case, it's tragic.
Of course, when you don't catch half your passes, your overall totals will suffer. Williamson had just four touchdowns for his career and a total of 1,131 yards.
By the end of 2007 (which was capped off by a huge drop on a 72-yard pass for which he was wide open), the Vikings had had enough and traded him for pennies on the dollar to Jacksonville.
A top-10 draft pick was traded three years later for the sum of a sixth-round draft pick.
Ouch.
In Jacksonville, Williamson struggled to hold off such Hall of Fame stalwarts such as Mike Sims-Walker, Matt Jones and Mike Thomas as well as an aging Tory Holt.
He was cut in September of 2010.
Vikings fans may still be trying to wash the taste out of their mouths.
Check out the B/R NFC North Facebook page—like us and keep up with everything NFC North on Bleacher Report!