Counting Down the NFC North's 5 Biggest Busts: No. 4, Joey Harrington, QB, Lions
June 19, 2012

Tom Pidgeon/Getty Images
Yesterday we began our look at the top five busts in the NFC North. I relegated my search to the last dozen years or so, when the word "bust" really became a thing.
Yesterday we looked at Anthony Thomas, aka the A-Train.
Today we set our sites on Joey Harrington, a guy who has seemed more comfortable playing piano post NFL than he ever did playing football.
Harrington was chosen with the third pick in the 2002 NFL Draft. Of the other quarterbacks taken, the only names you will recognize are David Carr (first overall), David Garrard (fourth round) and Josh McCown (third round).
McCown is a third-string quarterback on the Bears, David Carr just won a Super Bowl ring with the New York Giants and David Garrard is fighting for a starting job with Miami.
Of the 15 quarterbacks taken in the 2002 NFL Draft, only three are still playing.
Not much of a hit rate—so in some ways missing on Harrington might be excusable, right?
Wrong.
Despite Mel Kiper's assurances that Harrington would be a very good quarterback in the NFL, Harrington could never get above average at best.
Now in Harrington's defense, this was a team with awful wide receivers, a middling offensive line and a rotating group of running backs who were either hurt, underwhelming or both.
That said, it doesn't mitigate how bad a pick this was, since he was supposed to help turn the franchise around.
Some people even liked the pick. Here's Pat Kirwan's take: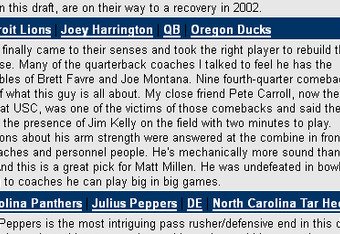 Even after a year where Harrington had the lowest QB rating in the league, threw 16 interceptions and had a terrible 50.1 completion percentage, people thought he would improve.
He did, sort of. On the one hand, his completion percentage went up 5.0, along with his yards and touchdown totals.
Unfortunately, as you can see from this graphic off of Footballguys.com, so did his interceptions.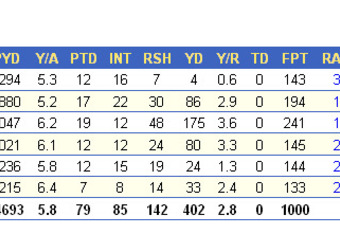 His completion percentage forever hung around 55-57, climbing up to 61 in his final year when he played 11 games for the Falcons.
Harrington's interception issues were never corrected, however, and he was prone to making bad decisions almost as much as he was a victim of bad receivers.
I often wonder if Harrington would have been marginally successful if he had gone to a different team (one which was well run) or sat out for a year.
But a player taken as high as Harrington in the 2002 draft couldn't be sat—there was simply too much money involved.
With the rookie salary cap, perhaps Harrington would be allowed to carve off the rough edges before becoming a starter.
I never believed he was ever going to be worthy of that No. 3 pick, which resulted from a combination of bad scouting and a really bad quarterback class meeting a desperate franchise.
If things had been different though, he might have developed into a decent starter.
As it stands, he was a pretty big bust, and Lions fans are happy he's playing piano instead of football.
Check out the B/R NFC North Facebook page - like us and keep up with everything NFC North on Bleacher Report!