Does New Orleans Hornets' Trade Put Too Much Pressure on Anthony Davis Too Soon?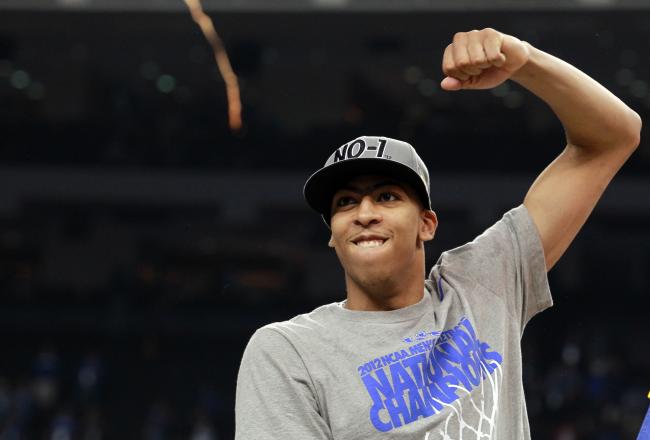 Ronald Martinez/Getty Images
The New Orleans Hornets aren't waiting around to roll out the red carpet for Anthony Davis.
According to Jonathan Givony of DraftExpress, the Hornets, who are expected to select Davis with the first pick in the 2012 NBA Draft, will send Emeka Okafor and Trevor Ariza to the Washington Wizards in exchange for Rashard Lewis and a second-round pick:
NBA source tells me Emeka Okafor and Trevor Arizona have been traded to the Washington Wizards for Rashard Lewis and the #46 pick

— Jonathan Givony (@DraftExpress) June 20, 2012
Some initial thoughts:
1. Wow, the Hornets just gave up a pair of solid players in exchange for an overpaid, washed-up, 32-year-old gunslinger.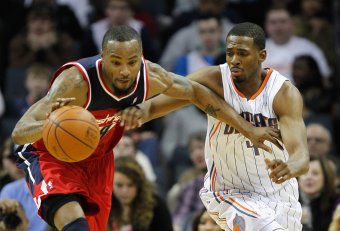 Streeter Lecka/Getty Images
2. There's no such thing as an immovable contract.
2a. The Wizards really are living up to their nickname. They've managed to make two of the worst contracts in the NBA (i.e. those of Lewis and Gilbert Arenas) disappear in less than two years' time.
And then, well, there's this bit, per Givony:
Rashard Lewis' 23.8 million dollar contract can be bought out for 13.7 million before July 1st. Trade saves New Orleans around 30 million?

— Jonathan Givony (@DraftExpress) June 20, 2012
Which brings to mind a couple more thoughts:
3. SALARY DUUUUUUUMP!!! Okafor is due just over $28 million over the next two seasons, while Ariza will collect a shade under $15 million during that same span.
4. N'awlins is serious about going full "rasa" on the "tabula" to build a winner.
As well it should be. New ownership, with (perhaps) a new nickname, a new young star and, in turn, a new mandate to map out a long-term plan for NBA title contention. A well-deserved bit of hope and redemption, after the way commissioner David Stern toyed with the Big Easy and its beleaguered basketball fans, particularly during the Chris Paul fiasco.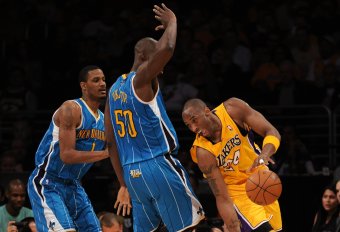 Harry How/Getty Images
Not that the sudden shift in the franchise's fortunes has done anything but embolden the legions of conspiracy theorists floating around the Association.
In any case, the trade temporarily leaves the Hornets woefully thin up front.
With Okafor out the door and Chris Kaman, Carl Landry, Lance Thomas (who?) and Darryl Watkins (again, WHO?!) slated for free agency, New Orleans can currently count two big men on its payroll—Jason Smith, a.k.a. The Guy Who Went All Schadenfreude on Blake Griffin, and Gustavo Ayon, who was surprisingly solid this past season, even for a then-26-year-old rookie.
On the one hand, this seems like a terrible situation to throw Anthony Davis into, like turning the paint into his personal chokey.
Which, by extension, would make every big man who punishes Davis the equivalent of Miss Trunchbull.
(By the way, I wonder what she would think of Davis' peculiar facial hair?)
As mouth-wateringly gifted a prospect as the former Kentucky Wildcats star may be, there's plenty of reason to believe that he's not ready to have so much responsibility (and playing time) heaped onto his awkwardly shaped shoulders. After all, at a rail-thin 6'10" and 220 pounds, he lacks the size and strength, particularly in his lower half, to bang bodies effectively with NBA big men on a regular basis.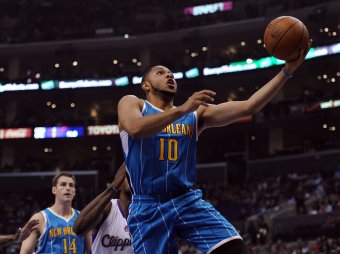 Harry How/Getty Images
And while the Hornets figure to pick up another solid youngster with the 10th-overall pick and use a hefty helping of their mass of cap space to bolster their roster and re-sign Eric Gordon to a long-term deal, all eyes will still be on The Unibrow to deliver basketball in the Bayou from the mess it had become under the league's own stewardship.
That's a lot to expect from a guy who was a 6'2" guard just a few years ago, and who's still adjusting to the massive frame with which his genes have since blessed him.
On the other hand, GM Dell Demps' decision to trade away a pair of solid (if oft-injured) veteran assets sends a clear signal to the organization and its fans that while les bon temps will be ready to rouler in due time, for now, everyone should pare down their expectations and brace for a period replete with growing pains.
The exciting plays will far outnumber the checks in the "wins" column at first, though there will be enough positivity to satiate the hardened masses of a city that's seen much, much worse in its day, both on and (especially) off the court.
The Rashard Lewis trade—Smart or Not Smart for the Hornets?
In the meantime, Davis won't have to concern himself with the pressure to win right away, like he did during his first and only year at UK. He'll have the freedom to simply play ball, develop his game, mesh with his new teammates and acclimate himself to the grind of the NBA as he placates his pituitary and packs some meat onto his bones.
The wins (and the red carpet) will be waiting when he and the Hornets are ready.
This article is
What is the duplicate article?
Why is this article offensive?
Where is this article plagiarized from?
Why is this article poorly edited?

New Orleans Pelicans: Like this team?