NBA Free Agents 2012: Why Lakers Fans Will Resent Ramon Sessions If He Re-Signs
June 20, 2012

Jeff Gross/Getty Images
Ramon Sessions' future may not be certain just yet, but that doesn't mean he won't be returning to the Lakers. According to SI.com's staff, Sessions will test the free-agent market, but Los Angeles will still pursue him:
Los Angeles Lakers guard Ramon Sessions is declining his player option for next season to test free agency.

Lakers general manager Mitch Kupchak said Tuesday he wishes Sessions had picked up the $4.55 million option for next year, but the club will still make an effort to sign the point guard.
Given that fan-favorite Derek Fisher was moved in order to dump salary, Sessions is already on a short leash. His sub-par postseason performance—just 6.8 points and 3.0 assists per game—was disappointing after an otherwise promising debut with the Lakers.
During the regular season, Sessions averaged nearly 13 points and over six assists in 23 games with Los Angeles after being acquired in a trade from the Cleveland Cavaliers.
The five-year veteran is still just 26 years old and at times appeared to be hitting his prime and fitting in perfectly with the Lakers. His quickness and still-improving perimeter game gave the club a look it didn't have with the combination of Fisher and Steve Blake.
Trading places with Fisher isn't the only reason Sessions is faced with high expectations, though.
He could be viewed as an obstacle to acquiring All-Star point guard Deron Williams—though it's important to note that this is far more a matter of perception than fact.
Even if Los Angeles didn't retain Sessions, the club would remain well over the salary cap. Its only chance of landing someone of Williams' caliber—with or without Sessions—would be via a sign-and-trade arrangement with the Brooklyn Nets.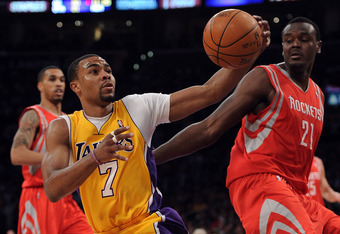 Harry How/Getty Images
Nevertheless, if Sessions hangs around, he may come to symbolize the franchise's inability to land an elite point guard.
That certainly isn't his fault.
Unless the Lakers can talk a veteran like Steve Nash, Andre Miller or Chauncey Billups into chasing a ring for less money, the organization's options are limited in the first place. And, other than Nash, it's hard to argue those kind of options are preferable to Sessions.
After all, with a training camp under his belt and a full season to mesh with his teammates, Sessions could round out into a quality point guard. It wouldn't be fair to hold that playoff performance against him—it was the first of his career.
Next time, he'll be ready—with or without the Lakers. Fans in Los Angeles should hope with.