NBA Finals 2012: What the Miami Heat Must Do to Finish the OKC Thunder in Game 5
June 20, 2012

Mike Ehrmann/Getty Images
After the Heat toppled the Thunder 104-98 en route to a 3-1 series advantage, Miami will be looking to close out Oklahoma City in five games.
Behind a dominant performance from LeBron James, as well as a strong showing from Mario Chalmers, the Heat look poised to capture their first title of the "Big Three" era.
Miami was able to battle back from a 17-point deficit to capture the win, as Russell Westbrook turned in a solid 43-point performance.
Nonetheless, the Heat must turn their attention towards Thursday, where they'll have a chance to hoist the championship trophy.
First of all, Miami must continue to slow down Kevin Durant.
After exploding for 68 points through the first two games of the series, the Durantula has slowed his pace, especially in the fourth quarter.
Some of that has to be attributed to extra defensive attention Miami has been paying to him. By putting LeBron on Durant, along with multiple defenders providing help defense, the Heat have been able to slow down the prolific scorer.
If Miami can keep Durant under 30 for the third straight contest, they will have a good chance of closing this series out next game.
Another key for Miami will be the play of Dwyane Wade.
Wade excelled in game four, finishing with 25 points on 8 for 19 from the field. However, Wade did more than just score, as he seemed to do a little of everything, even after hurting his back in the first half.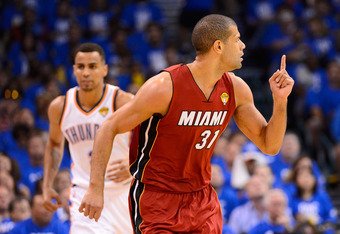 Ronald Martinez/Getty Images
Wade has been crucial to the Heat throughout the Finals, as he has scored 20 or more in each Miami victory. He must be effective and look to drive the ball in order to take attention off LeBron.
With Wade attacking the rim, it takes pressure off of James to carry the offense, as he may not be at 100 percent following his leg injury late in game four.
Outside of Wade, the Miami role players must continue to knock down their shots as well.
Between Mario Chalmers and Shane Battier, both have made pivotal buckets during the Finals. Battier has shot a sizzling 12 for 19 from outside the arc in this series and Chalmers scored 25 in game four.
If Battier especially, can continue to nail his three-point attempts, the Thunder will be left scrambling. Serge Ibaka has been tasked with defending Battier for much of the series, and Battier's shooting ability has provided an unheralded advantage.
By luring Ibaka out to the three-point line, the Heat offense has faced little resistance around the hoop. Then, when Ibaka does leak inside to attack the ball-handler, Miami has been able to move the ball to an open shooter on the perimeter.
When the Heat's role players are coming through in key situations, Miami will generally prosper.
However, if they go cold in game five, the Heat could be in for a long road trip back to Oklahoma City.
Finally, the Heat must continue their stellar defense on James Harden. Harden has been in double-figures only once during the Finals and has shot 2 for 10 in both of his previous games.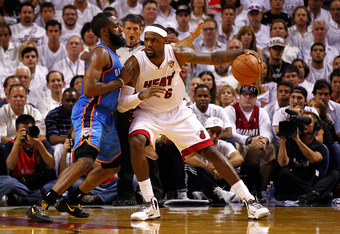 Mike Ehrmann/Getty Images
Harden has failed to find the spark that catapulted him to the Sixth Man of the Year Award.
After averaging 17.6 points coming into the series, Harden has been downright dreadful in the Finals, as he is shooting 16.7 percent from the floor.
Harden has had the bad luck of having to match-up with James on the defensive end, which may be draining some of his energy.
Yet, Miami has been able to seemingly silence the explosive Harden, by throwing multiple defenders his way.
With Harden's confidence rattled, the time is now for the Heat to capture a title.
With LeBron playing out of his mind, Miami is in a perfect position to close out the Thunder in game five.