NBA Finals 2012: James Harden, Not Westbrook, Is the Reason Thunder Are Down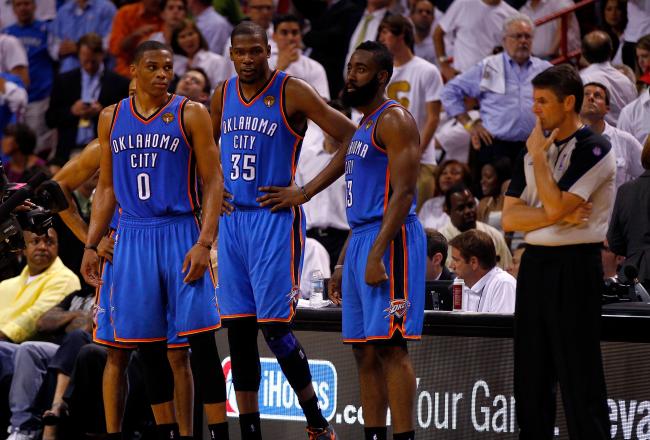 Mike Ehrmann/Getty Images
When it comes to the Oklahoma City Thunder losing, people like to lay the blame on a single player regardless of what said single player does. He can score 40 points, but if he does that by taking more shots than Kevin Durant, he is labeled as a goat.
If you don't know who I am talking about by now, then clearly, you don't watch much basketball. But you are reading this article right now, so chances are, you do watch basketball, and chances are, you know the individual I am talking about is Russell Westbrook.
Westbrook was absolutely magnificent in the Thunder's Game 4 loss to the Miami Heat on Tuesday night, pouring in 43 points off 20-of-32 shooting. He also had a stretch late in the game where he scored 11 consecutive points for Oklahoma City to keep the Thunder in it. Of course, he took 13 more shots than Durant (who scored 28), so naturally, people are still finding a way to castigate Westbrook.
Ridiculous.
Who is the player who should be getting blasted in all of this? James Harden.
Did anyone tell Harden that the finals have begun? You wouldn't know it from the way he has been playing.
Outside of a strong first half in Game 2 which led to a 21-point performance from Harden, the man who has become beloved all over the country due to his extraordinary (if you can call it that) facial hair has been M.I.A. in this series. In Game 1, he finished with five points off 2-of-6 shooting. In Game 3, he scored nine and was 2-of-10. In Game 4, he scored eight and, once again, went 2-for-10.
It isn't just Harden's poor shooting that is killing the Thunder, though. There were several occasions when Oklahoma City was making little runs in the second half where he tried to force a pass into traffic, resulting in a turnover. Also, how about that missed layup on a fast break in the fourth quarter that would have given the Thunder a one-point lead?
This is the thing with OKC: Its top three scorers (Durant, Westbrook and Harden) all have to produce for it to win. The Thunder don't really have anyone outside of those three who can consistently score the basketball. They have to rely on the three wings to knock down their jumpers and get to the basket and draw fouls.
They don't have a big man that can score in the post or stretch the floor. Yes, Serge Ibaka has developed a decent 17-footer, but not enough where opposing defenses have to respect him all that much.
For the most part, Durant and Westbrook have shown up in this series. Yes, Westbrook has exhibited some poor decision-making, but looking at the series as a whole, he has been pretty good.
Harden? He has been nothing short of atrocious, and that is the main reason why the Thunder find themselves on the brink of elimination heading into Thursday night's Game 5 in Miami.
I think one particular moment in Game 4 epitomized what this series has been like for Harden, and I'm sure you will all remember it rather well.
With Oklahoma City down 99-94 with 2:10 to play in the fourth quarter, Harden had a wide-open look from about 17 feet out. Instead of taking what should have been an easy two points, Harden hesitated, looked around, took a dribble and then took a contested jumper that misfired. Clearly, he is having confidence issues at the moment, because the cold-blooded Harden we saw against the San Antonio Spurs would have attempted that first look 10 times out of 10.
Now, Harden is just playing scared, so scared to the point where my friends and I were calling for Scott Brooks to remove Harden from the game and go with a lineup of Ibaka, Durant, Thabo Sefolosha, Derek Fisher and Westbrook.
Again, Westbrook had 43 points last night and was the sole reason why the Thunder were even in the game late. Instead of chastising a point guard for putting on arguably one of the greatest second-half performances in NBA Finals history, maybe you should point your finger at the 800-pound beard in the corner of the room.
This article is
What is the duplicate article?
Why is this article offensive?
Where is this article plagiarized from?
Why is this article poorly edited?

Oklahoma City Thunder: Like this team?