10 Denver Broncos Who Will Benefit Most from Playing with Peyton Manning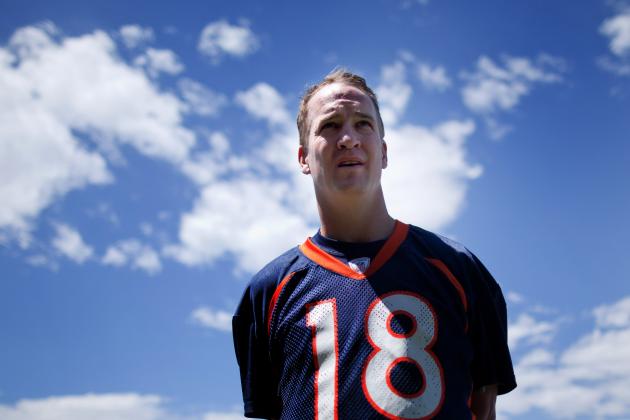 Justin Edmonds/Getty Images

Denver as a whole is pretty excited about Peyton Manning coming to town. There are freshly printed jerseys, bobbleheads and a multitude of other assorted novelty items all bearing his name and likeness.
No one is more excited that the most coveted free agent in recent history signed with the Broncos than the team itself.
Players' entire careers just got a whole lot better now that Manning is throwing the ball for the orange and blue. Here's a look at 10 Broncos whose seasons are looking much brighter now that Manning has come to town.
Begin Slideshow

»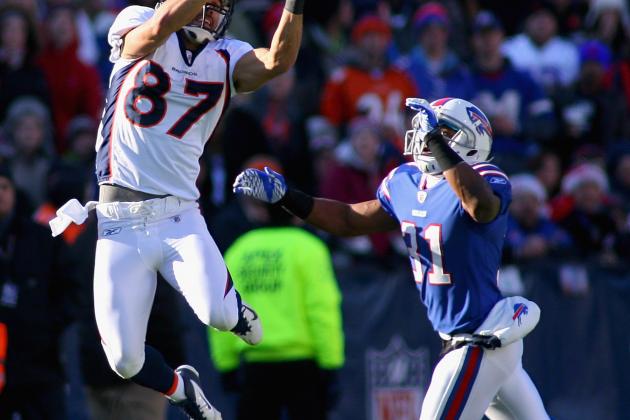 Rick Stewart/Getty Images

Eric Decker is pretty much a given for this list. The Broncos' switch from Kyle Orton to Tim Tebow last season didn't exactly help to boost the wide receiver's production on the field.
We were just getting a glimpse of his potential as a wideout when the offensive philosophy switched from pass-oriented to, well, Tebow.
With Manning now behind center, Decker has the chance to go long for one of the best in the business. The Broncos will certainly return to a pass-first offense, allowing Decker the opportunity to shine.
Manning will love his grit and hands on the field. Decker's youth and obvious talent should make for big production this season.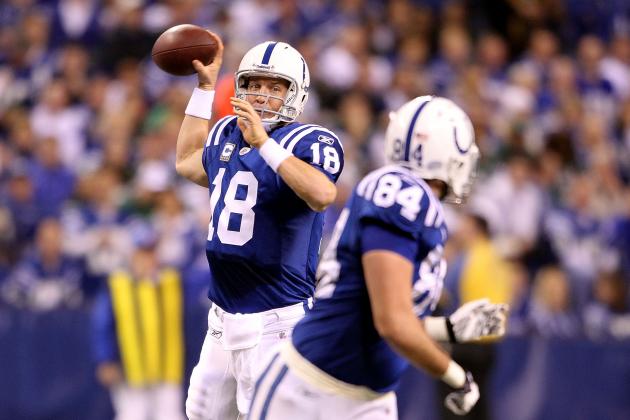 Andy Lyons/Getty Images

Reunited and it feels so good.
The Broncos signed Jacob Tamme from the Colts shortly after Manning chose the Mile High City as his new home.
He stepped into the spotlight after an injury to Dallas Clark made him a starter in 2010. The two had great chemistry, and Tamme recorded 619 yards and six touchdowns that season.
Tamme will once again have Manning as his signal-caller, allowing them to build on that prior relationship. Since No. 18 is known to spread the ball around, this can only benefit Tamme at the tight end position.
Look for Tamme to dive right in and make an immediate impact for the Broncos offense with Manning at the helm.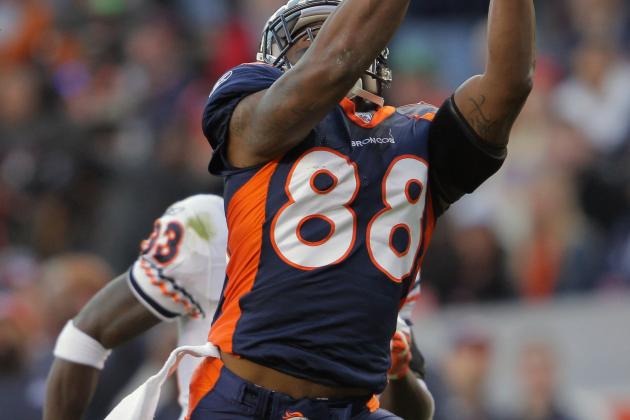 Doug Pensinger/Getty Images

Demaryius Thomas should be super-stoked to have Manning throwing him the ball this season. His numbers and production should sky-rocket with Manning as the signal caller.
Injuries have somewhat hindered his success so far in Thomas' young career. Toward the end of last season, he was healthy and showed only a glimmer of his capabilities with an inferior passer in Tebow.
Now that Manning is in town, Thomas has the potential to become the No. 1 receiver that he was drafted to be. With all the physicality and knowledge it takes to be an elite receiver in the NFL, Thomas is poised to have a break-out season and consistently make jaw-dropping plays in the clutch.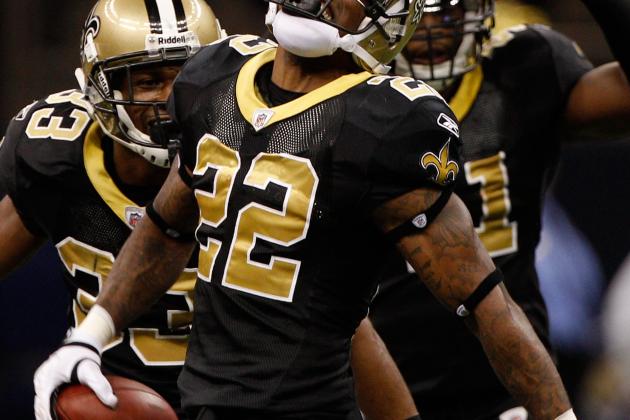 Chris Graythen/Getty Images

Even though Tracy Porter doesn't play on the same side of the ball as Manning, he will still be able to reap the benefits of his presence in Denver. They are familiar with each other as it was Porter who picked off a Manning pass in Super Bowl XLIV and returned it for a touchdown to solidify the New Orleans Saints victory.
With a mind like Manning's available to learn from, Porter will improve his ability to read coverages and make the proper adjustments.
Having both Manning and Porter on the same team to study each other should result in a solid performance by the both of them this season. These two also know what it takes to get to and win the big game, which is the Broncos' ultimate goal, right?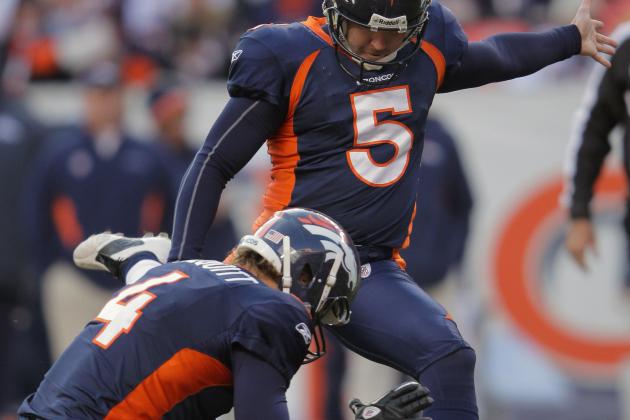 Doug Pensinger/Getty Images

Matt Prater is already regarded highly among Broncos fans partially due to his clutch performances last season.
With Manning now leading the offense, the Broncos should find themselves in a more frequent position to score, upping Prater's opportunities to kick more chip shots than bombs.
His number of game-winners will probably be less than last year, but Prater's overall production should certainly improve.
Historically, Manning's kickers have had highly successful seasons while he is under center. Prater should be no different, and he should have numbers that rank among the league's best.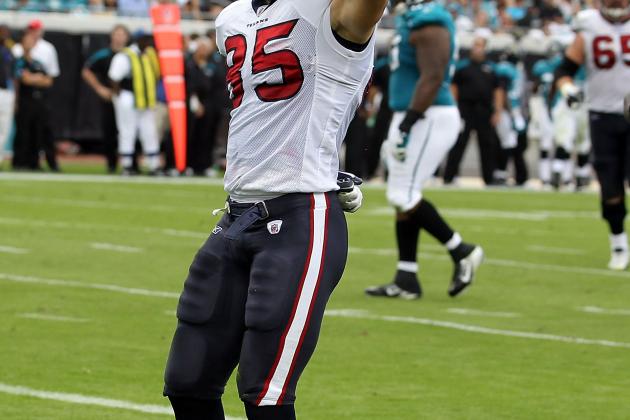 Sam Greenwood/Getty Images

The same day that Jacob Tamme became a Bronco, Denver also snagged another tight end in Joel Dreessen from the Houston Texans.
At 6'4", 245 pounds, Dreessen is a very physical receiver who finds a way to get open in the end zone. This bodes well for Dreessen as Manning loves throwing to guys like him.
Having both Tamme and Dreessen in his receiving corps will actually benefit Manning and the Broncos as well. The current trend in the NFL is to have two big stud tight ends who can make big plays in the clutch.
Dreessen should step right in and elevate himself as a premiere tight end in the game.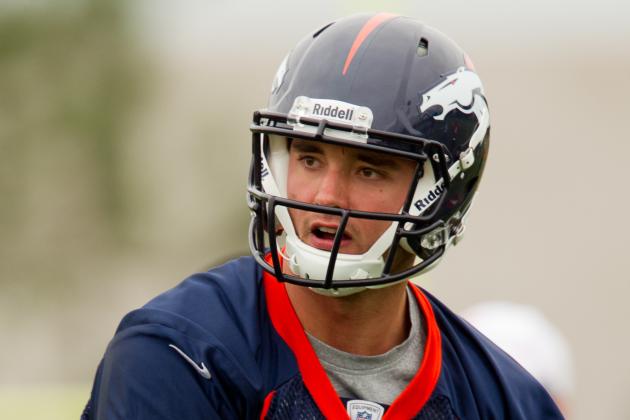 Justin Edmonds/Getty Images

Brock Osweiler won the back-up quarterback, holding a clip board lottery.
While some young guys would think that being taken by a squad that just signed the biggest free agent quarterback of the offseason as a negative thing, Osweiler should embrace this as a phenomenal opportunity.
Not too many 21-year-old rookies are hand-picked by one Hall of Fame quarterback in John Elway to play under and learn from another guy sure to be inducted himself in Manning.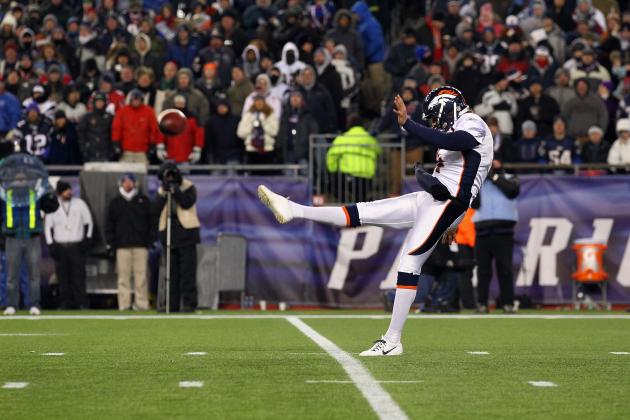 Al Bello/Getty Images

For the most part, a team's punter gets very little recognition and attention.
Britton Colquitt emerged last season as an extremely valuable member of the Broncos roster, bailing them out when the offense couldn't produce. Colquitt had 33 punts downed inside the 20-yard line, the second best in the league.
With Manning now leading the offense, Colquitt will have the opportunity for more diversity in his kicking. He will be needed to not only punt the deep ball, but for kickoffs as well, making him more well-rounded as a kicking specialist.
Both Colquitt and Manning played football for the University of Tennessee, creating a bond that can only strengthen them as teammates.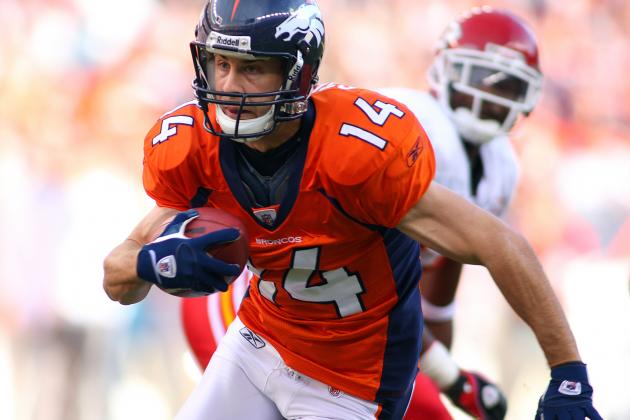 Marc Piscotty/Getty Images

Brandon Stokley is back in town, and he has a very familiar man throwing him the ball.
Stokley's previous relationship with Manning in Indy should help with their on-field chemistry this season for the Broncos. As a veteran receiver, he can provide vital guidance and leadership to Denver's young receiving corps.
Don't discount the potential for Stokley to have a productive year himself. Look for him to pull off some key game-changers for Denver this season.
Al Bello/Getty Images

While Willis McGahee may not see an increase in his stats this season, the addition of Manning will up his opportunity to stay healthy.
Last season, McGahee had 249 carries, a number that will not happen with Manning as the quarterback. With fresh legs, McGahee will be more effective as a runner, helping the offense become more balanced.
If he does indeed stay healthy, McGahee should have a great follow-up to his resurgence season in Denver.