LeBron James: Are We Undervaluing LeBron's Presence on the Defensive End?
June 20, 2012

Mike Ehrmann/Getty Images
It's all about LeBron James' scoring ability, MVP-esque stat lines and his profusely debated fourth-quarter intangibles.
What critics of his game constantly fail to address is the prowess James has boasted defensively in the 2012 NBA Finals. It is this very aspect of his game which has undoubtedly lifted the Miami Heat a 3-1 edge over the Oklahoma City Thunder.
James will get his significant scoring numbers regardless of the type of defense the Thunder throw at him. It has not and will not be his offense, but his defense, that helps the Heat to close out the Thunder en route to an NBA championship.
These are the three reasons why James' defense has easily been the most integral aspect of his game in these 2012 NBA Finals.
Russell Westbrook Taking More Shots Than KD
Since James took on the role of defending Kevin Durant in Game 2, Russell Westbrook has taken 15 more shots than Durant.
It is not to say Westbrook is taking too many shots or failing to share the wealth. In fact, his 43-point performance in Game 4 rivaled Rajon Rondo's performance for the best of the postseason in Game 2 of the Eastern Conference finals.
It is just an absolute praise to the defensive effort James has put on display since the Heat made the adjustment.
Although James isn't on Durant for 48 minutes, Westbrook has had the more favorable matchup since the switch was made. As tremendous a performance Westbrook put on in Game 4 with 43 points, having him take 32 shots is not the recipe for a win against this well-balanced Heat team.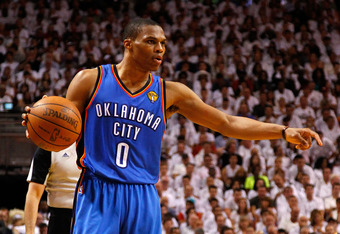 Mike Ehrmann/Getty Images
Forcing James Harden To Put Up Points
James Harden is always making an impact on a game offensively and defensively for this team, yet with Durant being shadowed most of the game by James, there has been a major point of emphasis to produce offensively.
As terrific as Harden can be in the scoring department, it is not his game to focus solely on scoring the basketball. He impacts a game with his intelligent ball distribution and decision making defensively, which he has been unable to do throughout the course of this series because of his increased responsibility to score the ball.
As a result, he is posting just 10.8 points per game on 13-for-37 shooting the rock. Not to mention, he is just 4-of-20 in his last two games to go along with six turnovers.
The Heat Are Undefeated Since the Adjustment
The bottom line in regards to James' defense is simple: the Miami Heat are 3-0 since asking James to cover Durant for a good portion of each game.
James has covered Durant particularly in the beginning and closing stages of each game. He has been able to effectively slow up Durant's starts to games and impede his ability to score in the closing minutes.
Durant has scored a combined 10 points in his last two fourth quarters. In turn, the Heat have outscored the Thunder in each of the last two contests to come out with victories.