Julio Cesar Chavez Jr.: The Next Big Ticket in Boxing or the Next Big Dud?
June 20, 2012

Bob Levey/Getty Images
Anyone who's followed the sport of boxing over the last 30 years understands the measuring stick for toughness and dominance can be found in three words...
Julio Cesar Chavez.
From 1980-1994, the original model ran up a record of 93-0-1. Some came easily (75 of those first 93 wins came by knockout or TKO), others reeked of scandal (the 1990 classic knockout of Meldrick Taylor with :02, the 1993 surprise draw with Pernell Whitaker). 
By the time he finally retired in 2005, Chavez was the last fighter we may ever see to have earned over 100 wins, let alone fight over as many times. He also was a shell of his former glory, as documented in the intriguing 2007 film J.C. Chavez. 
Yet, in a bit of poetic symmetry, the man whom the father retired against, Grover Wiley, became the 31st victory in the still perfect career of the son, Julio Cesar Chavez Jr.
Now, with a potential marquis fight on the horizon with legitimate middleweight king, Sergio Martinez (as of this article, boxrec.com has the bout scheduled for Sept. 15 of this year, though nothing has been confirmed from Top Rank), the question is can Junior be the logical successor to Floyd Mayweather and Manny Pacquiao as the big name in the sport?
In a word, No. 
As Chavez Jr.'s recent win over Andy Lee (seventh-round TKO) on June 16 showed, he has both the family chin and power. In the first two rounds, Lee was able to hold him off with his jab. But it was evident after the first left hand to the body that Chavez Jr.'s plan was to break him down from there.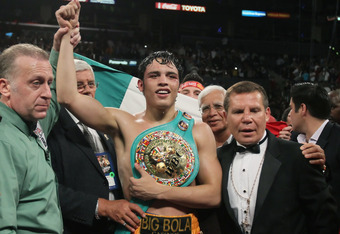 Jeff Gross/Getty Images
And in a fight of two heavy-handed middleweights, Junior took as much as he gave, walking through some serious firepower and not only pressing his advantage, but taunting Lee as well. 
But Andy Lee is no Sergio Martinez, and neither is any of the other 45 opponents that Julio Cesar Chavez Jr. has dispatched in his nine-year career.
Since starting at 126 lbs, Junior hasn't fought what most critics, or even fight fans, would consider an A-level opponent.
His 2012 decision over Marco Antonio Rubio? Rubio was 53-5 and hadn't had a big fight himself since losing to Kelly Pavlik in 2009. Since then, Rubio, like Chavez Jr., had worked his way through many a "tomato can," and both fighters also showed they had a problem consistently making weight.
Chavez Jr. has burned through the lightweight, welterweight and middleweight ranks so fast that, during the Lee fight, HBO's Jim Lampley mentioned how "he hits like a light heavyweight," leaving Roy Jones Jr. to counter, "because at times, he weighs as much as a light heavyweight."
Even under the auspices of Freddie Roach (who, in another interesting bit of history, was stopped by Greg Haugen in seven rounds in 1986. Haugen would be knocked out in five rounds by Chavez Sr. in 1993), Junior seems to have issues with conditioning. It leads some critics to wonder how far up the scales he will go before finally plateauing, despite being just 26 years old.
Martinez, on the other hand, has remained a legitimate middleweight for a decade, and since 2009, has had two fights against Paul Williams, one against Pavlik and two more tough fights against Sergei Dzinziruk and Matthew Macklin. Yes, his early career is a laundry list of no-name fighters as well, but Martinez has shown he can step in against the best in the division and come out on top.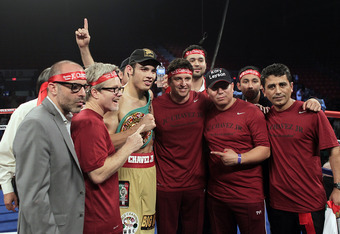 Bob Levey/Getty Images
And despite being knocked down by both Williams and Macklin, Martinez also demonstrated he has a solid chin. His mobility also becomes an issue for Chavez Jr., because unlike Lee, an orthodox flat-footed fighter, Martinez likes to move and attack from odd angles.
This makes it tough for a bull-rusher like Chavez Jr., who hasn't really learned the finer points of cutting the ring off and neutralizing lateral speed yet.
The question of whether or not Chavez can assume the mantle as the new face of boxing is also dependent on the competition he has on the horizon, and through no fault of his own, the middleweight division doesn't really have that many big names.
With the success of the Super Six tournament, however, it might be best for him to move up to the Super Middleweight ranks, where he can face off against Carl Froch or Pavlik or Lucian Bute.
At the moment, it's the most packed division in boxing outside of welterweight, and Chavez might provide the spark to generate North American interest, given the success of European-based fighters over the last few years.
Does Julio Cesar Chavez Jr. have the potential to be the next great boxing star? Yes.
But unless he finds the right formula to maximize that potential, meaning the right division and the right line of opponents to make him both a marketable and credible champion, we may have to wait a while for another prospect to come along and get us back ringside once Mayweather and Pacquiao hang their gloves up.