New Jersey Devils 2012 NHL Draft Picks: Grades, Results and Analysis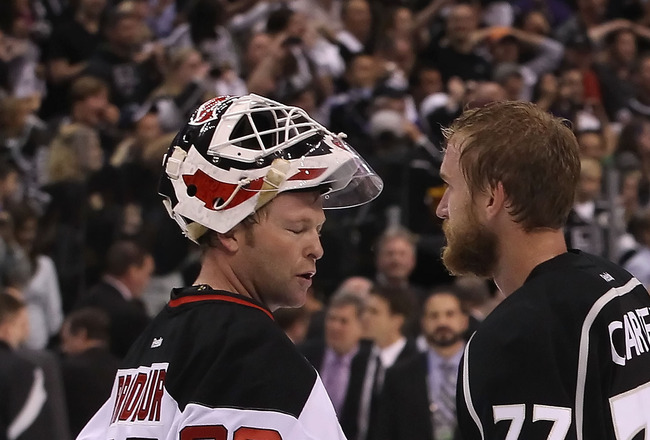 The Devils will attempt to replenish in the draft so they can repeat their 2012 playoff success.
Christian Petersen/Getty Images
The New Jersey Devils completed an exciting and unexpected run when they earned a spot in the Stanley Cup Final.
While they did not finish the job against the Los Angeles Kings, their unexpected jaunt through the Eastern Conference was highlighted by speedy and opportunistic play by their forwards and consistent goaltending from Martin Brodeur, arguably the best goaltender in NHL history.
Despite the solid effort during the postseason, the Devils don't have much young talent among their forwards in the minor league system and must address this through the draft. Additionally, Brodeur does not have much time left in his career.
He may return for the 2012-13 season, but it doesn't seem likely that he would return after that. The Devils must look at their goalie needs in the draft.
The Devils have seven picks in this year's draft, with one pick in each of the first four rounds, two in the fifth and one more in the sixth. The Devils have to give up a first-round pick in 2013 or 2014 as a result of the Ilya Kovalchuk signing in which the NHL determined that the team attempted to circumvent the cap.
They could have given up the pick this year, but general manager Lou Lamoriello chose to hold on to it and used it to take left wing Stefan Matteau.
What follows is a look at Matteau and New Jersey's other draft picks.
1st Round Pick, Left Wing Stefan Matteau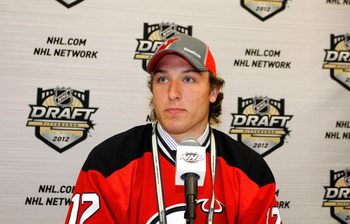 Justin K. Aller/Getty Images
Along with the Boston Bruins' selection of goalie Malcolm Subban -- the brother of archrival Montreal Canadiens' defenseman P.K. Subban -- the Devils' choice of Matteau is one of the most ironic picks of the draft.
Matteau's father, Stephane Matteau, scored one of the most painful goals in Devils' history when he scored the series winner for the archrival New York Rangers in double overtime of the 1994 Eastern Conference Finals on a wraparound against Marty Brodeur.
Like his father, Matteau his a hard-nosed player who will sacrifice his body to make a play for his team. He sees the ice well and will make the pass to an open teammate. He needs to develop his play around the net and take advantage of scoring opportunities.
Grade: B
2nd Round Pick, Defenseman Damon Severson
Jeff Gross/Getty Images
When the Devils draft a defenseman this high, you can be sure that he is strong in his own end and a responsible player. That is the case with the 6'1", 175-pound Severson who seems to have an understanding of what it takes to break down a play in his own end.
However, Severson is not just a one-way player. He has a solid shot from the point and he will join the rush whenever he senses the opportunity. He also is a good physical player who has the frame to grow bigger and stronger.
Grade: B-plus
3rd Round Pick, Center Ben Johnson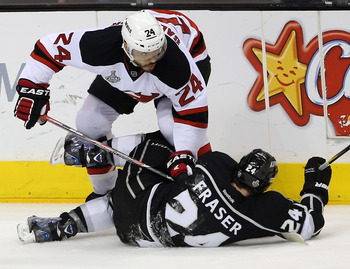 Adding young offensive players through the draft is vital for the Devils.
Bruce Bennett/Getty Images
Johnson is a swift skater who will catch your eye every time he is on the ice. At 5'11" and 185 pounds, he is not the most physical player and he will get roughed up from time to time. If he is going to make the NHL, he has to get significantly stronger.
However, he has the skill set to develop into a strong two-way player. His speed allows him to be a very effective penalty killer. He can break into the open and make plays. He seems to enjoy the role of shutdown defender and that's likely to be his position later on.
Grade: C-plus
4th Round Pick, Left Wing Ben Thomson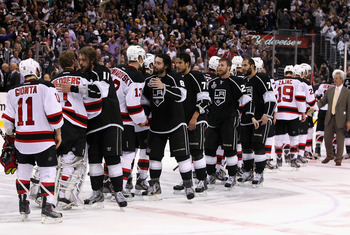 The Devils would love to add more scoring in the draft.
Christian Petersen/Getty Images
Thomson is an old-school tough guy who is willing to drop the gloves at a moment's notice. However, there's a lot more to Thomson's game than just fighting. He will punish opponents with his hard hitting and he is not hesitant to go to the net.
If Thomson is going to develop into a full-service player who does more than just intimidate opponents, he will have to do a better job of putting the puck in the net.
Grade: C
5th Round Pick, Center Graham Black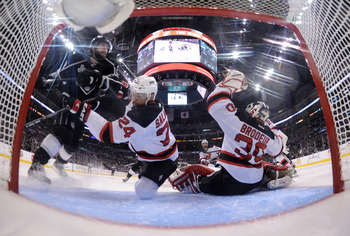 Adding young defnsive players who can develop in the minor leagues would help the Devils build on their strength.
Harry How/Getty Images
While Black is not the biggest player at 5'11" and 173 pounds, he is committed to the defensive game and will do anything he can to separate opponents from the puck. The Devils want their prospects to understand the importance of the defensive aspect of the game and Black will not disappoint them. He has a gritty aspect to his game and he can wear defenders out with his ability to start, stop and then get going at top speed again.
Grade: B
5th Round Pick, Center Alex Kerfoot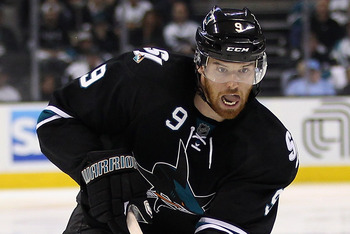 Kerfoot will try to emulate Marty St. Louis.
Ezra Shaw/Getty Images
Kerfoot is probably a longshot to make the NHL because he is too small at 5'9 and 153 pounds. If he can't avoid the hit, he's going to take a lot of physical abuse from defenders. However, he is shockingly fast and scored 25 goals and 44 assists in 51 games last season for Coquitlam of the British Columbia Hockey League.
Grade: C-plus
6th Round Pick, Artur Gavrus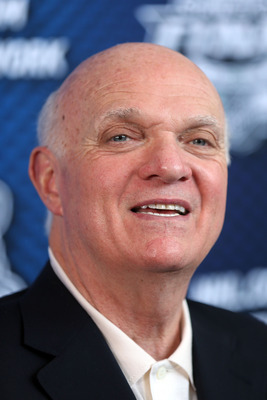 Bruce Bennett/Getty Images
Gavrus has the speed to be a solid offensive player and may be just big enough at 5'11" and 179 pounds to survive the hits of larger and tougher defenseman. Gavrus has the instincts to figure out where he needs to go to make a play and the speed to get there. However, he's got a long way to go on the defensive end and he's not responsible in that part of the game at this point in his development.
Grade: C
Keep Reading

New Jersey Devils: Like this team?