Dallas Cowboys Who Have the Most Riding on Their Shoulders in 2012
Ronald Martinez/Getty Images
The Dallas Cowboys have their fair share of players who may have jobs on the line this season. The saga of cornerback Mike Jenkins goes on as he battles for a new contract. Depending on where the Cowboys go with the center position, Phil Costa and Kevin Kowalski may be looking for new jobs before the year is even out.
So, the Cowboys may have a few positions up for grabs before the year begins, during the season and most definitely in 2013.
Let's take a look at a few players who may have their jobs on the line in 2012.
Mike Jenkins, CB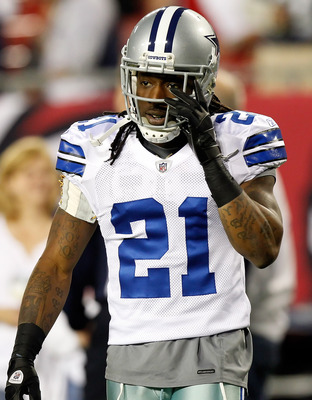 J. Meric/Getty Images
Jenkins has already been bumped down to the slot position due to the team's decision to draft cornerback Morris Claiborne and sign free-agent corner Brandon Carr.
Jenkins wants a new deal and to be the team's starter. While he has grown and deserves consideration to start, he's injury prone and Dallas has issues in the secondary.
It is time for an injection of new blood in the Cowboys' defensive backfield and Carr and Claiborne represent just that.
Jenkins is playing for a new deal with a new team, possibly, for 2013. How he reacts to 2012 will determine how far he will go in 2013.
Phil Costa, C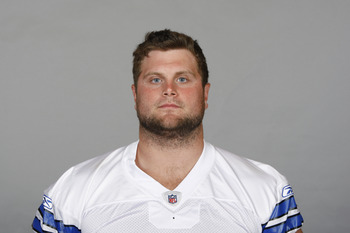 Handout/Getty Images
Costa is on here because it was believed that he would be the one to serve as Tony Romo's field general. The center is responsible for much more than just hiking the ball, and Costa has issues at the most basic level.
He has competition with Kevin Kowalski and Dallas is exploring other options as well. Both players are young and still have room to grow, but if they fail to show and prove themselves in 2012, Costa and Kowalski may be looking for work in 2013.
Kevin Ogletree, WR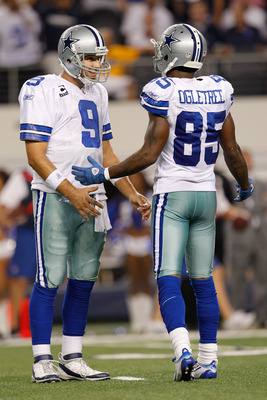 Tom Pennington/Getty Images
Ogletree has the slot position on hold until someone takes it from him. Dallas has a nice collection of young receivers who will compete with Ogletree for the position.
The thing about him is that he has yet to take hold of that role and there is a chance he may not have it when the season starts. Training camp will be vital to Ogletree's success, and if he fails to show and prove why he's worth Tony Romo's trust, then he may be on the outside looking in come the start of the season.
Chris Jones, P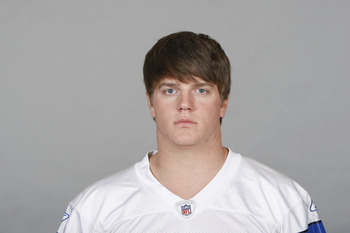 Handout/Getty Images
I know, I know, Jones is just a punter. He was due to take over for recently departed punter Mat McBriar. But a recent report from ESPNDallas.com's Todd Archer has McBriar possibly returning soon from a foot injury.
His foot is getting stronger, and if he's healthy enough I have no reason to believe that McBriar will not return.
Jones is a young guy who is virtually unproven. He'll have to put up McBriar-type numbers to keep the Cowboys away from re-signing their old punter.
Anthony Spencer, LB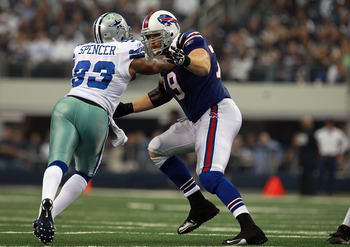 Ronald Martinez/Getty Images
For Anthony Spencer, 2012 is really simple. If he performs at a high level, he'll receive a long-term deal. If he does not, he will be allowed to walk.
Spencer has underperformed since arriving in Dallas, and the Cowboys looked to replace him this past offseason. But the pool for outside linebackers was weak and the team decided to franchise tag him.
If he has double-digit sack numbers with enough game-changing plays, then there is no reason that he shouldn't be with the Cowboys next season.
But if he plays as he has in the past, with maybe six sacks and 70 tackles, he'll be on the next horse out of Dallas.
Felix Jones, RB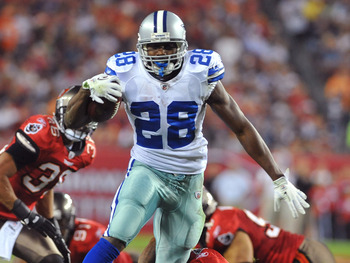 Al Messerschmidt/Getty Images
Jones is a really good running back with a lot of potential. He filled in well for DeMarco Murray last season when he went down with an injury.
The issue with Jones is consistency and durability. Fix those two things and keep the production up, and he's in Dallas for awhile. However, if he can't stay healthy and his production slips, the Cowboys will have no problem finding another running back.
The position has been devalued since the days of Emmitt Smith, and it is quite easy to find a running back who can give you 600 to 700 yards.
His job is on the line in 2012 in my eyes because of the options the team will have if he cannot produce.
Keep Reading

Dallas Cowboys: Like this team?